Coaches share their REAL thoughts on Kentucky's draft prospects
What do coaches really think about Kentucky's draft prospects? Thanks to The Athletic's Sam Vecenie, we have a better idea. Over 60 Division I coaches spoke to Vecenie in exchange for anonymity, and the comments about Tyrese Maxey, Immanuel Quickley, Ashton Hagans, Nick Richards, EJ Montgomery, and even Kahlil Whitney are all across the board, from complimentary to downright brutal.
Here is a small sampling, starting with one coach's opinion of Quickley.
"He's a shotmaker, man. I don't think he's an NBA player, but damn is he a hell of a college player. Makes key shots, has the ability to defend. I don't think he has it on a string, just with his overall handle. But great college player. In my opinion, he will be a good overseas player."
The knock on Hagans has always been his offense, but one coach even found fault with his defense, widely perceived as his calling card.
"Don't even get me started on Hagans. I think he's trash (as a player). I just don't think he's very good. I think he thinks he's a lot better than what he is. Defensively, everyone talks about him. And on film, he for sure disrupts. He has quick hands, he's strong, he fights through dribble hand-offs, he puts a body on you. But like, it's kind of overstated. I think he's a selfish defender. He wants deflections and steals. And that has nothing to do with being a good defensive player. I think he's a selfish defensive player.

"And offensively, he's limited. I didn't see that much athleticism and speed. We were begging him to shoot. I don't know if he's going to make it. What does he do? What does he do well? He got in trouble with turnovers this year. He was turning that thing over like crazy. He did not scare me at all. Preparing for them, he was the least of my worries. I think Saben Lee at Vanderbilt is way better than Ashton Hagans."
Yikes. To read the entire article, you'll need a subscription, but Vecenie shared these comments on Twitter. The first two comments are about Maxey and the second two about Montgomery.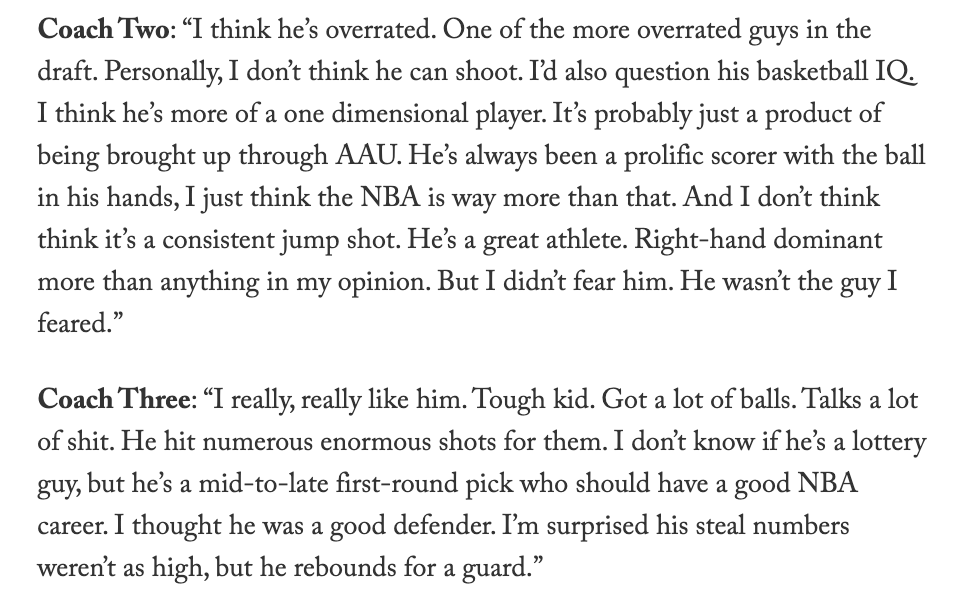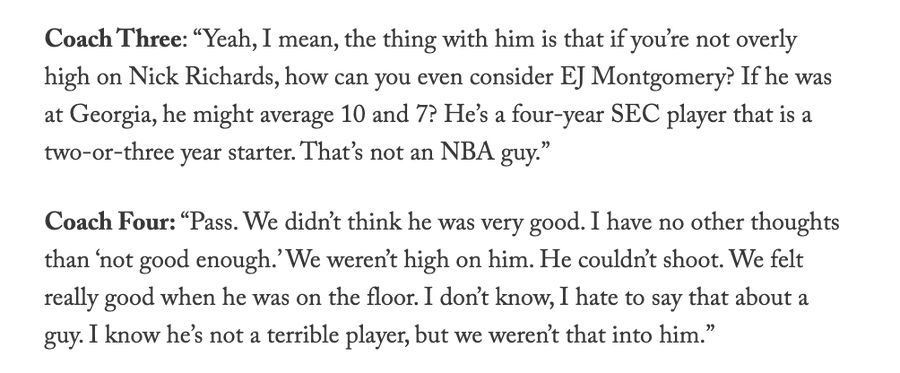 Most of these reviews are not kind, but Vecenie argues that the lack of NBA talent on last year's squad made their success even more impressive. Sadly, we'll never know if that chemistry would have resulted in a title. Sad face.