Christmas Eve Morning Wakeup
Merry Christmas Eve, everybody!
Today is the day some of us scramble to finish our shopping, while others begin it, before we settle in by the fire with hot cocoa and Christmas candy to watch some of our favorite holiday classics with friends and family.
I am currently in lovely Madisonville (The Best Town On Earth, it claims) where I will man this here website throughout the day, whenever I'm not wrapping presents and binge watching Making A Murderer on Netflix — it's great for the holiday spirit.
Wherever you are, I hope you're having the happiest and merriest of times; and above that, I hope you're not worrying about the Louisville game on Saturday. We got this.
Let's hit a few Christmas Eve morning notes…
The team had its first pre-Louisville practice last night.
Yesterday was a travel day for the players as they all returned home from a three-day holiday break with their families. Once they all arrived back on campus last night, Calipari put them through a brief practice, their first ahead of Saturday's Louisville game.
Of his decision to give the team a break before the biggest game of the regular season, Calipari said, "I think every team I've had it's been a good time to get away. You go hard for a couple months and you just get a couple days away from each other, and you come back excited. Because it's a long season. It's a long season."
The team will practice again today and tomorrow, and then it's on.
While Kentucky held its first practice, Louisville beat Utah Valley by 30.
And Mark Pope, coach of Utah Valley, wanted no part of this handshake with Rick Pitino.
Rick Pitino trying to shake Mark Pope's hand but Pope isn't having any part of it. pic.twitter.com/QBDSIzPn6c

— Shannon The Dude (@ShannonTheDude) December 24, 2015
Let's be real here. There's no telling where that hand has been.
Louisville fans chanted "Beat-U-K" after last night's win.
Louisville fans have dreams #bbn @KySportsRadio @DrewFranklinKSR pic.twitter.com/ZeKY8Q8F60

— X-Wing @Aliciousness (@kvltclassic) December 24, 2015
Good luck with that.
John Calipari asked UK fans to keep it about the basketball.
Meaning, no hooker references in Rupp Arena on Saturday.
Cal said, "I would tell our fans enjoy the game. Don't be bringing in banners, don't be bringing in posters, don't. You don't need to do it. Let's just enjoy the basketball game. Let's be classy. We have the classiest fans. I would expect that's how they'll be in this game."
But if you were to bring a banner or shout "side deals" in the general direction of the Louisville bench, no one will be all that upset with you.
I really regret skipping the Kings-Pacers game.
I had plans to catch a ride to Indianapolis from Louisville with a big group of friends to watch Boogie take on the Pacers in a Christmas Eve Eve Classic. I backed out 30 minutes before I was supposed to get in the car, hoping I wouldn't miss a good game that would make me regret my decision all night.
Well, DeMarcus went for 25 points and 16 rebounds, and hit two free throws in the end that decided the game.
Idiot Drew.
We had a great time at Bearno's yesterday.
As always, UK fans packed the house at Bearno's in Jeffersonville for the final KSR morning show before the UK-Louisville game. I really enjoyed filling in for Ryan Lemond at the remote he usually does, and it was a blast seeing and talking to so many excited and optimistic Kentucky fans.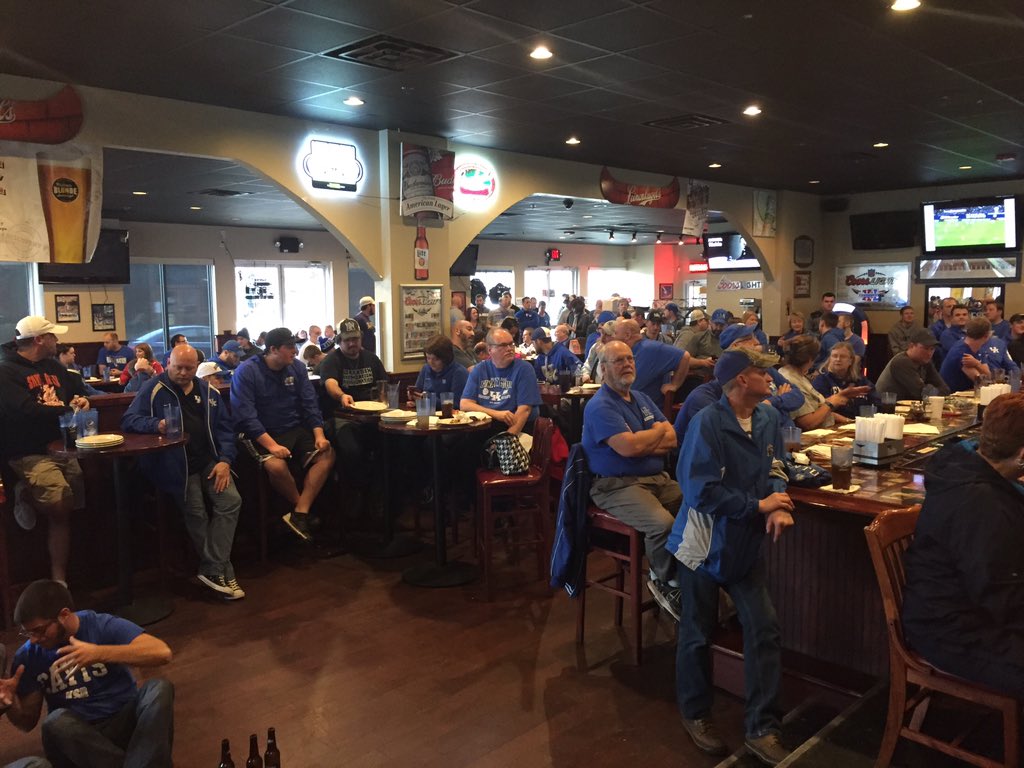 Unfortunately it was our last show of the week — we have families, you know — but we'll be back for the KSR pregame show Saturday morning.
Plenty of stuff here on the website these next two days, too.
Go Cats.