Charles Barkley says "F— John Calipari" during postgame press conference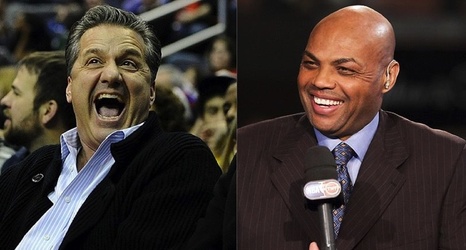 John Calipari and Charles Barkley have been buddies for quite some time, going on record at one point to say they were "friends for life" on Calipari's podcast back in 2016.
Tonight, they proved just that by participating in some friendly banter following Kentucky's 82-80 victory on the road at Auburn.
During Calipari's postgame press conference, Charles Barkley walked in while the Kentucky head coach was breaking down the victory, causing Coach Cal to go off script a bit.
"I'm telling EJ (Montgomery) when I'm walking by him, he should be yelling at me, "I'm better than Charles Barkley,"' he said.
Barkley was quick to throw his own jab back.
"I was yelling at you too, I was yelling, "F— John Calipari," he said.
After some laughs and a hug between the Kentucky head coach and NBA legend, Coach Cal jumped right back in with the banter.
"Where is that statue? I tore it down, did you know?"
"It's big over here," Barkley responded. "(They made me) skinny too."
Here was the entire exchange:
@KySportsRadio @DrewFranklinKSR @ryanlemond @RoushKSR @ShannonTheDude I know the video was taken down but here it is. Charles Barkley saying F*** You to Coach Cal ???? pic.twitter.com/8wFzMqTHsa

— Menser (@bballmenser) January 20, 2019
Earlier in the game, the former Tiger forward joined the broadcast to talk about the game and the status of the Auburn program under coach Bruce Pearl. Barkley said that Pearl would have to recruit lower-end talent and develop them at an elite level because McDonald's All-Americans won't be flocking to play at Auburn.
Dick Vitale then asked Barkley if he was a McDonald's All-American when he came out of high school, to which Barkley replied that he wasn't, but he sure eats a lot of McDonald's.
Look at the exchange below:
Dickie V: Were you a McDonald's All-American?
Charles Barkley: No, I ate at McDonald's
???? pic.twitter.com/lUVLwRqVNH

— gifdsports (@gifdsports) January 19, 2019
Never a dull moment with Charles Barkley.
[mobile_ad]