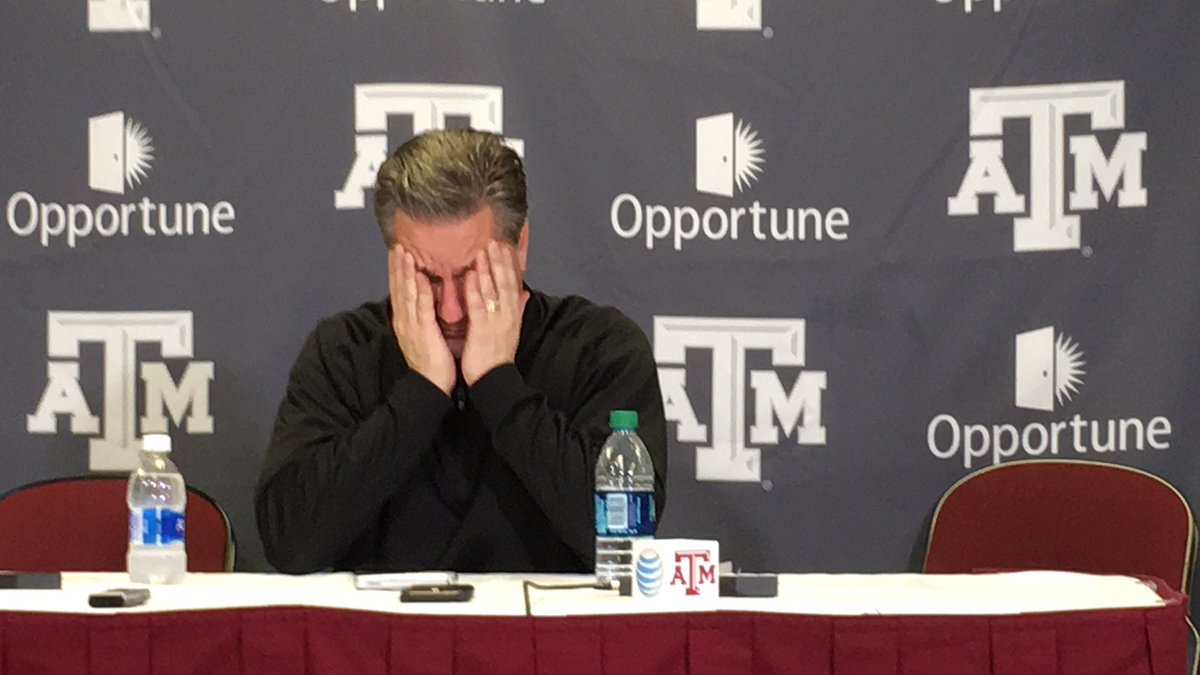 The caption from The Courier-Journal's Fletcher Page is going to be difficult to top: "Good news is, we haven't peaked. Bad news is, we haven't peaked."
Still, give it a try.  I know you can be creative.  If you're not in the mood, click after the jump to see everything John Calipari had to say after today's win.
COACH CAL
On the lift senior guard Dominique Hawkins gave Kentucky in the first half …
"He was ridiculous. I mean, both the energy that he showed and his defensive plays, his drive, the three-point play. He's given this team such a lift.
"Again though, what is happening? There's only a few things you can do now. It keeps happening. What would be one of them? (reporter says slow starts). What do you do? What are some of your options? You guys are all basketball bennies here. Tell me what my options are. (reporter says don't start the game at 11 a.m.) That's one, but that's not our option. Give me something. How about you gotta start different people? Alright, now they gave me that answer. And I said, 'OK. See, you three think it's the other guy that would come off the bench. But one of you three — we can't start six. Can't start six. Can only start five. And if he (Hawkins) is one, one of you three is not starting.'
"I got great kids. I mean, Malik (Monk) was awful today. That was probably the worst he's played. He wasn't engaged in the game. He just wasn't. But they're not computers. They're not machines and they'll have bad games at times. Obviously, his is an 11 o'clock start (and) with no shootaround made it tough probably."
On if it's good to know UK can win without a big game from Monk …
"Yeah, it's nice to know you have Mychal (Mulder) and Dom. That's what's nice to know. I thought Wenyen (Gabriel) played better today because he rebounded and went after balls. He shot that airball free throw, but I'm not worried about that. That's mentality. You got time to build that. Then I thought Derek (Willis) in the second half grabbed every ball with two hands. So now all of a sudden he ends up with — he couldn't get near a ball — he goes with six rebounds and probably a majority of them, and three blocks, in the second half where he just grabbed balls with two hands. We talk about it every day, but he made an effort in the second half to do that."
On what he's done up until now to try to prevent the slow starts …
"How we practice, what we're doing defensively, what we're doing offensively so we can see, because a lot of times it may be technical, but the other side of it may be two players and if you're aggressive you can see who they are right away — bang, you two, out. You're killing us.
"Again, this was a hard game because one, Billy (Kennedy's) done a great job. Look, I felt good, I watched a couple of their games. Then I watched their game (versus) Florida and oh man. I mean, they had Florida beat, dead to rights they should have won the game. Florida made three 3s. I'm looking at this saying, 'Wow.' They're also playing the way this team needs to play and get the ball where they need to get the ball. When you look today and you see (Robert) Williams for 20 (points) and 13 (rebounds). He just absolutely killed us. So, knowing that and knowing what I saw here, I was a little worried coming into the game. But, you're already the 1-seed, you're already the champion, this is kind of a throwaway game, and we had to play and play well and fight. What I tried to tell them is this is for your seed (in the NCAA Tournament). This is all about your seed. This isn't about this game. The better your seed, the better chance you have at advancing. What you want to force them to do is they gotta give you the seed you deserve. To do that you gotta win games, and road games are good. I would say that our strength of schedule from this point is probably 10, strength of schedule, and I would imagine the other numbers for our team are in the single digits, six, seven, eight.
"And let me say this, did I say this to this group? I'm getting older. If I repeated say you already said that, OK? There's no one beating anybody by 30 like we did in '15. That team I had in '15, we just were whompin' on people. Everybody, you look at all these scores of everybody, they're one-point games, they're overtime games, they're this team could have lost. Now, the teams at the top are winning those close games, but they're not burying anybody. So we're not the only team struggling to get away from people. Our issue is we have to start better and we gotta try to do this for 40 minutes and then see who we are."
On why teams around the country aren't "burying" teams …
"I don't know. I don't know. Probably there's more balance. You know, you take a team like Kansas. They're winning all those close games because those two guards (Frank Mason III and Devonte Graham) are really good and they're veterans. So, I think what's happened is the teams that have veteran players, they're taking care of business. We're probably one of the few young teams that's winning. Out of 350 schools we're 340-something in age. Like, we're the youngest team in the country trying to play. But, Dom makes us older now, Mychal makes us older, Derek makes us older. All of a sudden we're playing three seniors along with a bunch of other freshmen."
On if he's taking his seeding mentality to the SEC Tournament …
"Yeah, I always do. It's going to be crazy. We don't know who's going to be the 8/9. We don't know. But all I know is the teams that are in there all gave us good games, and should have beat us. So, the first game will be a hard game. But the tournament to me is all about preparation. That's why I don't like it to be Sunday. Because when they throw you in a Thursday game (in the NCAA Tournament) like they did last year, that's five games in eight days if you get to the second game. It's five games in eight days for these young kids. It's not fair. So, you play Sunday and they put you in the Thursday bracket, you better hope that team Saturday is as tired as you and they played on Sunday. It's a hard game to win."
On UK's scoring being down lately …
"Well, we're playing different. We're playing a little different. We're using more clock, we're making people play us in the half-court. Teams are flying back so we don't get it in transition and then they're crowding the court, which means you can't make one pass and shoot the ball. You're going to have to move it, which is fine. My teams have played grind-it-out basketball and we can score 90. This team can score 100, if you play the wrong way. You play the right way and we have to score 70 to win a game. I think the national championship team in that game scored 71, 72, 73 or something like that."
On whether they are in a good place right now …
"What do you mean by a good place? What do you mean?"
In terms of the development of the team …
"We haven't peaked. Let's just say that. We have not peaked. That's the good news. The bad news is we haven't peaked."
On whether they did anything differently on Tyler Davis in the second half …
"We backed off–we did what Billy did. What Billy did to us, I looked and we just did what he did to us I did to him. We just said, 'We're not playing this guy and this guy and just get in and make sure…' because we know how good he is. And he can make free throws, so if you foul him he's–and he and Bam (Adebayo) were both physically wearing each other out, so it's a tough matchup for both."
On sophomore guard Isaiah Briscoe …
"Well, I didn't think he had energy to start the game and I think when Dom went in everybody saw it. Like, oh my gosh, it just changed what happened. But then De'Aaron Fox gets a second foul and he goes back in and he has a will to win. He'll will his team. But making free throws, making some open shots, you gotta do it. You can't–we'll, I'm OK. No you're not. He is a good enough shooter to make free throws. He's a 33, 34-percent 3-point shooter. He's a 70-percent free-throw shooter and he's going 1 for 4 and 5. Not acceptable. Not acceptable. Can't have that guy in a late game if it's a close game. They're going to foul him. But he is a–defensively, you look at every tough ball we came up with in that game. The offensive rebound on a free throw, that was him. There were two rebounds down the other end where they missed. That was Isaiah Briscoe. That's who he is. But, good win for us. Billy's done a great job and I'm hoping we don't have to play them in the tournament. Please. That's not who we want to play."