Calipari really, really loves "Phog" Allen Fieldhouse
In case you're unfamiliar with it, Kansas' Allen Fieldhouse is one of the most intimidating arenas in the country. "The Phog" is a notoriously hostile environment, one that John Calipari became very familiar with during his time on the Kansas staff from 1982-1985. During his press conference this afternoon, Calipari pretty much wrote a love letter to Kansas' arena. Here's what he said makes it so daunting:
It's designed to be loud
The roof of the Phog is vaulted so that the sound bounces around the arena, prompting ESPN to name it the loudest arena in the country in 2012.
"Our building, I can remember when we played North Carolina here and we won on the last play, and I tell you, it was so loud. Allen Fieldhouse is louder. Like much louder," Calipari said. "Acoustically, it's built like [mimics curve] so the sound hits it and it comes right back at you, and it moves you."
The sound moves you?
"It literally moves you," Cal said. "If you're standing and they really get loud, it'll move you. I was there. I coached there. I was like, 'Oh my gosh, I can feel it.' It's like you're at a concert and you're near the bass and boom boom boom and you feel it. That's how it is there. It'll be interesting for these guys, especially the young guys, to walk in and hear it and feel it."
The tradition
Don't be surprised if Calipari tweets some pictures from the team's shootaround at the Phog tonight. He said he's looking forward to visiting the portrait of former Kansas AD Bob Marcum, one of his dear friends. Marcum's portrait hangs in the Hall of Fame at the Phog, which Cal said he hopes UK's staff studies.
"Their Hall of Fame stuff, our people need to go out and see it, look at it and see how they have it set up because it's really neat."
Coming to a renovated Rupp Arena near you??
The exterior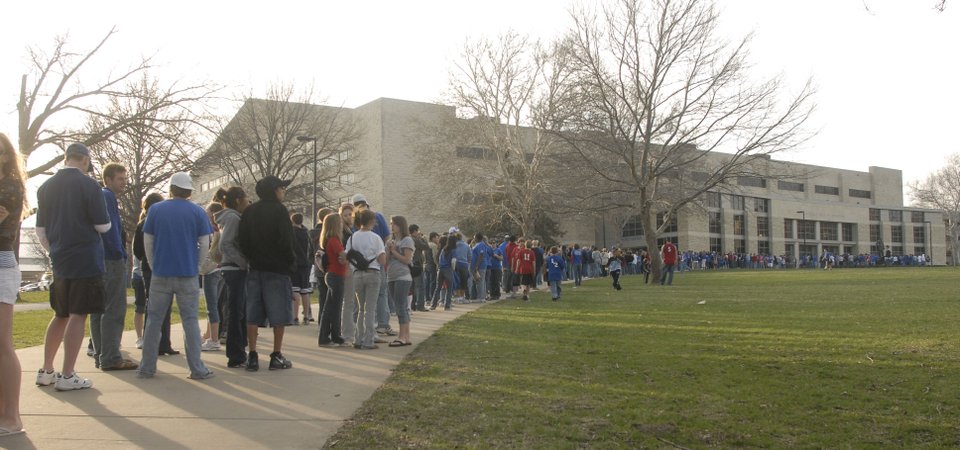 Calipari couldn't stop complimenting the Phog and Kansas' campus, even raving about the limestone buildings.
"It is, let me just tell you about the campus. Every stone — unless it's changed — every stone on every building is from the same quarry. Think about that. Every stone on every building is from the same quarry. It's — you know — it's an unique place. It's special."
Well, if this coaching thing doesn't work out, Calipari would make a fine campus tour guide in Lawrence one day.