BTI's Rants and Ramblings: SEC Power Rankings, Non-Conference Edition (No. 9-6)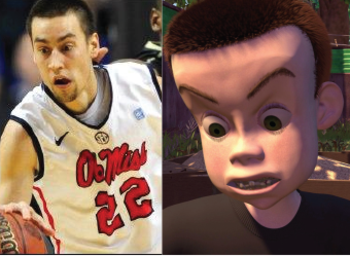 Non-conference play is officially over for the 14 SEC teams, but you likely have been focused solely on UK and it's progress.  Understandable, but now for the next 2 months, we will only have to worry about teams in this conference.  So, it is probably a good time to take some role and see how the other 13 SEC teams have done in non-conference play.  Yesterday you saw the worst of the worst of the league.  Those teams there will be no excuse to lose to.  Today, we look at the middle of the league, the dangerous teams.
#14. Georgia (6-6, RPI: 259)
#13. South Carolina (7-6, RPI: 96)
#12. Mississippi State (10-3, RPI: 164)
#11. Auburn (8-3, RPI: 184)
#10. Texas A&M (9-4, RPI: 176)
#9 Alabama (6-7, RPI: 127)
Wins: Texas Tech, Stillman, Georgia St, North Florida, Charleston Southern, Robert Morris
Losses: Oklahoma, Duke, Drexel, South Florida, Wichita St, Xavier, UCLA
-Alabama has the worst record in the SEC, but they have also played the OVERALL toughest schedule, according to the RPI.  The problem for the Crimson Tide is that they lose all those games.  They really don't have a marquee win to hang their hat on, and that will probably be their downfall come March.  But this team is talented and are competitive in every game they play.  Plus they have a star in Trevor Releford.  They will pull some upsets in SEC play, just wait.
#8 Vanderbilt (8-4, RPI: 82)
Wins: Georgia St, Lipscomb, Morgan St, Loyola Marymount, Marshall, Austin Peay, Georgia Tech, Northeastern
Losses: Butler, Providence, Texas, Saint Louis
-Vanderbilt is still in a rebuilding mode from losing all that talent 2 years ago, but they are making some strides this year.  They actually don't focus on the 3-point shot as much as the past, as Rod Odom is their only legitimate threat.  But overall, they shoot the ball pretty well and their defense has improved since the beginning of December.  This team might still be a year away, but they are not a pushover this season.
#7 Ole Miss (9-4, RPI: 66)
Wins: Troy, Coastal Carolina, Mississippi Valley St, North Carolina A&T, Georgia Tech, Penn St, MTSU, UL-Monroe, W.Kentucky
Losses: Kansas St, Oregon, Mercer, Dayton
-The Rebels are concerning because they started the year 6-0 and have gone 3-4 since, including home losses to Mercer and Dayton.  But look, Marshall Henderson is still being himself and Jarvis Summers is averaging over 17ppg as well.  They have enough to beat any team in the SEC, but also the inconsistency to lose to Georgia.  Only time will tell.
#6 Tennessee (9-4, RPI: 58)
Wins: USC Upstate, Citadel, Tennessee St, Xavier, Wake Forest, Tennessee Tech, Morehead St, Virginia, Tusculum
Losses: Xavier, UTEP, Wichita St, NC State
-I think this Vols squad is probably an NCAA Tournament team.  They score the ball well and rebound well.  They have several scoring options and Jordan Mcrae is playing like a 1st team All-SEC player.  I think by the end of the year, this team could jump as high as #3 in the conference standings.  That 30-point win over Virginia really stands out as Tennessee at it's best.
TOMORROW: No. 5-1