Brent Musburger Joined John Calipari's Call-In Show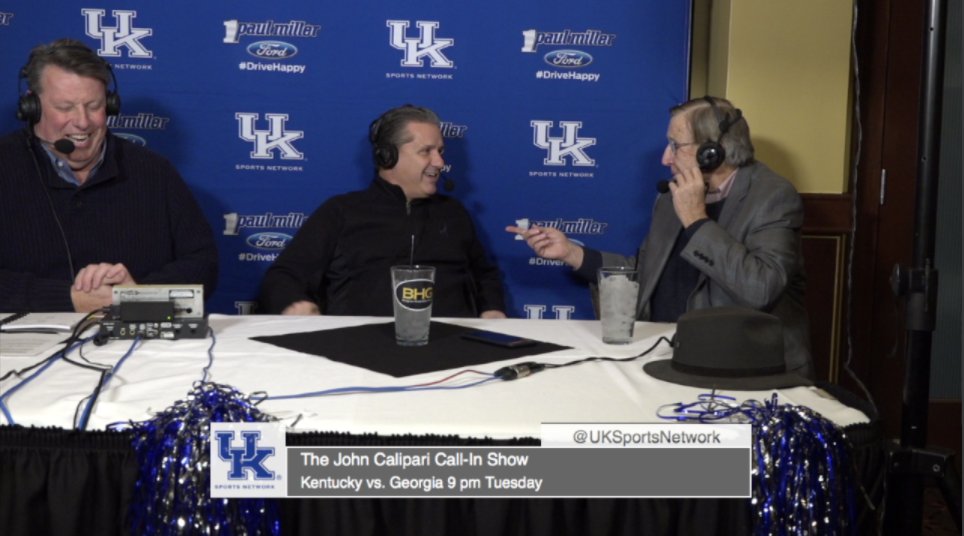 After John Calipari slogged through the first 30 minutes of his call-in show, Brent Musburger joined Cal and Tom Leach to share a few stories before calling his final game for ESPN.
"What a wonderful place to end it, Rupp Arena," Musburger said as soon as he entered the show.
The legendary broadcaster explained why he decided to hang up his mic in the middle of the season.  "Maybe I was tired of looking at you every Tuesday," he joked with Calipari.  "If it's Tuesday, I call it Wildcat Tuesday."
After that, the two were rolling.  Tom Leach is one of the best in the business, but he was struggling to cut them off for commercial breaks.
Musburger shared stories from the best games across every sport he's covered.  There was a night Red Auerbach antagonized the Boston crowd to go after the "biased" broadcasters.  There was a time when he entered cold war territory for a track and field event.  He once called a 16-inning game with Johnny Bench.  Another notable moment in the baseball booth came when George H.W. Bush (Vice President at the time) entered to help call an inning or two.
After Bush left the booth, "A hand came around the both and it was Keith Jackson.  He handed me a bottle of vodka."
There were many great stories shared, but his anecdote from the '85 National Championship between Georgetown and Villanova at Rupp Arena takes the cake.  Leading into the game, Musburger attended every Villanova practice.
On the final day, Rollie Massimino asked the suede sport-coat-clad Musburger, "What do you think?"
He responded, "You're in deep with this team….Ya got your hands full."
"I tell you what Mus," Massimino responded.  "I'll bet you that sport-coat we win this game."
Of course Musburger couldn't back away from the bet.  To this day, Massimino still has Musburger's suede sport-coat.
Unfortunately, I can't share it all, but luckily, you will be able to watch a replay of the live stream here.  Take 20 minutes and listen to the second half of the show; you will not be disappointed.