BREAKING: John Calipari raises over $1,000,000 for Hurricane Harvey relief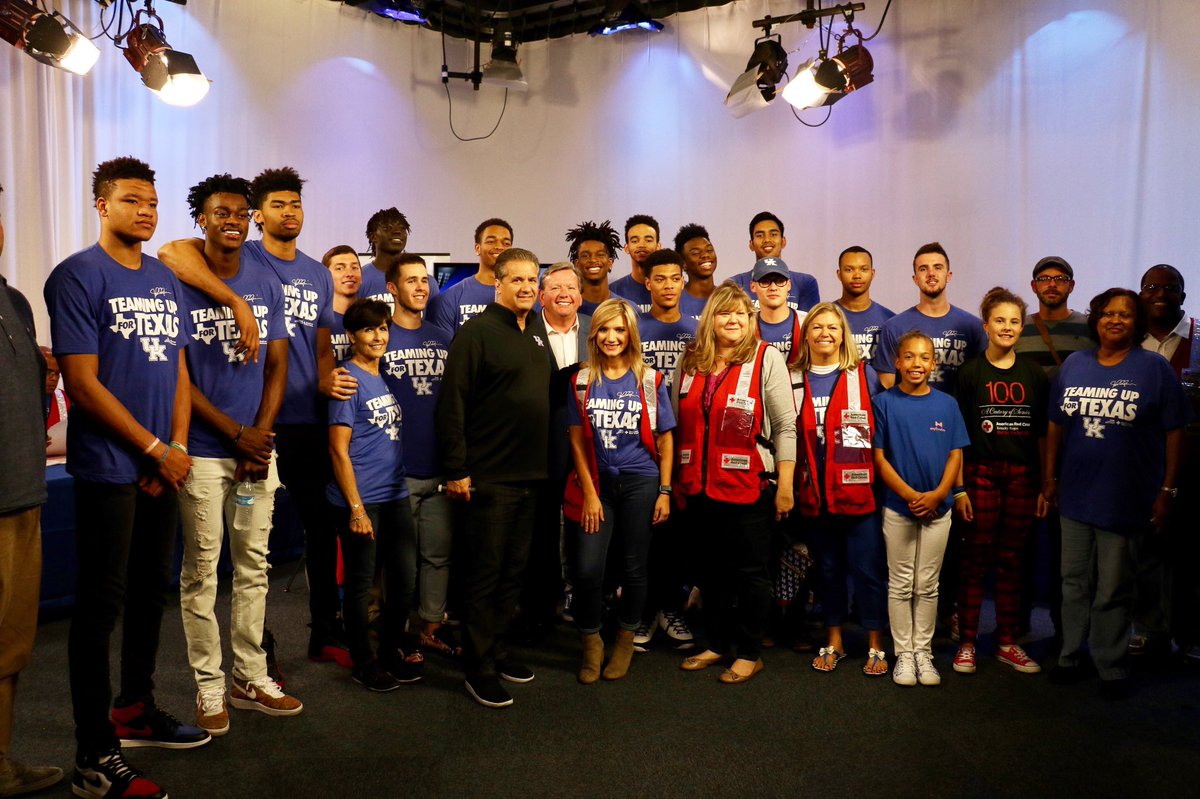 Unreal.
John Calipari has helped raise over $1,000,000 for Teaming Up For Texas this afternoon to help the city of Houston recover from Hurricane Harvey.
Here was the official statement from UK Athletics following the event:

Answering a call to action from John and Ellen Calipari, Joe and Kelly Craft, and the Kentucky men's basketball team, viewers and participants of Sunday's "Teaming Up For Texas" telethon helped generate $1 million (with matching funds) to assist victims of Hurricane Harvey. One hundred percent of the proceeds will go to the American Red Cross to aid in the relief efforts in Texas and to benefit the victims of the catastrophic storm.

"I'm just so proud of the people of Kentucky," Calipari said. "I grew up in Western Pennsylvania and Ellen grew up in Osceola, Missouri. These are people that we just feel so comfortable around, and I know there were $25 donations, there were $50, there were $100, and you know they really were like, 'I don't have this $25, but I'm going to do it.' There were people that gave $10,000 to have dinner (with us). Great. They could afford it. But it was more about how many (donated).
With your help we were able to generate over ONE MILLION dollars.

— John Calipari (@UKCoachCalipari) September 3, 2017
Every donation mattered. Ellen, Joe and Kelly Craft, and I can't thank you enough.

— John Calipari (@UKCoachCalipari) September 3, 2017
#BBN, you truly are the best. We can't thank you enough for helping so many in Texas. https://t.co/hmvNgAIexb

— Kentucky Basketball (@KentuckyMBB) September 3, 2017
Throughout the afternoon, former players such as Karl Towns, John Wall, De'Aaron Fox, and Eric Bledsoe among several others called in to show support and donate to an unbelievable cause. Outside of Kentucky guys, we saw ESPN employees, other NCAA coaches, etc. call in and make massive donations, as well.
If you missed the telethon, head on over to this link and catch up on the pictures, videos, and quotes from today's massive event.
WATCH: John Calipari leads the Teaming Up for Texas Telethon
Once again we are reminded how incredible the University of Kentucky and their fans are.
From the BBN, we're here for you Houston.