Blake Hundley gave Willie a painting, and now needs your prayers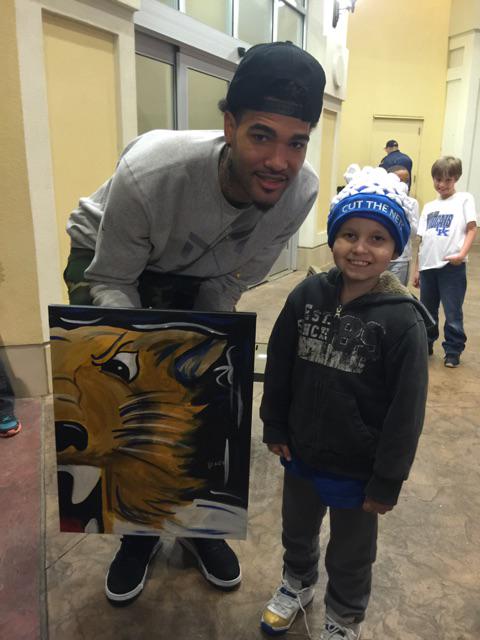 Blake Hundley, the six-year-old who gave Willie Cauley-Stein the #TeamBlake bracelet Willie kept in his sock, hung out with his seven-foot tall friend again last night and gave him another gift. This time, it was a painting of a wildcat Blake had done himself.
Willie talked about the painting and his relationship with Blake on the radio this morning. It turns out they share a love for shoes and a similar swag to go along with their strong bond.
"This little buddy got swag," Willie said of his good friend, who is battling brain cancer. "He was in there swagging last night in the Jordan 11s. He has the same custom Jordans (as me), he's got his own little pair and he had me sign them yesterday. The whole swag, the whole way he carries himself is so powerful because I could not do what he's doing with what he's going through."
Sadly, Blake's status has worsened since he was out "swagging" and giving paintings to Willie last night, and he could really use some prayers from Big Blue Nation.
Here's the latest update, posted this morning on his Facebook page:
So please, keep Blake, his family and everyone on #TeamBlake in your thoughts and prayers today as Blake continues to fight.