Biggest recruiting surprises of the Calipari era at UK
If there's one thing Kevin Knox's announcement reminded us yesterday, it's to never count out Coach Cal.
Even when the entire recruiting world thinks Kentucky is out of a race and the chances are slim to none, the best recruiter in the business somehow always manages to shock us.
In past years, though, UK has had their fair share of surprising commitments when the Wildcats seemed to be longshots.
Let's look at some of the most surprising announcements in the Calipari era:
Terrence Jones
What a wild recruitment this one was…
Many analysts felt Washington was the favorite for the five-star power forward out of Portland, Oregon, with Oregon and Oklahoma not far behind. Kentucky seemed to be a long shot for Jones, with the talented big man preferring to stay close to home at one of the local schools.
His best friend and former UK target Terrence Ross was a heavy Washington lean, and the general consensus was they'd end up being a package deal. With CJ Leslie still a major option for the Wildcats, Jones' commitment wasn't an emergency for UK fans by any means.
After committing to Washington, he told reporters he made the decision due to it being "close to home and Terrence Ross being there."
His buddy Terrence Ross signed on the dotted line that afternoon, but Jones held off, sparking immediate controversy. It then became known Jones called Coach Cal after the press conference and told him he made a mistake, looking for advice about his next step.
Two and a half weeks later, Jones signed his letter of intent, but it went to the Joe Craft Center offices in Lexington, not Seattle, Washington.
As an added bonus, Jones surprised fans again at the end of his freshman year by announcing he would be returning to school for his sophomore year. His reasoning?
"I've been enjoying being college player & plan on striving to reach goal of winning #8 here at UK. I can't leave BBN yet," Jones tweeted.
Safe to say his goal of winning No. 8 at UK was achieved.
Marquis Teague
Speaking of winning No. 8, next we have Marquis Teague's legendary commitment in 2011.
Louisville hired Teague's high school assistant coach Shabaka Lands as a "special assistant to the head coach" in hopes of bringing in the top point guard in America. Teague's father, Shawn Teague, played under Pitino at Boston University several years before. All clues pointed to Teague ending up in Louisville.
According to Jerry Tipton, Teague was ready to commit to UofL on two separate occasions, but his dad told him to hold off.
"I felt that was where I wanted to be," Teague said after committing to Kentucky on Thursday. "My dad told me to wait. He felt I was rushing into it."
More than anything, this was in the midst of the public finding out about Pitino's 15 seconds of fame with Karen Sypher, and UofL needed a star player to smooth things over with the program and save face with fans as a whole. With massive mutual interest, the UofL coaching staff felt they had their guy.
Teague was expected to become a Louisville Cardinal right up to the day before his big announcement, with most considering it a done deal. Rumors spread the night before, however, that a last second change of heart swung momentum toward Kentucky.
Right when fans thought they had an idea, Teague showed up to his announcement in a bright red polo, sparking more uncertainty.
Nonetheless, Teague chose to attend Kentucky, breaking the hearts of thousands of Louisville fans as he became a tournament killer for UK en route to the 2012 title.
Following the announcement, Louisville fans and media went NUTS, and it was about as beautiful as you can imagine. Here are just a few quotes from stories following Teague's commitment:
"As for Louisville, I don't think there's any denying that this has been a solid body blow to the program and a forceful head shot to the image of the man who's the face of it."
"I've heard multiple people reference Pitino losing Teague as being the equivalent of Denny Crum losing Wade and, subsequently, Allan Houston to Tennessee, an exodus which is widely viewed as the beginning of the end of the Crum era at Louisville."
"The one-and-doners are motivated by dollar signs, and couldn't care less about tradition. Another championship would be nice but their individual goals are the highest priority. Adolph who?"
Nerlens Noel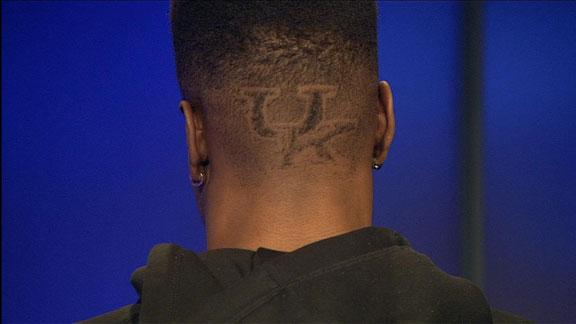 The biggest defensive recruit in the nation was deciding between Georgetown, Syracuse, and Kentucky, and many felt his schools of interest fell in that order. Georgetown and their incredible history of developing big men into NBA studs became the overwhelming favorite, and many UK fans felt the 2012-13 squad's "missing piece" would slip right through their finger tips.
On an epic night where Shabazz Muhammed and Noel decided to have a back-to-back announcement on ESPN, things took a turn for the worse when both Muhammed and Noel were thought to be headed elsewhere, and UK would be left with little to nothing to finish out the class.
We were then treated to one of the coolest recruiting announcements in recent memory.
That season didn't end as well as we'd hoped, but Noel became a fan favorite right before our very eyes in his one year at Kentucky. His elite defensive presence compared to that of Anthony Davis, and he instantly became the anchor of a team that desperately needed one.
Julius Randle
Talk to any basketball insider, five-star power forward Julius Randle was headed to Kansas. Kansas insiders were actually arrogant with how confident they were the 6'10 big man would end up in Lawrence as a Jayhawk.
If you recall, the popular rumor at the time was that the Harrison twins and Randle disliked each other, and refused to play at the same school. When the twins opted for Kentucky over Maryland, many analysts automatically assumed the Wildcats were out of the running.
Upon announcing his decision, Randle not only committed to Kentucky, but informed the media he had made his decision over three weeks ago… Long enough for him to buy a personalized phone case with a UK logo on it.
Randle went on to become a double-double machine for the Wildcats, leading the team on one of the most entertaining Final Four runs in history.
He and the Harrison twins got along just fine.
Jamal Murray
If you looked on social media or various message boards, Jamal Murray was guaranteed to attend Oregon in 2015. Many Kentucky fans didn't even bother watching the announcement because almost every recruiting analyst had Murray pegged as a future Duck.
Because I'm stubborn and never give up hope, I tend to watch/follow announcements for guys almost certainly headed elsewhere like Brandon Ingram, Jayson Tatum, and Harry Giles. Murray's announcement was no different.
I sat down that night and prepared myself for disappointment.
And then this happened.
Murray went on to become one of the most dominant three-point shooters in UK history, giving the Wildcats one of the most impressive backcourts in America with sophomore point guard Tyler Ulis.
He's now taking the league by storm for the Denver Nuggets one bow and arrow at a time.
Kevin Knox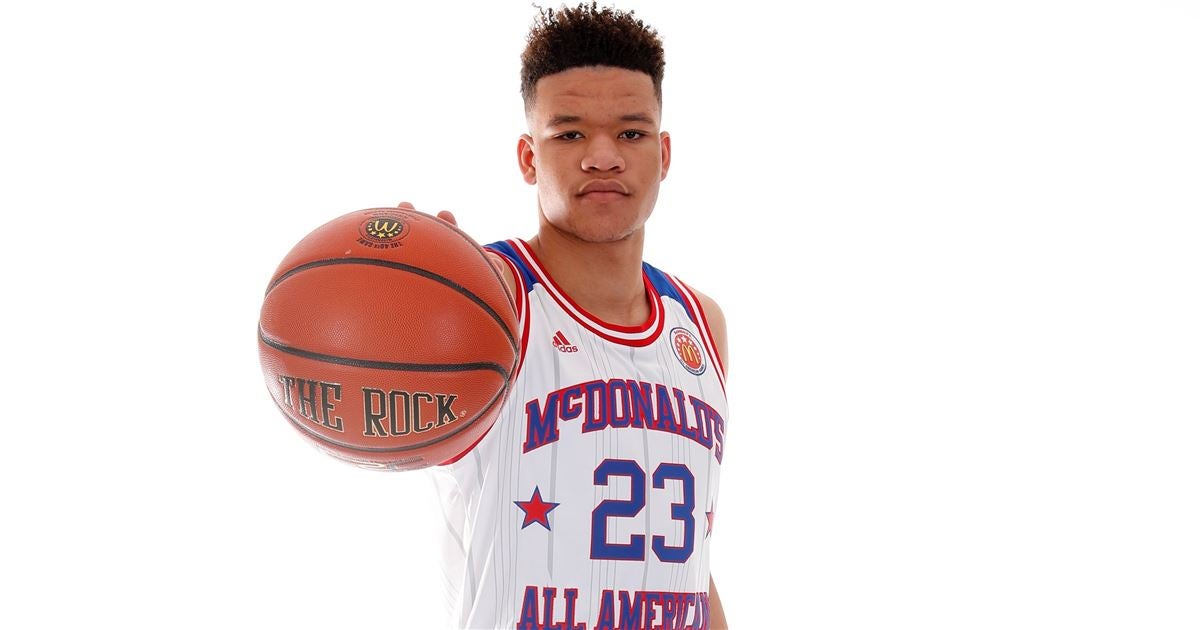 And then we go to yesterday's massive news out of left field…
Since Michael Kidd-Gilchrist, Calipari has swung and miss on his favorite small forward prospect in the class every single year. Jaylen Brown, Kelly Oubre Jr., Justice Winslow, Jayson Tatum, etc., all of them headed elsewhere, leaving Coach Cal to experiment with three guard lineups more often than not.
We've heard rumors of Calipari absolutely loving Knox, but things looked rough late in his recruitment. Duke and UNC seemed to be the frontrunners, with the Blue Devils considered the heavy favorite.
In fact, not one recruiting analyst had UK as the choice.
We know the rest of the story, the biggest recruiting surprise in recent memory.
BIG BLUE NATION LETS GO🔵🔵⚪️⚪️ #BBN🐯🐯🐯🐯🐯🐯 pic.twitter.com/FiRjA7DlGq

— Kev‼️ (@kevin_knox23) May 6, 2017
What will Knox's legacy be at Kentucky?
Do any other surprising commitments come to mind?
Follow me on Twitter: @JackPilgrimKSR