Big Blue ProCamps Want Friday Afternoon Notes
One last friendly reminder about today's NBA draft promo for the two Big Blue ProCamps. Use promo code "DRAFTDAY" to save $30 today on either of the two upcoming camps, featuring UK's four lottery picks and the Harrison twins. Click on those flyers for more information and go to BigBlueProCamps.com to get signed up. Your child will love you forever.
Now let's run through some Friday afternoon notes…
*****
Karl-Anthony Towns introduced in Minnesota, live on SportsCenter.
Towns and Tyus Jones met with the Minnesota media and streamed through ESPN about an hour ago. Towns had very kind things to say about the University of Kentucky, John Calipari and his UK teammates, and tried to make the case for Aaron Harrison. Timberwolves head coach Flip Saunders, seated next to Towns, interrupted to remind him he is not the personnel director. "I'm biased!" said Towns.
During Towns' praise of his former program and his five fellow UK draft picks, he turned to Jones and said, "But Duke University won the national championship."
Still hurts.
Seth Greenberg and Jay Bilas disagree with Pat Forde, just like us!
Bilas tweeted, "Cal doesn't emphasize winning less than others. He positions things to recruit. It's working."
Greenberg unleashed a series of tweets:
– "@YahooSports You spin it that way for a reason. Cal coaches to win championships. He is also smart in that the draft brands his program."
– "There is nothing worse than mean spirited journalist that use their platform for their own selfish reasons and lose objectivity."
– "I am trying to learn this business and the best journalists have strong objective educated opinions. When you lose objectivity that is an agenda."
So does anyone like Forde?
Willie Cauley-Stein celebrated in Jay Z's 40/40 Club last night and his shadow in this picture gave him a mullet.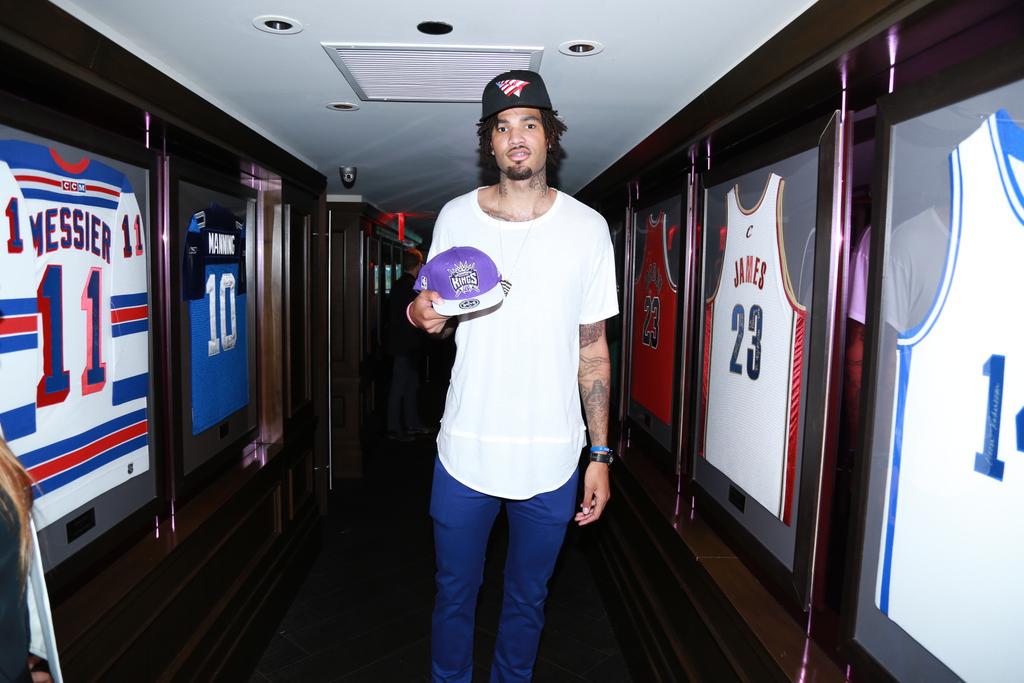 Of all the Willie Cauley-Stein haircuts, this shadow/Lionel Richie special is my favorite.
CBSSports.com projects Skal Labissiere as the No. 1 pick next summer, Jamal Murray third.
From Gary Parrish:
1. Skal Labissiere (Kentucky)

Labissierre was born in Haiti but has spent the past several years living in a suburb of Memphis in north Mississippi. While there, he developed into a 7-0 power forward with a unique offensive skillset perfectly suited for the NBA, then signed a letter of intent with Kentucky. So, yes, the Wildcats should have the top pick in the NBA Draft again next June.

3. Jamal Murray (Kentucky)

Murray recently reclassified to 2015 and committed to Kentucky, at which point he became the missing piece to yet another national-title contender. The 6-5 guard will play with Tyler Ulis and Isaiah Briscoe in Kentucky's backcourt for a season, then probably join Labissierre as names John Calipari can add to his growing list of NBA Draft picks.
Four No. 1 picks in seven seasons? That's just silly.
Sign up for Big Brothers Big Sisters' "Golf Fore Kids' Sake" golf scramble.
The scramble will be held Thursday, August 6 at Keene Run Golf Course in Nicholasville. There are morning and afternoon flights available with the opportunity to finish in second place behind my team of champions. Lunch, drinks, tee gifts, and much more will be provided on what will certainly be a fun afternoon for a great cause. Sign up to play or become a sponsor here.
USWNT vs. China at 7:30 in the World Cup quarterfinals.
I believe that we will win!
Happy Friday, everybody.