Big Blue Madness Campout DOs and DON'Ts
We are days away from the Big Blue Madness campout, Kentucky fans' annual reminder to the rest of the world that we are absolutely nuts over UK basketball. There will soon be seven hundred tents surrounding Memorial Coliseum and across the street at Stoll Field, as some of the Cats' most passionate fans await Friday evening's ticket distribution.
Tonight, as we enjoy the calm before Tent City is erected, let's go over a simple set of tips to consider. The DOs and DON'Ts of camping, if you will. As a seasoned vet, I encourage you to follow these:
DO get there early.
Like, right now.
UK asked fans to begin lining up no earlier than 5 am Wednesday, but there are already several campers across Avenue of Champions because people are crazy.
If you're planning to set up this week, consider going ahead and getting out there as soon as possible. You may end up sleeping next to the dumpster if you wait.
DON'T sleep next to the dumpster.
I highly recommend avoiding the porta-potty, too.
DO take a Sharpie.
The Big Blue Madness campout is the best time for fans to get autographs. The players are constantly walking through on their way to and from class, and they are always happy to sign whatever.
So be sure to keep a Sharpie on you at all times. You never know when the opportunity to have Marcus Lee sign your fake leg will present itself.
DON'T cheat the system.
Every year an asshole or four sneak toward the front and take a control card from the fans who spent the entire week camping out. Two years ago a man brought a van full of teenagers on control card day and they weaseled their way toward the front of the crowd to get a good spot. It seems to happen every year and it's unfair to the people sleeping on the dirt.
Don't be that asshole.
DO make sure you know how to set up your tent.
It's a rush to get set up once the horn is blown at 5 am Wednesday morning, as everyone races across the street and begins assembling their homes for the next three days. Practice your tent assembly before you go, so you're able to get established as quickly as possible.
Remember Yellow Tent Guy?
DON'T be Yellow Tent Guy.
Practice, people. Be ready when the time comes.
DO your best to bathe.
I don't care how you do it, just do it. Sneak in the Joe Craft Center and use the locker room if you have to. Just make sure you cleanse your body to the best of your ability.
(Covering your foul self in Axe Body Spray does not count as cleansing your body.)
DON'T forget toilet paper.
Especially you, ladies. Toilet paper is essential. Forget it and you'll be stuck with newspaper and Qdoba napkins.
DO take lots of pictures.
Send them to me on the Twitter.com and I'll put the best ones here on the website.
DON'T worry about packing basketball shoes.
The blue courts are gone. They are no more.
Once the centerpiece of the Big Blue Madness campout, the courts were replaced by the temporary UK bookstore earlier this year.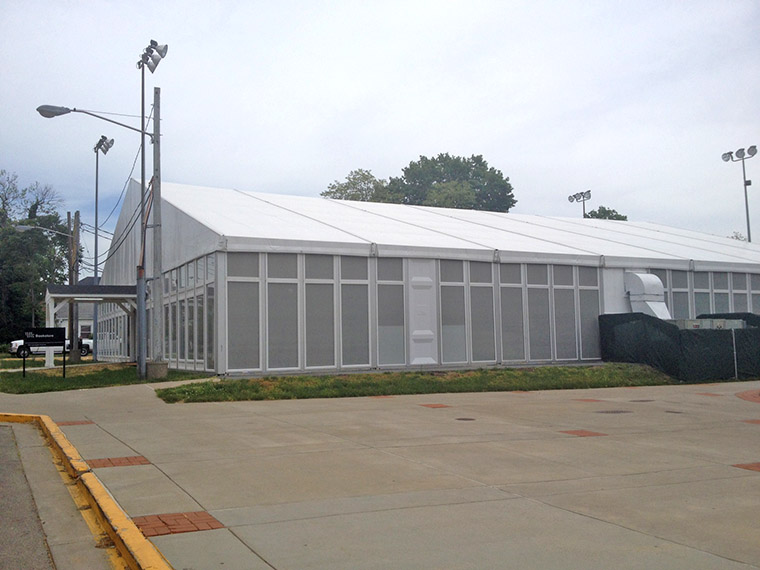 I don't know what fans will do to pass the time, but they won't be playing basketball for hours upon hours. The pickup games with the players will be missed. (Although John Calipari is probably glad those are over.)
DO enjoy it.
To some people, the campout is better than Madness itself. I would agree. It's three to four days of hanging out with thousands of other passionate, blue-blooded, eager, rabid, deranged, mentally insane Kentucky basketball fans outside Memorial Coliseum. There is never more access to the players and some of you may find two or three of them playing cornhole or throwing a football outside your tent one evening. It's a really special time for those who can (and are willing) to do it, and it's one of the many absolutely absurd things UK fans do that separates us from all of the other fan bases.
See you out there!