Behind Enemy Lines: Thompson-Boling Arena
Over the past few seasons, I've been fortunate enough to cover some of UK's SEC road games for KSR. Along the way, I've also been reviewing the venues across the SEC, and on Tuesday, I visited Tennessee's Thompson-Boling Arena for the first time. Before I give you my thoughts, here are my past reviews:
Vanderbilt's Memorial Gymnasium
Auburn Arena
Alabama's Coleman Coliseum
Ole Miss' Tad Smith Coliseum
South Carolina's Colonial Life Arena
Florida's O'Connell Center
Mississippi State's Humphrey Coliseum
Georgia's Stegeman Coliseum
Arkansas' Bud Walton Arena
---
Thompson-Boling Arena
Opened: December 2, 1987
Capacity: 21,678
Exterior: 2
The first thing I thought when I saw Thompson-Boling Arena was "man, that looks like Rupp." That will be a common theme throughout this review, but Tennessee's arena has the same exterior paneling as Rupp Arena, albeit the building is a slightly more interesting shape.
Interior: 4.5
In 2007, Thompson-Boling underwent an extensive renovation to replace all of the seats (which used to be orange) with black padded chairbacks, install a new scoreboard, and add luxury suites and loge seating. This took the capacity from 24,535 to 21,678, and I believe is a good blueprint for what could happen at Rupp Arena should the powers that be decide to renovate. Thompson-Boling was a similar capacity and has a similar feel, and in order to make room for the suites/loge levels, they took out the entire upper arena of seating on the bench side:
The loge level (the third section down) consists of 166 seats, costing $4,000 each. There are interior lounge areas with flat screen TVs and catered concessions to go along with the premium seats outside.
Thompson-Boling has 32 luxury suites on two levels, each varying in size from 10-16 seats. Each suite has a private lounge area, arena seating, and kitchenette with catered concessions. Ten-seat suites cost $35,000/year, while 12- or 16-seat suites cost $50,000/year. If you're wondering, yes, you can drink alcohol in the suites and loge level. The catering company will stock the suite with booze of your choosing.
Here's the Coke suite: Here's the view looking straight out from the inside of the suite:
And the view of the court from the outside seats:
There were some drawbacks to adding the suites and loge: some of the sight lines in the upper level corners are atrocious. Here's a view from a seat on the aisle of a corner section:
These are advertised as "obstructed view," but still.
Flow: 3.5
The concourses were remodeled in 2007 as well and feature murals and signage of the UT men's and women's basketball programs, along with volleyball:
The concourses feel a little narrow, but there never seemed to be any logjams. All in all, fine but not spectacular.
Concessions: 3.5
Standard fare of hot dogs, pretzels, Papa John's pizzas, nachos, etc. I did appreciate the separate popcorn stands:
That's a one-stop shop for this gal.
Standard hot dog price: $4
Popcorn: 3.5
Good, but a little too buttery, which, for this OCD blogger, meant lots and lots of napkins and wiping before typing.
Signature food: 4
There were a few speciality concession stands, including Petro's Chili and Chips and Calhoun's, a popular Knoxville BBQ restaurant. The Calhoun's pulled pork sandwich seemed to be the signature food, priced at $9 with a bag of chips or $16 with a souvenir UT soda (free refills). They also offered wings for $10, pulled pork nachos for $9, and a pretzel and beer cheese for $8.
Bathrooms: 1
I visited two and don't care to relive the experience.
Scoreboard: 5
Much nicer than ours, obviously. Installed in 2007, the scoreboard has large rectangular screens on four sides, circular boards at the top and bottom, and additional scoreboards on all four sides. I even like the "Tennessee" lettering.
PA System/announcer/music: 3
Nothing spectacular.
Fun stuff: 4
As a nod to running through the T in football, Tennessee's basketball team had a large T to run through when the team comes on the court before the game. The intros were pretty decent, and Tennessee had lots of other things to keep fans entertained, including the always-popular Kiss Cam and a t-shirt gun in the shape of a Coke Zero bottle. They also encouraged fans to send in pictures to share on the jumbotron using a hashtag, something I hope Rupp also does when wifi is installed next season.
Tuesday was Groundhog Day and to celebrate, the folks at Tennessee made a fan dress up as a groundhog and go through an obstacle course. I didn't understand it either, but the crowd seemed to like it.
Pep band: 4
Tennessee's band is awesome, and in turn, their pep band is pretty great. I was entertained throughout the night, except during the endless playing of "Rocky Top." In fact, as the game got closer and closer and the crowd got louder and louder, I actually felt ill every time they played it.
Halftime show: 4
No Quick Change, which automatically vaults this higher than most of my halftime show reviews. Tennessee brought in the Air Elite Dunkers, who showcased some impressive acrobatics while jumping on trampolines towards the goals. It was fun.
Souvenirs: 1
No t-shirt night! And they actually won.
Ticket price: 3
Tickets are $15 for uppers, $30 for lower, and $40 for sideline lower. Not too bad, although it definitely wasn't a full house. The announced attendance was around 19,295, but I don't think it was that full. Attendance has been really bad at Thompson-Boling this season, to the point they've had to lower the curtains surrounding the upper bowl at times to make it look better on TV. (Those curtains are usually down for all women's games.)
Ushers: 5
Incredibly helpful and nice, especially while navigating the confusing media/behind-the-scenes areas, which are basically rooms created with lots and lots of curtains.
Press area/meal: 4
The work room was pretty big and what'd you'd expect at an SEC arena. The food area was a curtained off section that was PACKED, and with good reason. The meal — fried chicken, green beans, mac and cheese, and cornbread — was fantastic.
Student Section: 3
Once Tennessee got rolling Kentucky collapsed in the second half, the entire crowd was loud, especially the students. I spotted these signs in the student section, which is behind one of the goals:
So clever!
BBN Effect: 4
Plenty of blue got in, not only because Knoxville is a manageable trip from Central/Eastern Kentucky, but because there were plenty of cheap tickets to be had, as low as $6/each on secondary markets. One of the things I love most about Kentucky fans is how they know exactly when their team needs support. Several "Go Big Blue" cheers broke out in the second half at crucial moments, and whenever Tyler Ulis did something great, there was a genuine ripple of appreciation from the UK fans in the house.
GBB chant count: 4
Campus/town: 3.5
I'll admit, I came into Knoxville expecting not to like it, and well, I liked parts of it. I wasn't overly impressed by Tennessee's campus, but the downtown Knoxville area, especially Market Square and Gay Street, was very nice. First, let's talk about the campus.
I've been lucky enough to travel to ten SEC campuses (eleven counting UK's), and most are beautiful. Tennessee's? It was fine, lots and lots of brick, but parts of it felt very dated. To be fair, UT is in downtown Knoxville, meaning it's bound by the river and the rest of the city, so there's not a ton of space to expand. For that reason, they're tearing down a lot of buildings to redo them, and it's clear they've got the money to do it right; however, there's nothing particularly charming about the campus. Not even The Rock, a UT landmark:
I don't know why, but I guess I expected The Rock to be more impressive…or have more impressive surroundings? In reality, it's at the corner of an intersection in front of an ordinary building. It's still a neat tradition, I guess.
Simply put, aside from the football stadium, UT looked like a state school.
Shoutout to Stephen Caldwell, a KSR reader in Knoxville who hooked me up with his friend, Eddie, who works in the UT Athletics department. Eddie was nice enough to give me a tour of Thompson-Boling and Neyland Stadium Tuesday before the game, and considering the loss, the tour was the highlight of my trip. Eddie showed me around almost all of the athletic facilities, but the coolest part was going on the roof of Neyland Stadium:
High atop old Rocky Top, I got a great view of the city of Knoxville and the almost 100-year-old stadium, which I happen to find fascinating. I know I'm supposed to hate all things orange, and for the most part I do, but Neyland is really cool, especially the parts that have been redone recently. Maintaining the massive and aging structure isn't easy — some would argue it would be cheaper to just build a new stadium than upkeep the current one — but you can feel the history in the building, which also housed athletes until 1970. It's absurdly big, the current capacity over 102,000, and just by looking at it, you can see the additions over the years, layered on top of each other like a cake.
Eddie took me to the locker room and around the luxury suites, so I could go on and on, but I'll save that for "Behind Enemy Lines: Neyland Stadium," coming to a KSR near you in November 2016.
Downtown Knoxville has undergone a renaissance in recent years, and I thought the Market Square/Gay Street area was charming. Plenty of nice shops, bars, and restaurants, all within walking distance of each other. It was, understandably, kind of empty on a Tuesday afternoon, but I enjoyed sitting on one of the patios and people watching as folks walked their dogs or African Serval cats by: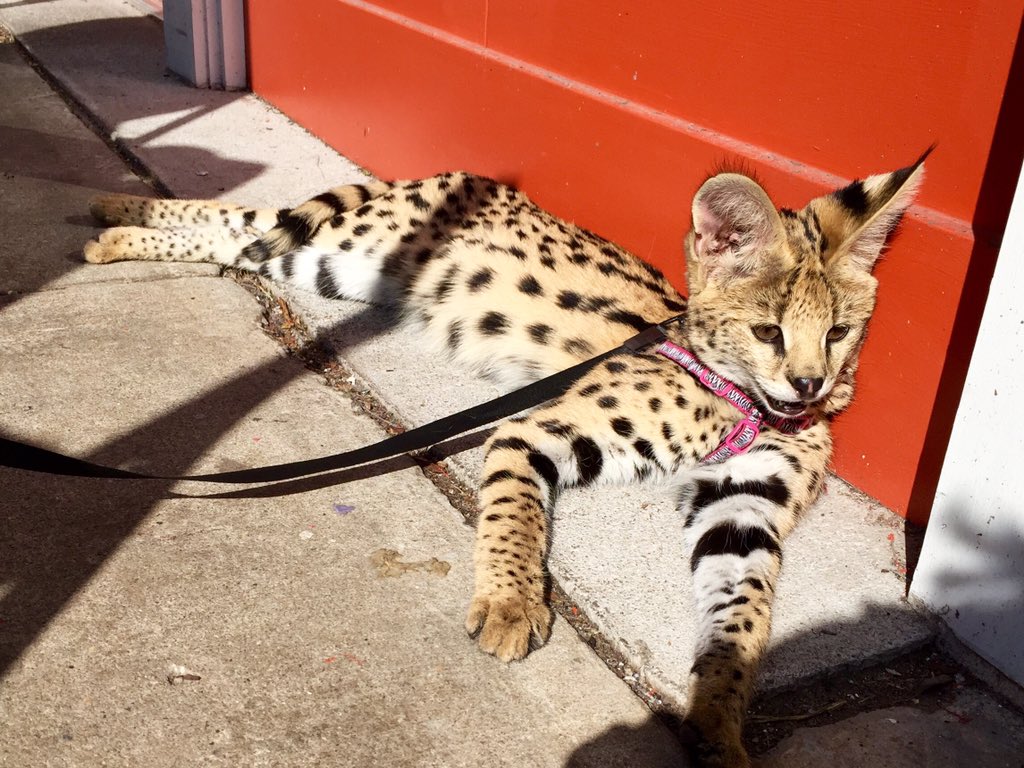 I doubt I would choose to ever live in Knoxville, but it's nice to know there are decent urban areas in a suburban South.
And yes, the Sunsphere is still there: (Sign you're a child of the 90's: you learned about the Sunsphere from "The Simpsons.")
Overall atmosphere: 3.5
Thompson-Boling looked like Rupp, Neyland was cool, downtown Knoxville was cute, the game sucked. That's pretty much my trip to Knoxville in a nutshell. Kentucky's loss turned an otherwise pleasant day trip sour, and, with epic thunderstorms rolling in, I tweeted "Get me the hell out of Knoxville" as I left the arena, incurring the wrath of several Volunteer fans on Twitter. Before the game, you probably could have gotten me to admit that orange wasn't the worst color in the world, but in the end, Tennessee fans showed their true colors to remind me that it is. See you in November, fools!
Total score: 69/100
Previous scores:
Auburn Arena: 84/100
Arkansas' Bud Walton Arena: 79/100
South Carolina's Colonial Life Arena: 77.5/100
Alabama's Coleman Coliseum: 76.75/100
Georgia's Stegeman Coliseum: 75.5/100
Florida's O'Connell Center: 74/100
Vanderbilt's Memorial Gymnasium: 71.5/100
Mississippi State's Humphrey Coliseum: 69/100
Ole Miss' Tad Smith Coliseum: 68.5/100