A Young Alan Cutler Wants Afternoon Notes and Podcast
While watching "SEC Storied: Going Big," a documentary about Sam Bowie, KSR reader Stephen caught this shot of a young Alan Cutler that's so good I had to share it with you this afternoon. Along with some notes because it's a really slow day and I'm bored.
CBS is expanding the Selection Show to TWO HOURS OH GOD WHY
It's already a bit much to stretch the bracket unveiling into a one-hour special, but CBS is taking it one step further, expanding this year's show to TWO hours. Ugh. The show will go from 5:30 to 7:30 p.m. ET following the Big Ten championship game. It will feature even more on-air reaction, analysis, interviews, and a lengthy interview with the chairman of this year's selection committee, Joe Castiglione.
Somehow, you know CBS will put Kentucky's bracket last because they know Big Blue Nation will watch the whole dang thing.
Something seems a little off about these SEC standings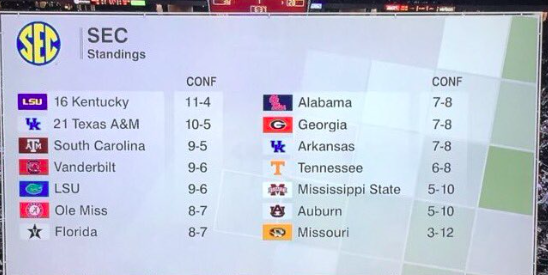 Maybe it's just me.
Tonight is Janee Thompson's Senior Night
UK Hoops takes on Missouri tonight at 7 p.m. at Memorial Coliseum, so if you don't already have plans, make them to go see Thompson's last game at Memorial. Senior Night festivities begin around 6:40 p.m., so don't be late.
If you do have plans already, don't worry; we'll have a full recap on the site later on tonight.
The OTT Episode 2 is up
Have you downloaded it yet? I'll keep asking you until you do. Episode two features ESPN's Kara Lawson, who gave us her take on the Cats and Tyler Ulis, along with some background on her life as a professional athlete and a professional broadcaster. Lady is busy! Funkhouser's CM Tomlin also breaks down the Oscar ballot with me. Will "The Revenant" win everything? (Probably)
To listen, just subscribe to "Kentucky Sports Radio" on iTunes or stream on Podbay.
Miss today's show?
Catch up with the podcast on TalkRadio1080.com, or be lazy and listen to the embedded version below. Matt and Ryan talked about Matt's trip to the Xavier/Villanova game, the best Girl Scout cookies, and much much more.
Hour 1:
Hour 2: