A Look Back at Kentucky's Three Trips to the Yum! Center 2010: Jorts Opens the Yum! Center
No. 12 Kentucky 78, No. 20 Louisville 63
Louisville fans prepared for a coming out party at the new Yum! Center, but Josh Harrellson had different plans. From the end of the bench to Card-killer, Jorts was the unlikeliest of heroes when the Cats took the Yum! Center floor for the first time.
Even John Calipari was shocked to see the stat sheet following the game. "Josh had 23 points and 14 rebounds?" Calipari asked in astonishment while scanning the box score. "Oh my gosh."
Kentucky dominated from start to finish, leading by double-digits for most of the game. Louisville cut the Kentucky lead to 59-49 in the second half, but it never got closer than ten.
Kentucky shot 51% from the field and dominated the paint, primarily thanks to Harrellson. UK outrebounded UofL 36-25, outscored them in the paint 36-36 and beat them in second-chance points 18-9.
Brandon Knight led all scorers with 25 points and 4 assists and Terrence Jones added 12 points and 8 rebounds. Chris Jones led all Louisville scoreres with 15 points, but sad Rick Pitino was the real MVP.
"It doesn't take any smart answers, they were the better basketball team," Pitino said.
Man, I miss Gus Johnson on CBS.
2012: Cards Squeak by Noel and Co.
No. 4 Louisville 80, No. 23 Kentucky 77
The only victory Rick Pitino has over John Calipari at Louisville was with his National Championship team against Calipari's NIT team. Even with a significant difference in talent and homecourt advantage, the Cards only won by three.
The game started as a back-and-forth affair with six ties and five lead changed before Louisville got a comfortable lead. But the Cats weren't finished fighting.
Trailing 51-34, Kentucky cut it to three on a 28-14 second half run, but the Cats simply couldn't keep up offensively with Louisville's big three. Russ Smith scored 21 points, Chane Behanan had 20 and Peyton Siva finished with 19. Archie Goodwin led all scorers with 22 points, Alex Poythress had 14 points and 3 rebounds , Nerlens Noel had 8 points and 8 boards while Ryan Harrow played the best game of his Kentucky career, finishing with 17 points, 5 rebounds and 3 assists.
I won't bother you with Louisville-filled highlights from Pitino's only win over Cal's Kentucky.
2014: A Close Call for Undefeated Kentucky
No. 1 Kentucky 58, No. 4 Louisville 50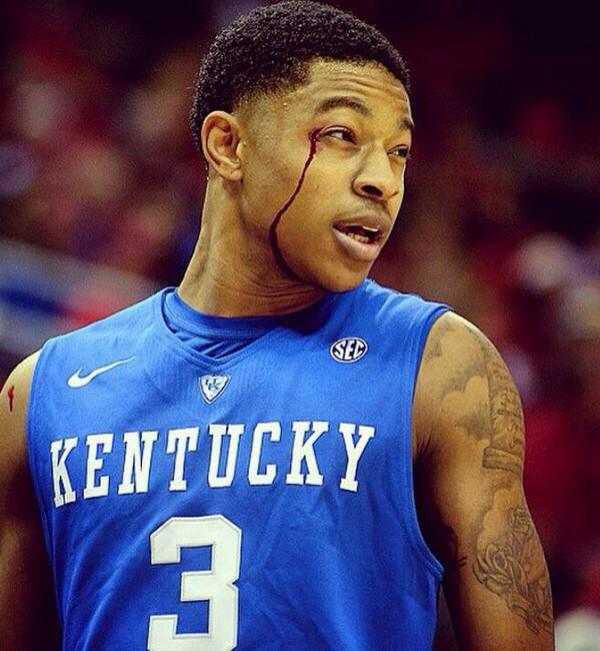 Kentucky brought dominant bigs to Louisville, but the smallest guy on the court had the biggest game in the Cats' first true road game of the 2014-15 season.
"I was more excited than nervous because it was my first away game," Tyler Ulis said. "Being a freshman, I just wanted to see what the atmosphere felt like."
I think it's safe to say it felt pretty good, even though he took an elbow to the face that bloodied his eye. The freshman fought through the pain for a career-high 14 points, with 12 coming in the second half.
A defensive battle, Kentucky held Louisville to just 26% from the field. Karl-Anthony Towns was the only other Wildcat in double figures, finishing with 10 points and nine rebounds, one shy of a double-double. Trey Lyles, a guy who almost played for the other team, also had 9 rebounds. Devin Booker added 9 points on a pair of threes.
For Louisville, Terry Rozier needed 18 shots to score 15 points and Chris Jones needed 15 shots to score 13 points.
"We knew that we could play good defense. It was a question of whether we could score, and the answer was we didn't," Pitino said after the game.
c