A few of the things left to prove for Kentucky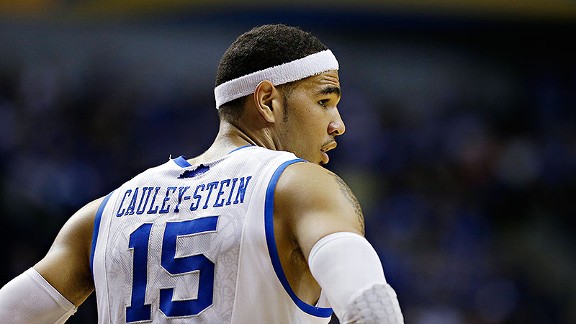 Kentucky has slowly but surely been checking things off of a list that at one point seemed a mile long. What list? The list of questions that were still left unanswered, as well as things Kentucky still needed to prove before being considered a legitimate national championship contender. Once the pre-season magic wore off a bit, and reality began to set in, the list started to grow. The young Kentucky Wildcats weren't quite what everyone expected and left many wondering IF and how long it might take for them to get there. The puzzle is still far from complete, but Kentucky has been consistently answering more questions in the recent stretch of games, and has shown signs of growth and development that have put them far ahead of where they were two months ago. While the check marks are growing and some questions fade to the background, Kentucky still has some important things left to prove.
1. Kentucky has to prove it can win on the road 
One of the biggest things left for Kentucky to do is prove that it can win on the road. Kentucky's only true road win was at Vanderbilt. Kentucky failed to come away from North Carolina or Arkansas with a win– which are the only other two true road games so far. As Arkansas proved, beating teams on the road is a whole different beast than beating them on a neutral floor or in Rupp Arena. Tom Leach made the point in his KSR article on Sunday that had Kentucky played Arkansas at home, Kentucky probably would have won that game. If Kentucky had played Tennessee on the road, Kentucky probably would have lost that game. The results had more to do with the location than Kentucky playing particularly better in one game or the other. Luckily Kentucky will have plenty of opportunities to prove it can win on the road in the SEC.
2. How good can Kentucky be if/when EVERYONE is playing well at the same time?
It's probably unrealistic to expect for every player on Kentucky's roster to have a brilliant game on the same night. At the same time, it would be nice to go for a stretch of games where no single player was in a slump. For a while, it was Andrew Harrison and even Julius Randle. The last few games it has been Willie Cauley-Stein. We still have yet to see what Kentucky looks like during a stretch of games when one of the key players in the rotation isn't going through a slump. Whenever that happens, we might have a better indication of just how good this Kentucky team can be when everyone is clicking.
3.  Three point-shooting… can we make them and can we refrain from taking so many of them?
Kentucky isn't going to magically become a lights out 3-point shooting team. That's unrealistic and Brandon Knight and Doron Lamb are not walking through that door. Aaron Harrison and James Young are serviceable three point shooting threats. One could throw in Jarrod Polson and Andrew Harrison on occasion as well. With that said, Aaron Harrison and Young have been streaky and inconsistent at times. Though both have a green light it seems, Kentucky is not at its best when they are relying on the 3-point shot. Kentucky has had stretches during games where they've settled for the deep ball too early in possessions, or on too many consecutive possessions. Kentucky is still at its best when attacking the rim or going through Julius Randle and Alex Poythress.
4. Consistent free throw shooting
We aren't going to shoot 23 of 24 every night, but if the core group of Andrew Harrison, Aaron Harrison, James Young, Julius Randle and Alex Poythress can all shoot at or above 75% on a consistent basis, I think Kentucky will be just fine. All of those guys are capable of doing so.
5. Keep climbing in defensive efficiency
Just like Brandon Knight and Doron Lamb aren't walking through the door, neither are DeAndre Liggins or Michael Kidd-Gilchrist. Kentucky lacks a lockdown perimeter defender, and I'm not sure one will develop– at least not to the level of some of the guys in past seasons. Kentucky currently sits at 39th in Ken Pom's Defensive Efficiency rating. As we've talked about before, the national champions from recent years have finished in the top 10 in both offensive and defensive efficiency rankings. Kentucky IS currently top 10 on the offensive side, but still has some work to do on the defensive side. It might be too much to ask for Kentucky to climb in the top 10 defensively, but if the Cats can inch closer throughout the rest of the season– that would be a huge plus.