8 Notes from My (Fan) Experience at the NBA Draft
The NBA decided KSR wasn't important enough to get a media credential for last night's Draft, so my husband and I went to the event decked out in our Kentucky gear instead. What happened? I'm glad you asked.
Here's what $50 at the Barclays will get you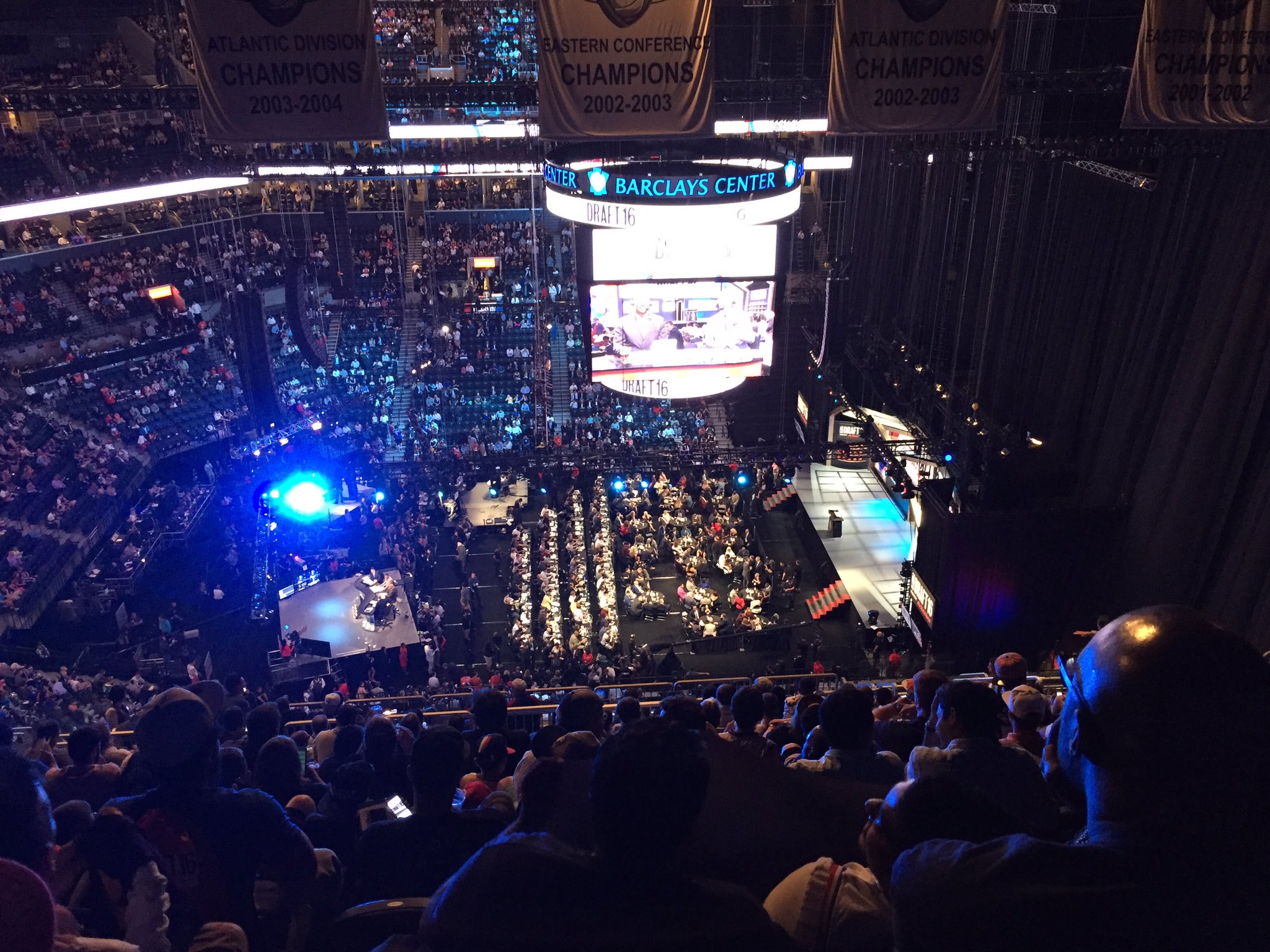 That's Section 225, Row 18, Seats 10 & 11. And yes, it was that high up.
Sixers fans were EVERYWHERE
We made peace with our nosebleeds after meeting the Sixers fans around us. At first, they were extremely entertaining, doing various chants and mocking every other fan that climbed into our section. Hilariously, most wore Nerlens Noel jerseys while clamoring for Nerlens to get traded to the Celtics for the third pick.
Regardless, they all seemed happy when Simmons joined the fam:
Their charm quickly wore off. After a few crude and unoriginal jokes about Calipari ("Hey, Jamal, how much did that car Cal got you cost?"), we made our way farther down in the section.
I was pretty much the only female fan there
It takes a special type of fan to attend the NBA Draft, so I wasn't surprised that 99.9% of the crowd was male. I spotted maybe five other female fans at the Draft, most of which shared the same eye-rolling expressions I did at their male counterparts. There are sausage fests, and then there's the NBA Draft, apparently.
But hey, no bathroom lines.
Drunk NBA Draft fans are the most obnoxious of them all
I've seen plenty of drunk, obnoxious fans in my day. (Hell, some days I've been one of them.) I thought drunk, angry NFL fans took the cake until I went to a NHL game and witnessed drunk, happy hockey fans; however, when it comes to levels of inebriation and obnoxiousness, drunk NBA Draft fans take the cake. You know what's a great idea? Putting a bunch of drunk Philadelphia fans next to a bunch of drunk New York and Boston fans. Yeah, that won't end in a brawl. Never.
Sixers fans fighting Knicks fans at last night's NBA Draft (1 of 2) pic.twitter.com/FuOB6jICVV

– Tyler Thompson (@MrsTylerKSR) June 24, 2016
Cop to Sixers fans: "You all are fighting someone for no reason" (2 of 2) pic.twitter.com/4MMF8hafXN

– Tyler Thompson (@MrsTylerKSR) June 24, 2016
God bless that cop.
Waiting for Skal to get drafted was painful
Going in to last night, Skal Labissiere was projected by most to go eleventh to the Orlando Magic. That didn't happen. In fact, Skal didn't go until the 28th pick to the Sacramento Kings (via Phoenix). The hour or so it took for that to happen was excruciating. Obviously, we were very far away from the Draft floor, but even in the rafters, the tension from Skal's table as he, his family, and Calipari waited for his name to be called was palpable. Skal's year at Kentucky didn't go as planned, but you couldn't help but hurt for the kid as name after name was called other than his. Calipari was clearly agitated, pacing to and from Skal's table on the floor. Even though Skal is with fellow former Cats in Sacramento, that organization is so dysfunctional you wonder if it will stick.
After a day in which there was so much positive spin for Kentucky basketball, watching Skal slide to the end of the first round was jarring.
I'm going to need a Phoenix Suns jersey
The wait for Tyler Ulis was also tough, but at least he's going to Phoenix to reunite with Devin Booker. The pure joy that emanated from Ulis' camp in Chicago when his name was called was the best part of the night:
.@tulis3 is headed to the @Suns #KentuckyBasketball pic.twitter.com/HjRkxUBPO7

– Kennedy Hardman (@kennedy_hardman) June 24, 2016
There was also joy in our camp, to the point that my husband bought tequila shots, a move I definitely regretted this morning.
Everyone loves Karl
Karl has been my favorite since I first met him in the Bahamas, and after an historic rookie season, the rest of the world is catching on to what an awesome guy he is. Karl joined Calipari on various ESPN shows yesterday, but he really shined as a correspondent on last night's Draft telecast. They played ESPN's coverage on the big screens at the Barclays Center, and every time Karl came on, the fans around us stopped and listened, kids especially. The BBN is accustomed to Karl's charm, but after last night, it's clear the league is under his spell and determined to put him front and center.
Clearly, there was no media space for KSR
The NBA turned down KSR's credential request due to "high demand and limited working space." One of the benefits of our birds-eye view was being able to see all those empty chairs in the media work areas: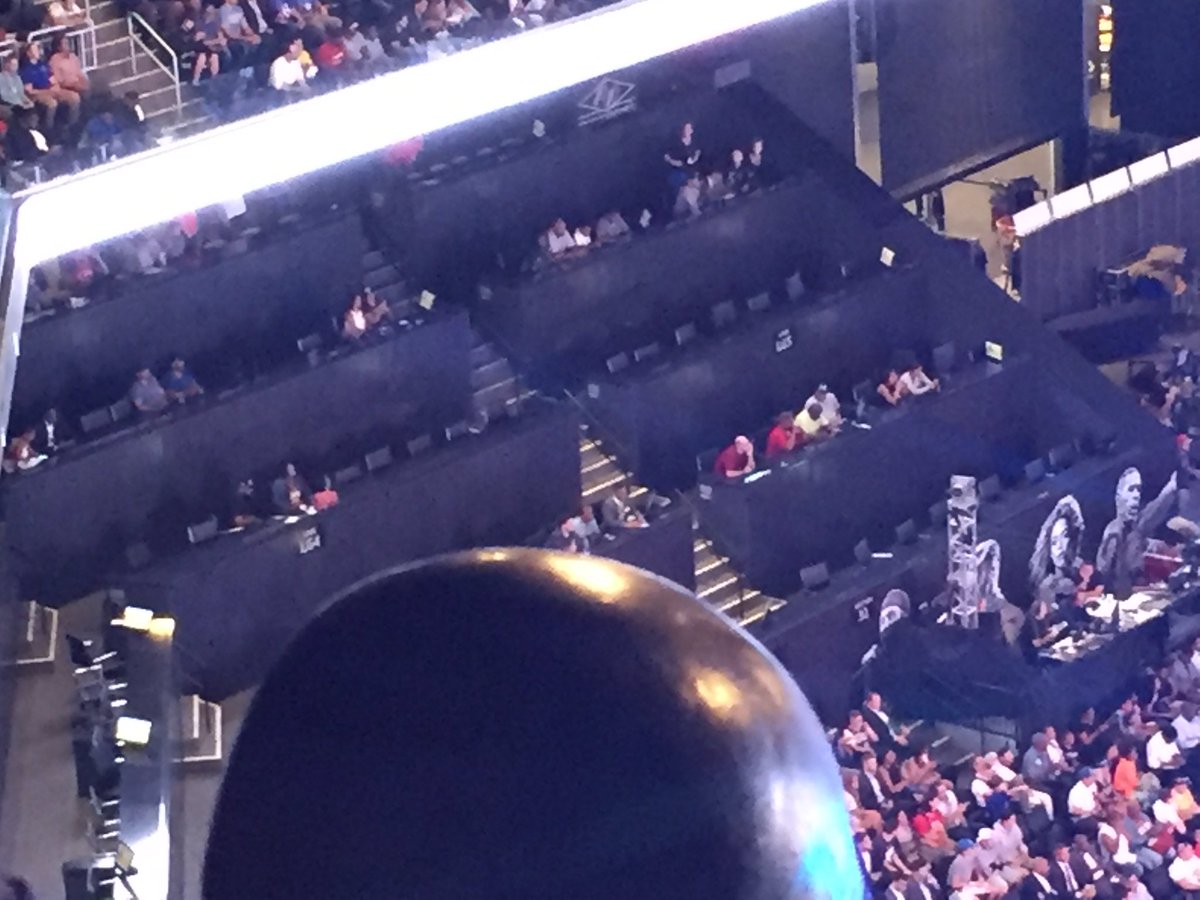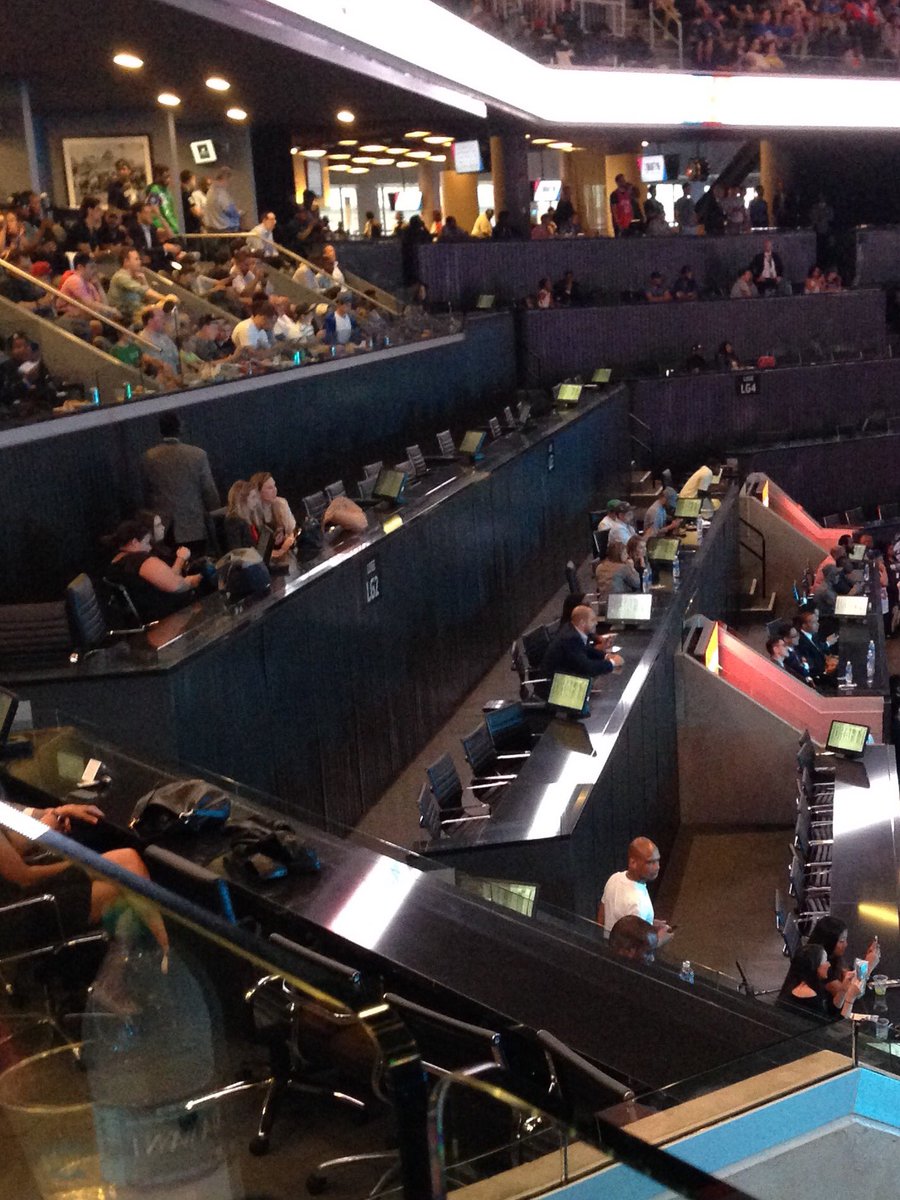 Thanks, NBA. I had more fun anyways.