2014-15: Year of the Big Man
For the past few years the game of college basketball has been dominated by guards with guys like Kemba Walker, Russ Smith, and Shabazz Naiper leading their teams to the crown. However with a slew of returns and an impressive crop of freshman next season looks to be a big man's game. Kentucky will be at the forefront of the rise with the biggest team college basketball has ever seen but there will be plenty of teams that can match up at the center position. Here are my picks for the top 5 fives for next season:
5. Myles Turner, Texas
Will Myles Turner turn Texas into a winner? Well, since Rick Barnes couldn't win big with LaMarcus Aldridge and Kevin Durant it is highly unlikely. Still, Turner was one of the nation's top recruits for a reason and will give the Cats a real test this December in Rupp. Turner and Texas are one of the teams that can match the Cats down low.
4. Karl-Anthony Towns, Kentucky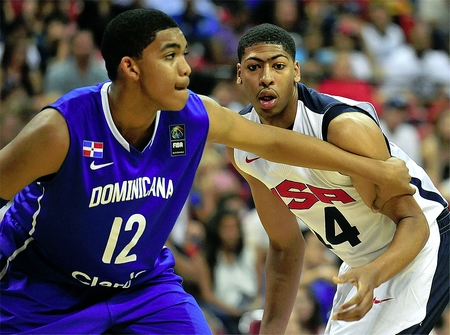 Towns or Dakari? Dakari is a proven commodity who can get on the block and score. Unfortunately, he still has some work to do on the defensive end to overtake KAT. Towns looks like he will come in immediately and play. With his ability to play inside and out he bumps Dakari from the top 5.
3. Frank Kaminsky, Wisconsin
Frank Kaminsky proved he was one of the best big men in the country by making short work of just about every team the Badgers faced except Kentucky. Against big Dakari he was held to 8 points but showcased the moves that will make Wisconsin a contender once again. Frank passed on the draft and will likely be the nation's best senior next season.
2. Willie Cauley-Stein, Kentucky
Willie flirted with the second triple double in Kentucky history a couple of times this season but never quite got there. Next season the record will be on notice as Willie returns to dominate a third year. At times this season Willie looked like the defensive player of the year as he changed the game while guarding. Then he would dunk all over teams on the other end of the floor. WCS has improved with time and next year he should be one of the top centers in all the land. Certainly one with the most ability.
1. Jahlil Okafor, Duke
Jahlil plays like a guy that could come in and instantly be the nation's top center a la Anthony Davis. However, since he plays for Duke he will be the nation's top center at home after the first weekend.
Who do you think will be the nation's best center next season?