2015 NBA Draft In The Most Ridiculous Manner Possible
Follow along for a running blog of tonight's NBA Draft, mostly by me, but with contributions from Matt Jones and Mrs. Tyler Thompson. If you would like to join in on the action, submit a tweet with the hashtag #BBNBADraft and our favorites will be included in the blog. You can also use the comments section at the bottom of this post. Let's go!
******
12:19 p.m.
Aaron goes undrafted. 🙁
No record seven players for Kentucky. Not this year.
11:49 p.m.
Dakari Johnson to Oklahoma City at No. 48!!!
Dakari goes from title contender to, well, title contender.
11:40 p.m.
There were five Kentucky Wildcats with the Phoenix Suns, at least for a brief moment. The Suns selected Andrew Harrison 46th overall then promptly shipped him to Memphis.
In that split second Harrison was with Phoenix, the Suns had as many Wildcats as Louisville has in the entire league.
11:13 p.m.
It's safe to say Bobby Portis would like to have this tweet back:
@DaPrinceJ it don't matter fam!!! Fxck D Rose and tha bulls! #teamHeat over here

— Bobby BP Portis (@BPortistime) May 19, 2011
Portis was drafted by the Bulls tonight.
10:56 p.m.
Kevon Looney to Golden State ends the first round of the draft. Looney and his family left the green room after his long fall, but returned once he learned he would be picked at No. 30.
We still have an entire round left. Someone bring coffee.
10:37 p.m. (Mrs. Tyler)
Okay, I'm tired. Might need some tea to get through this. We've entered the lull of the Draft, but pictures of the Cats doing the media rounds keep trickling out, including this one of Devin Booker with a stuffed penguin?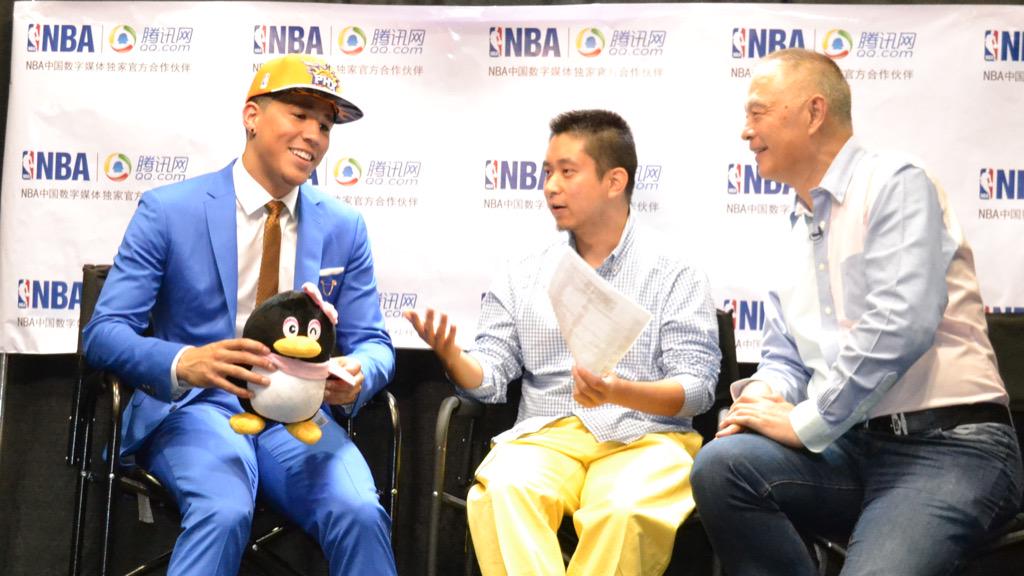 10:14 p.m.
Here's a closer look at Cauley-Stein's WCS medallion
That probably cost more than I'm worth. And by probably I mean definitely.
10:00 p.m.
I would pay good money to watch this:
Here's to hoping the Knicks trade Kristaps Porzingis for Giannis Antetokounmpo, and ESPN has Jeff Goodman announce it.

— Corey J (@cjuk33) June 26, 2015
9:40 p.m. (Mrs. Tyler)
Phew. How is everyone? What a night. In case you're just tuning in, here's the draft in a nutshell so far:
Tonight in a nutshell so far #BBNBADraft pic.twitter.com/9cD9Dd2lkf

— Tyler Thompson (@MrsTylerKSR) June 26, 2015
Meanwhile, fashion analyst Moziah Bridges says he made Willie's bowtie and named it Trill. He is my spirit animal:
9:31 p.m.
Erin Calipari's response to Boston selecting Terry Rozier is perfection.
#L1C1 occasionally

— Dr.SicilianoCalipari (@TheErinCalipari) June 26, 2015
9:14 p.m.
Murray State's Cameron Payne is going to Oklahoma City to close out the lottery. We'll slow things down here on the blog as we wait to see where Andrew Harrison, Dakari Johnson and hopefully Aaron Harrison go later in the evening.
9:08 p.m.
Willie's grandparents look great in their new hats:
@DrewFranklinKSR pic.twitter.com/FqAyk8eLH9

— Clay Segers (@CSegers3) June 26, 2015
9:06 p.m.
Bledsoe is ready for his new teammate:
Welcome to the valley @DevinBook … Got your backpack ready!

— Eric Bledsoe (@EBled2) June 26, 2015
9:04 p.m.
Booker follow Lyles at No. 14 to the Phoenix Suns.
Kentucky ties the record for most picks in the lottery.
Meanwhile, in the Phoenix backcourt: Eric Bledsoe, Brandon Knight, Devin Booker and Archie Goodwin.
8:55 p.m.
TREY LYLES TO UTAH!
8:51 p.m.
Damn… Myles Turner to Indiana at No. 11. This could've been Trey Lyles' homecoming.
8:44 p.m.
Frank Kaminsky has two tanks sewn into his suit jacket.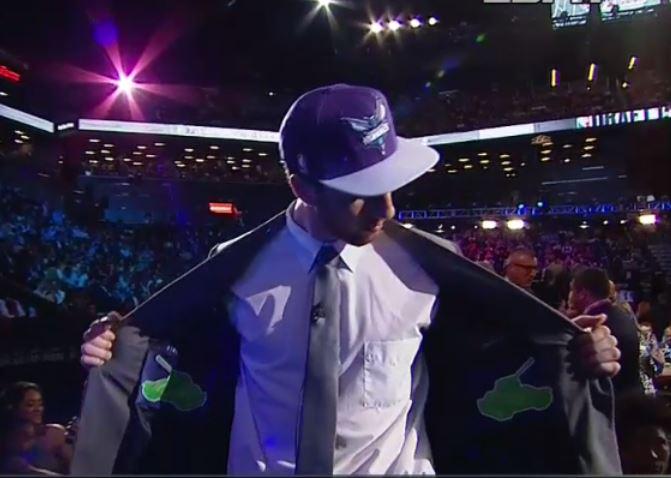 8:42 p.m.
Justise Winslow to Miami. There's a wins low joke in there somewhere.
8:36 p.m.
Frank Kaminsky to Charlotte at No. 9. I was really hoping to see the Hornets take Devin Booker here to team him up with Michael Kidd-Gilchrist. Oh well. It's not the first time Kaminsky ruined my dreams. As Andrew Harrison would say…
8:32 p.m.
Stanley Johnson, picked eighth by the Pistons, just said he is the best player in the draft.
Agree to disagree?
MATT 8:29 p.m.
I am a little surprised that Bilas and Williams were so hard on the Willie Cauley-Stein pick. While I might have taken Winslow first (although I don't think it is a slam dunk), Willie is an all-NBA Defensive Team level talent…they don't come everywhere. Plus, his weaknesses (scoring and toughness on the block) are exactly what Demarcus Cousins does best. I am not sure if the Kings will keep Cousins (it seems youth after the whole George Karl saga), however if they do, the one-two punch on the court seems complimentary to me.
8:23 p.m.
Emmanuel Mudiay to the Nuggets at No. 7. Moving from Guangdong, China to Denver, Colorado seems like a difficult transition. It's an expensive U-Haul rental, too.
8:17 p.m.
Willie Cauley-Stein to the Kings!!!
So happy to see Willie go sixth overall after nearly everyone had him slipping out of the top 10 this week. However, I have very little faith we'll ever see him share the paint with DeMarcus Cousins. And that makes me sad.
8:14 p.m. (Matt)
Sad Knicks Selfie Kid is the real winner of this Draft so far
8:12 p.m.
Mario Hezonja to Orlando. That's a made-up person.
8:07 p.m.
Word spreading that Sacramento will take Willie Cauley-Stein at No. 6.
Please be true. Please be true. Please be true.
8:01 p.m.
The Knicks selected that guy with the funny name to a roar of BOOOOOOOO from the hometown crowd.
Knicks fans, man. Savages. pic.twitter.com/jKLSHvcVjp

— Drew Franklin (@DrewFranklinKSR) June 26, 2015
It's a draft tradition.
8:00 p.m. (MATT)
Ricky Rubio has no worries about Karl coming to town:
Hello @KarlTowns !! You ready to pick up my dry cleaning tomorrow ?? #WelcomeRook

— Ricky Rubio (@rickyrubio9) June 25, 2015
Andrew Wiggins was a little more welcoming:
Welcome to the Family @KarlTowns !

— andrew wiggins (@22wiggins) June 25, 2015
7:53 p.m.
Okafor to the Philadelphia 76ers at No. 3.
More like the Philadelphia Seventy-Centers, amirite?
7:48 p.m. (Matt)
Very cool to see Karl go #1 and help UK become the first program ever to get 3 players taken first in the Draft. We have had a lot of kids at Kentucky over the years and he might be the best as a person that have been here.
And I also would like to know when Okafor stopped parking cars to come to the Draft in that jacket.
7:45 p.m.
Curve ball! D'Angelo Russell to the Lakers at No. 2. That means Jahlil Okafor, the presumed top pick throughout most of the college basketball season, will go third at best.
Should've made those free throws, Jahlil.
7:42 p.m.
We're proud of you, Karl. Now go get that money.
7:39 p.m.
#KentuckyEffect
7:38 p.m.
Karl-Anthony Towns is your No. 1 pick!!!!!
7:34 p.m.
The Timberwolves are on the clock! Here we go!!!
7:33 p.m. (Mrs. Tyler)
The first good subplot of the night: Jerry Tipton vs. the man.
Just got shooed away from stage area and then the area at the rear of the floor. Boy, the NBA and TV are strict.

— Jerry Tipton (@JerryTipton) June 25, 2015
Don't go down without a fight, Jerry!
7:29 p.m. (Mrs. Tyler)
Meanwhile, MKG is modeling Charlotte's new uniforms, which are terrible:
MKG's face says it all.
7:22 p.m.
Did these guys not call each other?!
Okafor should've sent the other three home to change. That's unacceptable.
7:18 p.m.
The Calipari family Christmas card 2015: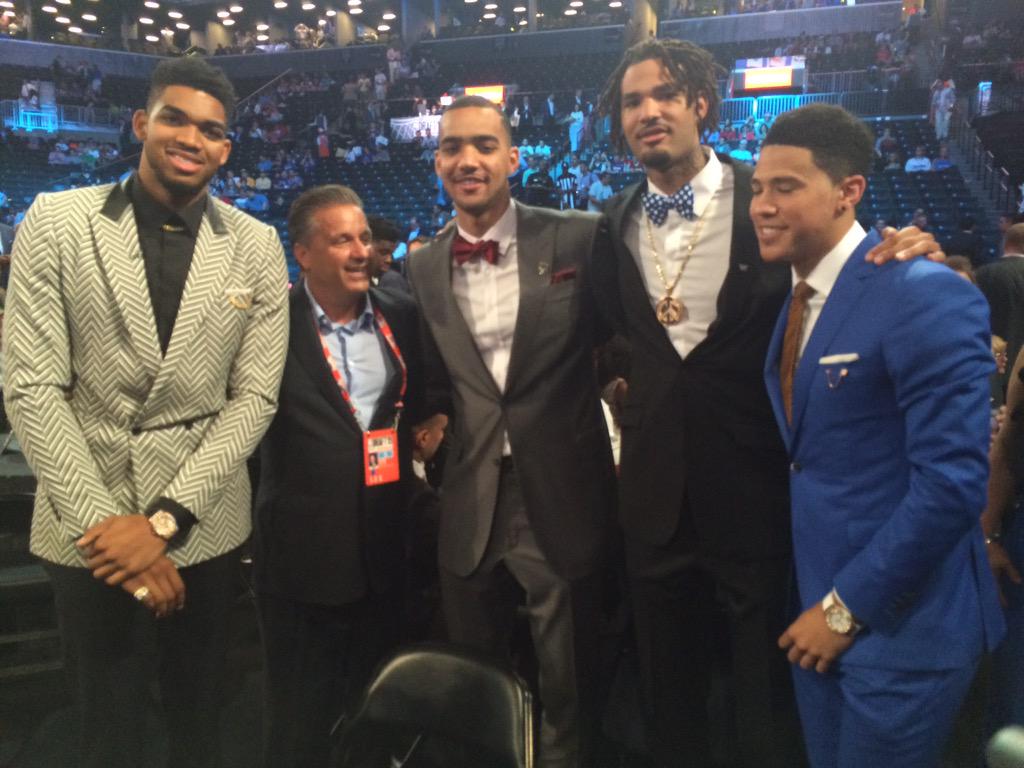 Still not sold on Willie's hair.
7:15 p.m.
NBA TV caught up with Towns moments ago:
.@NBATVJared sat down with @KarlTowns before his name gets called in the #NBADraft http://t.co/PDkDwAHMNI

– NBA TV (@NBATV) June 25, 2015
7:10 p.m.
We still have another 20 minutes before Karl Towns is announced as the No. 1 overall pick to Minnesota. Jay Bilas just said, "If you want the more dominant player in one area, low post scoring, you go with Jahlil Okafor. But I can't argue with this pick. It's a very good pick by Minnesota."
Remember, Bilas took Okafor in his mock draft earlier this week.
Duke much?
7:07 p.m. (Mrs. Tyler)
The word is Charlotte will take Devin Booker at #9, prompting this hilarious photoshop from Fake Barney:
if the Hornets get @DevinBook tonight u kno Hugo gon be like… #BBNBADraft pic.twitter.com/0wU0ZwrPMK

— FakeBarneyKSR (@FakeBarneyKSR) June 25, 2015
7:05 p.m.
WILLIE'S GRANDPARENTS MADE IT!!!!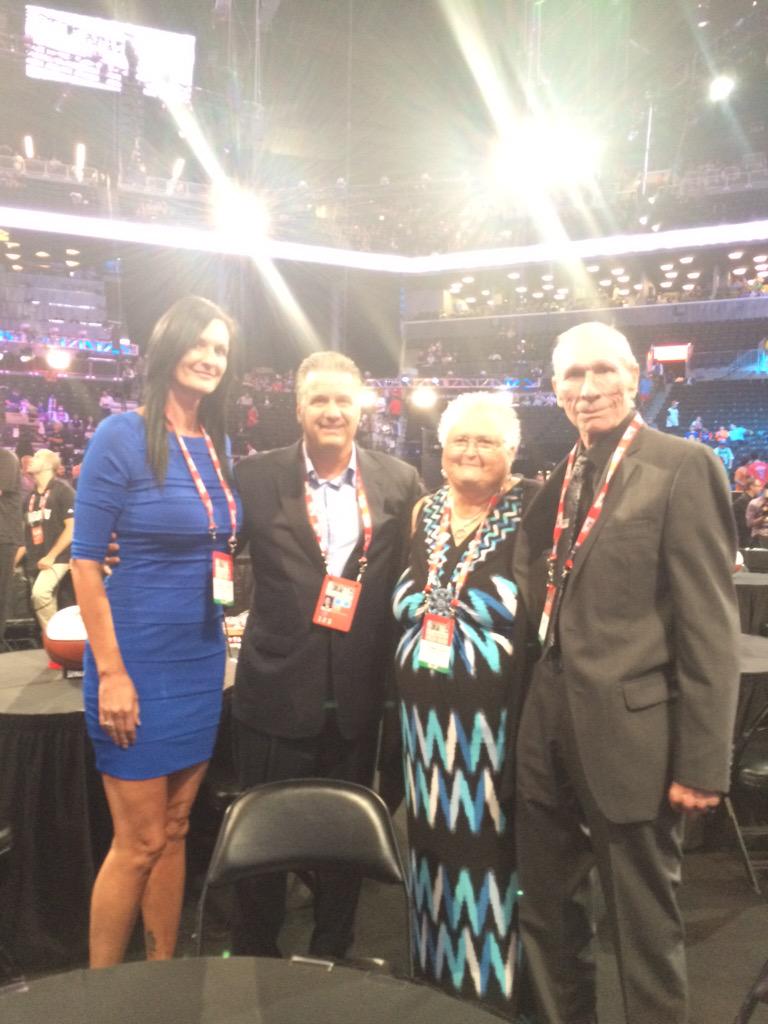 Seems like yesterday they were pretending to laugh at Ryan Lemond's jokes at our pregame shows in Rupp Arena.
7:03 p.m.
Coach Cal poses with Trey Lyles' family: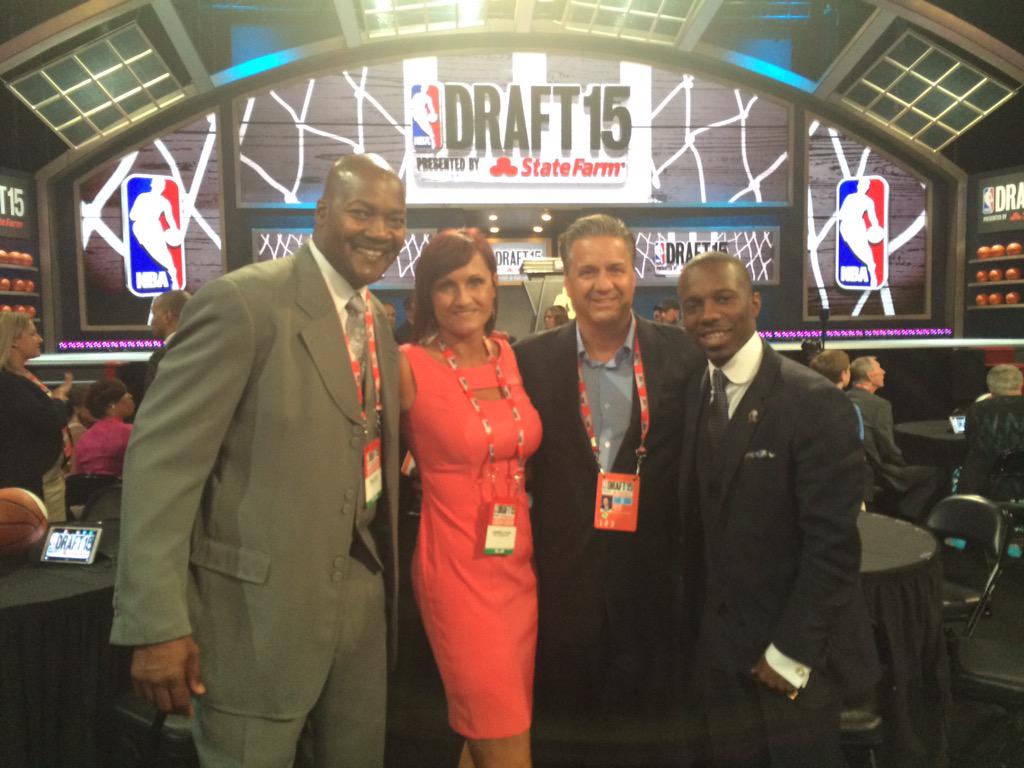 He's going to be all over the place tonight. King of the Green Room once again.
6:58 p.m.
Why is Wiz Khalifa performing on SportsCenter right now? I never thought anything could be worse than 30 minutes of baseball highlights, but ESPN proved me wrong. This is brutal.
Draft in two minutes!
6:45 p.m.
Of course Frank Kaminsky throws up the peace sign.
And is Karl holding a selfie stick here? Is Devin doing the Ricky Bobby? "I don't know what to do with my hands."
So much going on in there.
6:40 p.m.
According to Jerry Tipton, who took the Q train from Manhattan to the BK, Willie Cauley-Stein and his family will be seated front and center at the best table in the house. That means we should get plenty of good looks at the WCS table until his name is called. I hope his grandparents are there. They're awesome.
6:30 p.m.
We're 30 minutes away from the 2015 NBA Draft in the Barclays Center! Tune in on ESPN at 7:00 p.m. and refresh us here for some fun and extremely biased commentary.
Coach Cal is already in the building for what he calls one of his favorite nights of the year. He shared a photo with his good friend Karlito as they play the waiting game in the green room.