12 Notes from Kentucky's 108-51 rout of Clarion Well, that was fun. Kentucky got the season off to a satisfying start tonight with a 108-51 romp over Clarion, John Calipari's alma mater. A wise man once said to never put too much stock into exhibition games, but no one's ever accused us of being wise, so let's break down the game, shall we?
1. Malik Monk was not in the starting lineup
Half of the fun of the early games is predicting the starting lineup. Today, John Calipari caught everyone off guard when he started De'Aaron Fox, Isaiah Briscoe, Wenyen Gabriel, Bam Adebayo, and Derek Willis. That's right, no Malik Monk, predicted by many to be the leading scorer on this year's team. Gabriel and Willis responded to their starting nods, scoring the first nine points of the game. Cal switched things up even more when he started Mychal Mulder, Dominique Hawkins, Derek Willis, Wenyen Gabriel, and Sacha Killeya-Jones in the second half.
Afterwards, Calipari said he brought Monk off the bench in order to not mess up his frontline rotation.
"Look, if I played those three together [Briscoe, Monk, Fox], the frontline rotation was going to be screwed up, so I did what I did."
Hey, whatever works.
2. Tonight, Malik Monk may have been the best sixth man in the history of college basketball
I doubt Monk will come off the bench often, but he did tonight. Monk had a team-high 15 points, 4 assists and 1 turnover in 19 minutes, and showed ridiculous athleticism throughout. There are infinite numbers of highlights to post from tonight's game, but this sequence shows you why Monk is so special:
OK, you can go ahead and start watching this sequence from Malik Monk the rest of the night. #BBN pic.twitter.com/YhW1e6jBoB

– Scott Charlton (@Scott_Charlton) October 31, 2016
3. As the kids would say, everybody ate
Six players finished in double figures:
Malik Monk: 15 points, 19 minutes
Bam Adebayo: 13 points, 19 minutes
Derek Willis: 13 points, 19 minutes
De'Aaron Fox: 12 points, 23 minutes
Sacha Killeya-Jones: 12 points, 15 minutes
Isaiah Briscoe: 11 points, 22 mintues
Wenyen Gabriel was close behind with 9 points in 17 minutes. The most promising statistic to Calipari? Assists. Kentucky finished with 29 assists, with Isaiah Briscoe leading the way with 11, followed by Fox with 7 and Monk with 4.
4. I kind of fell in love with Wenyen Gabriel
Gabriel hasn't gotten the same amount of preseason buzz as his fellow freshmen, but tonight, he showed that he could be one of the most versatile players on this squad. Wenyen hit every shot he attempted tonight, going 3-3 from the field (including a three!) and 2-2 from the free throw line. Gabriel's versatility extended on defense, where we saw he can defend multiple positions. If you ask Clarion coach Marcess Williams, he's the best player on UK's squad.
"My favorite is Gabriel," Williams said. "I love that kid. He might be the best one of them all."
5. "[Briscoe] is the key to the team"
That's what John Calipari said of his sophomore guard when the game was over, and with good reason. Briscoe looked every bit the floor general Kentucky needs him to be tonight, putting up the best kind of double double, 11 points and 11 assists in 22 minutes.
"Isaiah was outstanding," Calipari said. "I mean, he is the key to the team."
He circled back to Briscoe at the end of his remarks.
"I like the fact that we had 29 assists and everybody had some opportunities. But again, it starts with Isaiah Briscoe, and he's coaching De'Aaron Fox, he's coaching these guys, he's talking, if you listen, you hear his voice more than you even hear mine, which is perfect, which is what I want. But it starts with him."
6. Derek Willis played great
Willis' skills from the outside will help this team the most, but tonight, he showed off a renewed confidence inside, including this ridiculous spin move:
D-Willis spin spin spin pic.twitter.com/vLyWkJAd0v

– Tyler Thompson (@MrsTylerKSR) October 30, 2016
Keep it up, Derek.
7. The win was fun, but there's still a lot to work on
It seems silly to nitpick a 57-point win, but hey, we have to keep ourselves grounded somehow. Although Kentucky looked very, very good in several areas, they're still very, very sloppy. This team still hasn't gotten a full grasp of their speed yet, resulting in too many missed passes and turnovers. There's work to do on defense, too. Kentucky allowed nine threes, which drew Calipari's ire afterwards.
"We gave them nine threes," he said to Tom Leach. "You all know if we do that in a league game, we're losing."
While Calipari praised Bam Adebayo for his double-double (13 points and 14 rebounds), he pointed out that several of those rebounds were one-handed, which is Calipari's number one pet peeve.
What's my number one pet peeve?
8. The announcers need to check out that pronunciation guide
I'll be honest, I didn't know who Pat Bradley was before tonight, and after listening to him call the game alongside Dave Neal, I'm not sure I want to. Bradley, a Massachusetts native, played at Arkansas, but maaaan, his Northeast came out tonight. After one of Bam's dunks, I almost expected him to say he PAHKED THE CAHR IN HAHVAHD YAHD.
9. We had a Tai Wynyard sighting
And he was wearing a full face mask after taking an elbow to his face in practice a few weeks back: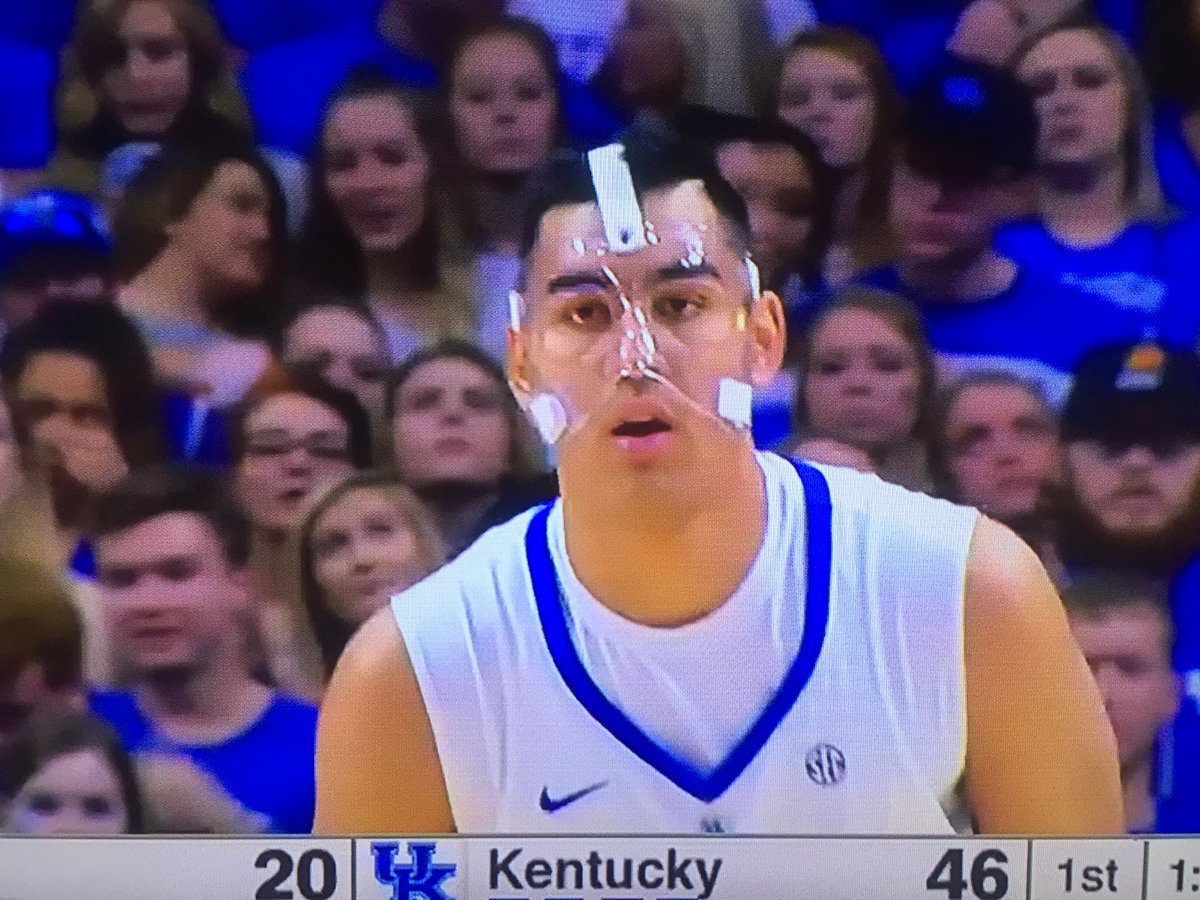 The mask just adds to the big man's mystery, and after the game, Tai addressed the mask on Twitter:
Don't worry guys, I'm not Bigfoot.

— Tai Wynyard (@WynyardTai) October 31, 2016
I was thinking more like Jason from "Friday the 13th."
10. Brad's threes were the perfect cherries on top
Here's the second one, which got everyone in the arena out of their seats with excitement.
That celebration was nothing compared to this one. Brad off the glass! pic.twitter.com/WIk2fwOiEb

– Tyler Thompson (@MrsTylerKSR) October 31, 2016
Afterwards, Calipari joked he might get a kiss from his wife after Brad's big night.
"Well, I had my back to the first one and I kind of just turned and saw him shoot it and it went in and I was happy for him. And then the second one, which was kind of a lucky one, but he had the courage to try to shoot it. And I may even get a kiss from my wife tonight."
In addition to a kiss, something tells me that Ellen will also clamor for more playing time for Brad. Her reaction, as captured by Bradley "B-Roll" McKee, is priceless:
Ellen Calipari was excited after Brad Calipari three pointer. #BBN pic.twitter.com/nDGbcbgOKk

– Bradley McKee (@Bradley_Cn2) October 31, 2016
11. I had a familiar feeling tonight
Tonight's final score was Kentucky 108 Clarion 51. That's eerily similar to the score from the last time Kentucky played Clarion, when John Wall's squad won 117-52 in an exhibition game to start the 2009-10 season. People love to compare the two teams because of their speed — and rightly so — but another moment gave me a case of deja vu tonight:
Yes, it's way too soon for all that, but man, what a fun way to end a fun weekend.
12. After this weekend, you have our permission to walk into work like this tomorrow:
It's a good time to be a Kentucky fan.