10 Things Karl Towns Is Going To Love About Minnesota
If Flip Saunders wants to continue coaching the Minnesota Timberwolves, he will select Karl-Anthony Towns with the No. 1 overall pick in Thursday night's NBA Draft. Word on road in Minneapolis says Saunders has already told Towns he will be the franchise's selection, and NBA sources around the league confirm Towns will indeed hear his name called first. Furthermore, my sources tell me Saunders will be pelted with cheese curds and snowballs if he goes against the grain and drafts Jahlil Okafor first overall. Simply put: Towns is moving to Minnesota this weekend.
Unfortunately for our good buddy Karl, Minneapolis is not New York City, where he hoped to begin his NBA career. Nor is it Los Angeles, Miami or Chicago. It's not even Portland. But Minneapolis still has its lovable traits, ranging from potential within the franchise to
Here are 10 reasons why Karl will love his new home…
*****
1.) Kevin Garnett will make a great mentor.
At the NBA draft lottery back in May, Towns said, "It would be a blessing and an honor to even have a chance to play for Minnesota and be able to have the chance to play for a great organization and learn from a great mentor like Kevin Garnett."
Garnett was the first pick under the current ownership's reign and the former face of the franchise as a rookie and in his early years. The franchise's all-time leader in points, rebounds, assists, blocks, steals and minutes, Garnett has only a few years left in the tank, but he'll need only one to show Towns what it takes to lead and to be great.
Towns may learn a thing or two about trash-talking as well.
2.) Lake Minnetonka
During the offseason, Towns can spend his summer afternoons and evenings on Lake Minnetonka, one of America's best party lakes.
That's where Prince goes to purify himself.
3.) He can live next to Prince.
The Purple One lives in Chanhassen, Minnesota, just 20 miles southwest of Minneapolis.
Karl and his friends can play friendly neighborhood basketball games against Prince and The Revolution, but they better remember to look out for the fruity picks.
Game, Blouses.
4.) Minneapolis Skyway System
Minneapolis has the largest skyway system in the world. It stretches 69 blocks over 11 miles and allows pedestrians to walk from building to building in climate-controlled environments throughout downtown, avoiding the harsh winter weather.
Then again, he can probably afford black car service.
5.) Mall of America
The MoA is one of the most visited tourist destinations in the world. It features over 500 stores, 50 restaurants and many more attractions, including Nickelodeon Universe, the nation's largest indoor theme park.
And no sales tax on clothes!
6.) Juicy Lucies are delicious.
South Minneapolis is credited with the invention of the Juicy Lucy, a cheeseburger with cheese inside the patty, in addition to a slice of cheese on top.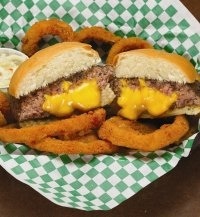 The Juicy Lucy may not fit Karl's diet, but every good diet has a cheat day.
7.) It's the "Mini Apple."
Karl wanted the Big Apple to be his home, but he will have to settle for the "Mini Apple," a nickname for his new city. Though some will say it's because Minneapolis is the New York of the Midwest, the nickname is nothing more than a play on words. Minneapolis is nothing like New York.
8.) My friend A.J. lives there.
He took a picture with Karl's feet in the Bahamas.
They can be, like, best friends.
9.) Paul Bunyan's shoes
Speaking of Karl's feet, if his shoe deal goes south, he can always borrow a pair from Paul Bunyan's closet. They wear the same size.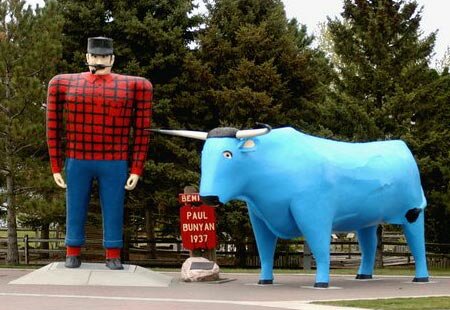 10.) Andrew Wiggins
Above all else, the opportunity to play with Andrew Wiggins stands out. Wiggins was last year's No. 1 overall pick and the 2015 NBA Rookie of the Year. Together, they will form one of the best young frontcourt duos in basketball.
Playoffs 2016!!!