10 Takeaways From Another Close Call Against Georgia
Whew, what a game.
It was a little closer than Big Blue Nation had hoped, but in the end, your University of Kentucky Wildcats escaped Athens with an 82-77 win in a game that saw 13 ties and 15 leads changes.
Like you, I'm a little gassed from yelling at my television, but let's use what little energy we have left to run through some takeaways from the big SEC road win…
1. The Rule of 71 failed.
Georgia was the first to 71 points after J.J. Frazier made a three-pointer to reach the 71 plateau and put the Bulldogs ahead by two. But the Rule of 71 would not hold true tonight as the Cats still pulled off the win in the end.
Kentucky also won without getting a single point from Isaac Humphries for only the second time this season.
2. J.J. Frazier was unstoppable.
The Kentucky defense couldn't do anything about J.J. Frazier and it was so frustrating to watch. JUST MAKE SOMEONE ELSE BEAT YOU!!!!
Georgia ran the same offense over and over and over again in the second half — ball screens to get a mismatch — and Frazier scored at will to the tune of a season-high 36 points, one shy of his career best mark.
Frazier was hot, but at some point you have to swarm him and make someone else do some scoring.
3. De'Aaron Fox was Mr. Clutch down the stretch.
Fox's play was disappointing through the first 25-30 minutes of the game and the he took over in crunch time, scoring 10 points in the final two minutes and hitting six straight free throws in the last 44 seconds to close it out.
Fox said afterward, "I can step up in big moments."
Yeah, we saw that.
4. Bam Adebayo also made big plays in the end.
Two plays in particular stand out: the block of Pape Diatta's shot in a tie game with 33 seconds to play and the hustle to secure the long offensive rebound after a Kentucky missed shot with a little over a minute to go, which led to a tie game with the second chance bucket.
Adebayo also hit three clutch free throws and finished with 13 points and eight rebounds in 36 hard minutes.
5. You have to feel bad for Mark Fox and his Bulldogs.
Georgia has played two very tight games against Kentucky and had both of them won, plus an overtime loss at Florida, a one-point loss at Texas A&M (because the clock got stuck) and a two-point loss at South Carolina. They could've won any and all of those with just a couple different bounces of the ball, but instead they went 0-5 in those tight contests that could've really helped the NCAA tournament resume.
Unfortunately Georgia will likely miss out on the tournament now and that has to suck. They played so well in big games, just couldn't finish.
6. Prayers up for Yante Manten.
Georgia's star forward went down with a knee injury in the very beginning of the game and didn't return. Hopefully it doesn't keep him out too long and on into the summer when he is projected as a second-round pick in the draft.
Also, big pat on the back to Manten's teammates for playing so well after he went out. You gotta wonder what the score would've been had he not suffered the injury.
7. Kentucky's three seniors had good games.
Big night for the three seniors as they combined for 25 points off the bench and a whole lot more in other aspects of the game, including a CAREER-HIGH 12 REBOUNDS BY WILLIS. Derek did exactly what Kentucky needs from him outside of his shooting contributions and it's time to consider moving him into the starting lineup.
Then of course Dominique Hawkins continued his streak of solid play by doing all the things Old Reliable gives you each night.
And how about my boy Mychal Mulder? I've been saying it all year: he needs more clock. Tonight he had nine points on three treys with two rebounds. Maybe I'm alone here but I wouldn't mind seeing him take some of Isaiah Briscoe's minutes when the situation calls for some shooting.
Coach Cal said on the postgame show, "I love what I saw from Dom and Mychal… And Derek did good."
8. Malik Monk was cold from outside but made some key plays.
It looked to be one of those awful nights for Monk until he came up big late in the game and on the foul line. Monk finished 9-for-11 for the charity stripe with only three made field goals on 11 shots, and it was enough.
He got robbed of a big rebound when Kentucky was called for a cheap blocking out foul, too.
Speaking of bad calls….
9. WHERE WAS THE FOUL HERE!!!!!!!!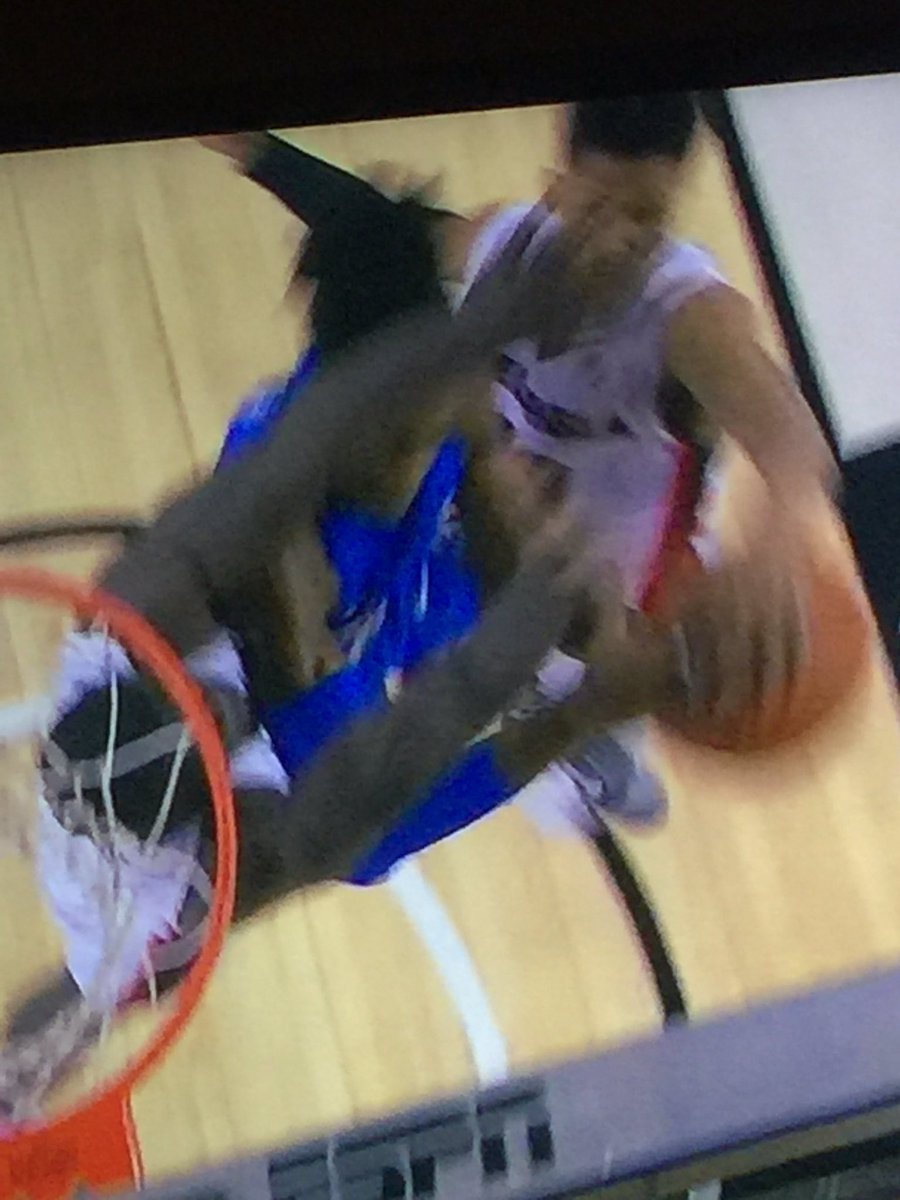 Had Kentucky lost that game, we were all taking a KSR field trip to the SEC basketball offices.
10. Moving forward…
It's simple: learn to guard the high pick-and-roll. If not, that'll be what kills this team in the end.
But for now let's celebrate a hard-fought win in a tough environment against a very good team and a very good guard in J.J. Frazier.
Get back to Lexington with that W and put it behind us.