10 Leftovers from Kentucky's stunning beatdown of Vanderbilt
In what is becoming a pattern I can get used to, it's the morning after a big win and I can't stop smiling. Kentucky's 87-52 beatdown of Vanderbilt in Memorial Gym last night was a beautiful sight to behold, so allow me to give my spin on it to start the morning.
Best defensive half since UCLA in 2014
If you had 2014-15 feels at times last night, you are not alone. Kentucky's 30-point lead at halftime was the Cats' largest at intermission since leading UCLA by 34 in December 2014. I'm not sure anything will ever top the shock of leading UCLA 41-7, but Kentucky's 33-5 run in the final 13:51 of the first half was pretty amazing, especially when you consider how far this team has come. The 2014-15 team was great defensively from the start (like Jay Bilas said, trying to score on them was like throwing a frisbee in a forest), but this team has matured into menaces, thanks in large part to Ashton Hagans, whom Bryce Drew called the best perimeter defender in the country.
"Hagans does a great job speeding you up. He speeds up possessions. He can cover two guys, basically and not get burned. He's probably the best perimeter defender in the country. I can't think of a better perimeter defender in the country than him."
What a difference 17 days makes
Let me remind you that less than three weeks ago, this same Vanderbilt team held Kentucky to 56 points, its lowest scoring output of the year, in Rupp. Last night, the Dores are lucky fouls got in the way of the Cats topping the century mark. Obviously, Vanderbilt's had a bad run of it since the game at Rupp, but Kentucky's done some work since then too, controlling the tempo from the start and making the 'Dores run. Shooting helped, too, with the Cats knocking down 55.6 percent from the floor and a season-high 58.8 percent from three. Bryce Drew said that when that's happening, Kentucky is pretty much unbeatable.
"If they shoot this way, good luck to the guys guarding them because I don't see anyone beating them."
PJ Washington is doing it, guys
The biggest knock on PJ Washington has always been consistency, but last night was his third straight 20-point game; in fact, he's the first player with back-to-back 20-point, 10-rebound games since Julius Randle in 2013. PJ had 18 points and 10 rebounds BY HALFTIME. As John Calipari said last night, it looks like the sophomore has turned the corner.
"You don't know why the light goes on," Calipari said. "But you see it and you know the light just went on."
Cal said PJ's even ditched his cool-guy routine when something goes wrong. Instead of laughing it off and acting like it doesn't matter, he bows his head and takes it personally. You can tell.
Keldon Johnson and Reid Travis had zero points at halftime
The most promising thing about this this team right now? They're capable of winning big even when one or two guys are off. Kentucky had a 30-point lead on the road at halftime with zero points from Keldon Johnson and Reid Travis, first and third on the team in scoring this season. That's incredible and bodes very well for March.
Calipari wants more
What do you tell your team when you're up 30 at half? If you're John Calipari, that you want them to be up by 60.
"He didn't want us to let up," Nick Richards said of Calipari's halftime message. "We were up by 30 but we should probably be able to score about 60 in the second half."
"I teased them at halftime and told them I was really mad at them because I don't want any of my teams playing this well in January," Cal quipped. "Being up 30 is hard to play. My team is just halfway up the mountain. We can't afford to revert back to what we've been playing. So if you wonder why I was coaching the way I was coaching, that's why."
How great was it to see Nick Richards play well?
One of my favorite things about this team right now is how happy they are when their teammates play well. Nick Richards had a season-high 14 points and four blocks last night, and his teammates' joy after his big dunks at the end was contagious.
.@IamNickRichards posted season-high 14 points and four blocks at Vandy.

He scored 11 points and blocked three shots in the second half. He's blocked nine shots in a combined 23 minutes over the last two games. pic.twitter.com/szwcYogMLu

— Kentucky Basketball (@KentuckyMBB) January 30, 2019
"He put it on his head," PJ Washington said afterwards, explaining the head-tapping dance the bench was doing. "I mean he did it two times in a row and we're just happy for him. He works so hard in practice everyday to see him do something like that was really special."
I almost felt bad for Vandy
Trust me, I have no love in my heart for Vanderbilt, but it was hard not to feel bad for them at times last night. Last week's overtime loss to No. 1 Tennessee broke their spirit, and not only did Kentucky wipe the floor with them last night, Kentucky fans turned their gym blue, which must have been icing on a particularly horrible cake. I'll have more on #BBNashville in just a bit, but hearing the "Go Big Blue" and "CATS" chants fill Memorial Gym is a memory I'll cherish for years.
This girl had an amazing time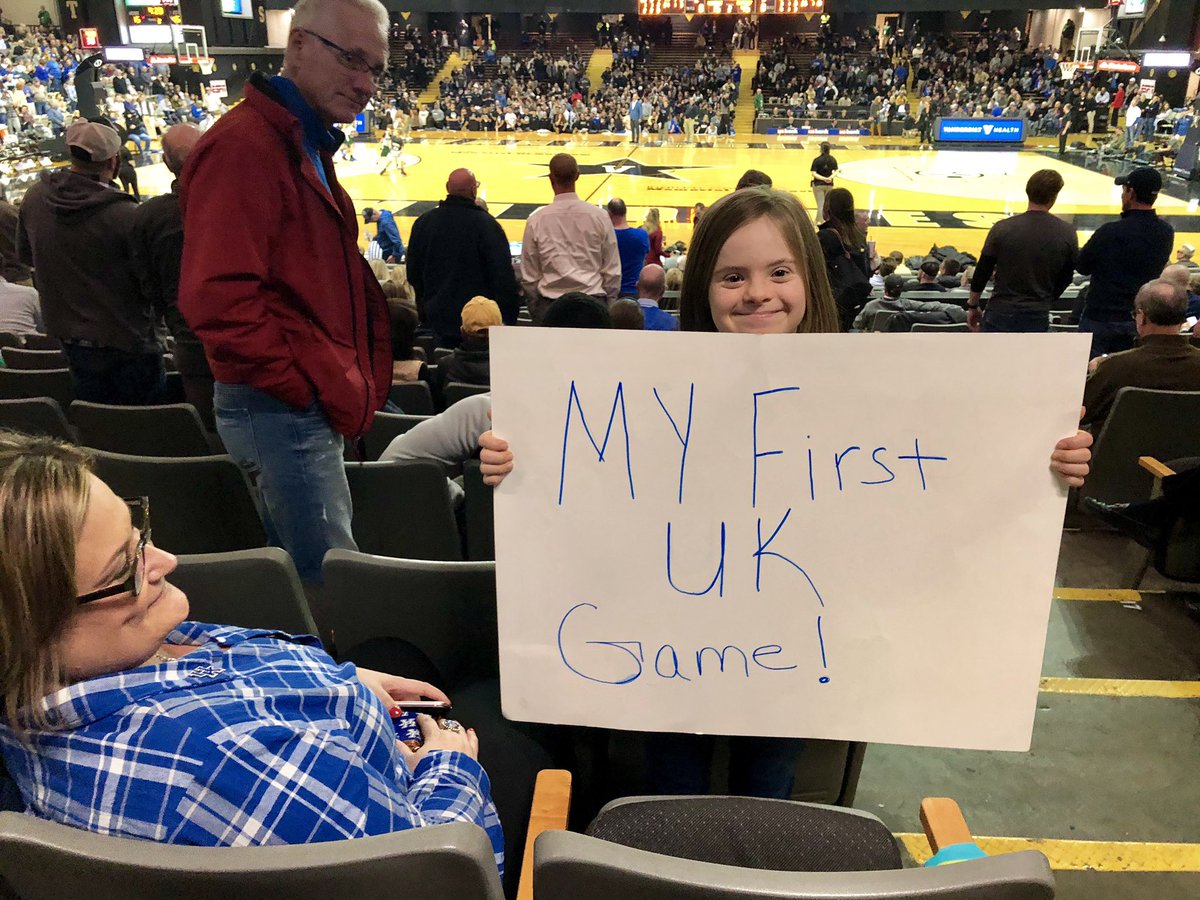 This girl read her book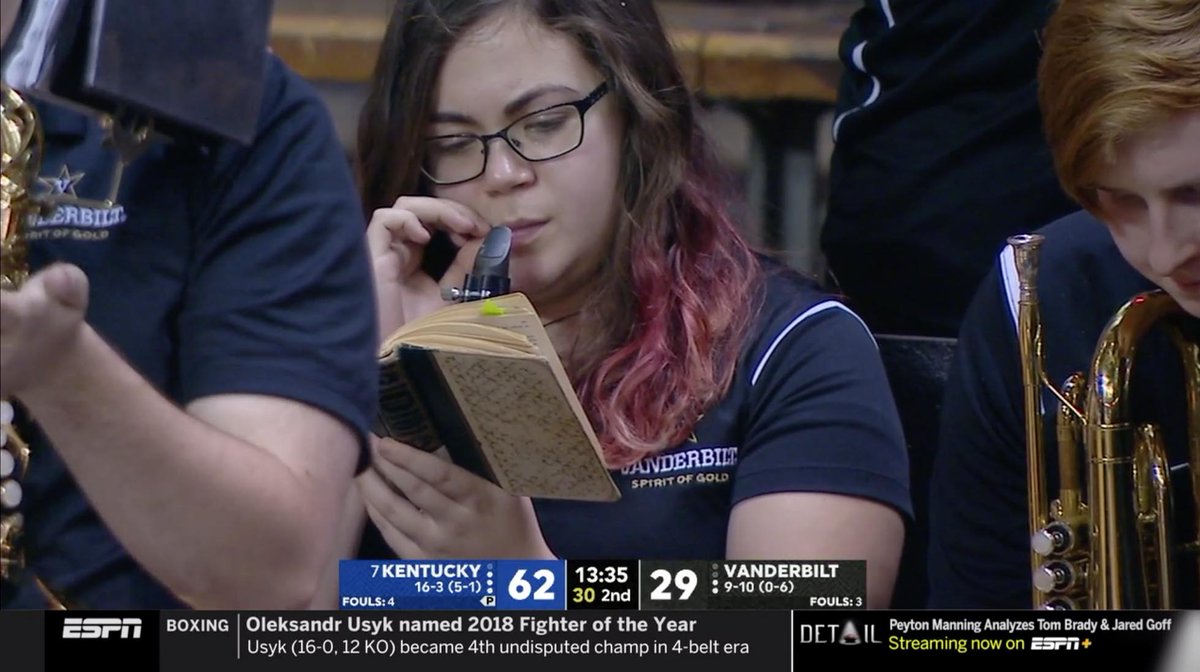 To be fair, that could be a really good book, but still, it's clear who was having the most fun in Nashville last night.
Kentucky Basketball is fun again
It's been a weird few years to be a Kentucky fan. The highest of highs became the lowest of lows after the Wisconsin loss in 2015, which I believe broke most of the fanbase, myself included. Just as De'Aaron Fox, Malik Monk, and Bam Adebayo brought us back to life, Luke Maye had to go and rip the scab off the wound. The Bahamas trip last summer was the first time I let myself get really excited about basketball since then, only for it all to come crashing to the ground vs. Duke. Now that the Cats have won nine of the last ten, a run that's included wins over rivals, wins on the road, wins over ranked opponents, and now, a true thumpin', it feels like Kentucky Basketball is really back. Tough games lie ahead, but I can't wait for the ride.
[mobile_ad]