With Wiggins, Less is More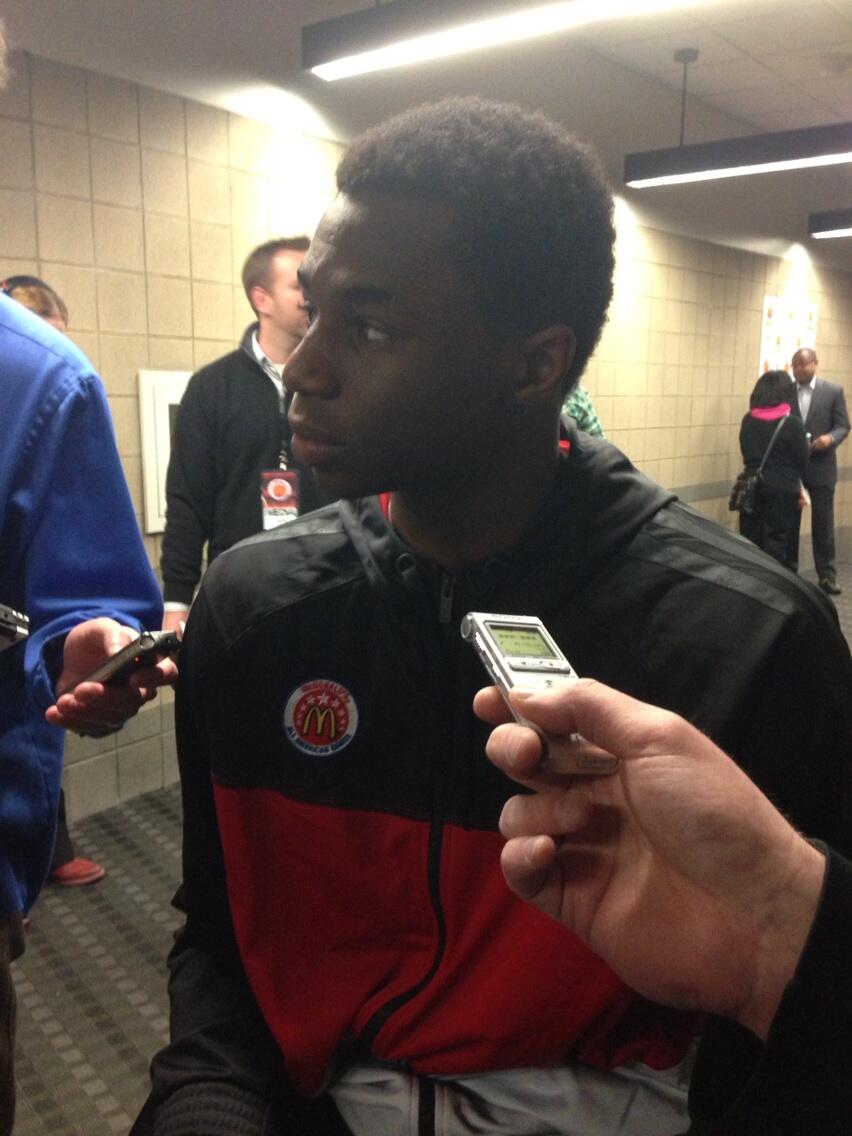 Some players soak up the recruitment process, enjoying the red velvet cupcakes, the handwritten letters, the introductions to Jay-Z or Beyonce or whoever's hanging around that day. Some, however, shy away from the spotlight and the distractions that are often thrown in the path of choosing the right college. And naturally, those players often become the most desirable to coaches and fans.
Andrew Wiggins falls squarely into Category B. At Media Day yesterday, Wiggins showed off a poker face that would make Lady Gaga proud when throngs of reporters asked him repeatedly about a) his eventual college decision and the timetable and b) how a perceived "soft-spoken" young man like himself is able to handle the constant attention. Wiggins' answers never strayed: "No clue." "When I'm ready." "When it feels right." "I just deal with it." "I'm used to it." Polite, but not loquacious by any means.
So how does a school go about recruiting a player who seemingly doesn't enjoy being recruited? It goes against every Calipari-instituted instinct I have to suggest anything BUT going after an elite player the whole nine yards- hiring a sky writer, having a girls' acoustic group serenade him at his high school gym, and home-churned ice cream all seem completely reasonable to me. However, with Wiggins, it seems like the old adage may be the best approach: "If you love something, set it free. If it comes back, it's yours."
Wiggins' potential future teammates have intuitively picked up the star's "Do Not Disturb" signals. Marcus Lee and Aaron Harrison both denied active attempts to recruit the Canadian to Kentucky, with Harrison noting that "he's just a teenager like me." Julius Randle was a little more hopeful, saying "I have no idea when he's going to announce, but I hope it's us." Wiggins seemed to appreciate his teammates' low-key vibe this week, saying any talk about next year was "all love, it's all fun and games."
With some players, you want to be about as subtle as a truck when selling the benefits of a potential school. Luckily for us, Kentucky's history and incoming talent can stand on their own. We don't really need to have girls painted up in the stands, or rely on peer pressure to woo a coveted recruit. We're Kentucky. We want you. Come join us and win a national championship. It's that simple- and with Wiggins, simple is best.
@KristenGeilKSR