Wiggins' Sunday News and Views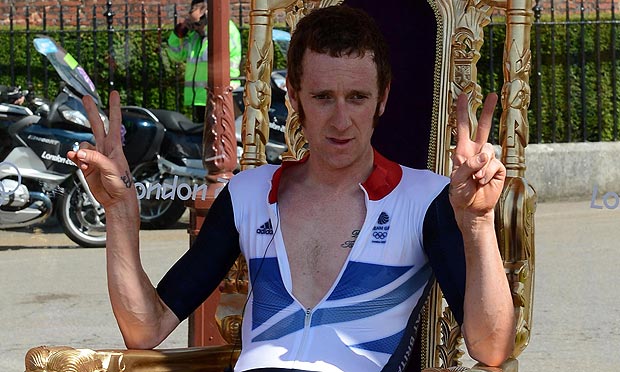 Not THAT Wiggins, silly! Haven't we all established how tired we are of speculating about Andrew Wiggins and his college decision that surely, SURELY has to happen sometime soon? (Hey Andrew, if you're reading this, it would be especially convenient if you committed tomorrow, around 4 pm Eastern time, or perhaps a week from today, when I have KSR weekend shifts. Help a sista out during the off-season).
No, tonight's news and views are dedicated to Bradley Wiggins and his 33rd birthday. Bradley Wiggins, in case you don't follow professional cycling (and if you don't, WHO ARE YOU? It's only the most thrilling sport in the world *sarcasm font*), is a British professional road and track racing cyclist. Born in Belgium, Wiggins has won six gold medals at the track cycling world championships and seven medals at the Olympics (four gold). 2012 may have been Wiggins' best year ever- he won a bunch of major races, including the only one you've ever heard of, the Tour de France, plus the time trial at the London Olympics. Thanks to all this success, Wiggins was awarded knighthood. Yes, you read that right- he's actually Sir Bradley Wiggins. His Wikipedia biography includes the baffling line "He is a well-known mod" (trusting that someone in the comments section will decode this for us all), notes that he is a diehard Liverpool Football Club fan, and reveals that his nickname is "Wiggo." How very British.
Cheerio to your 33rd birthday, Wiggo. Call up Andrew for us and put in a good word for Kentucky, Wiggins to Wiggins? If you're not actually a Kentucky fan, just talk glowingly about the UK. Maybe Andrew won't notice.
–The big news of the day was that Stoops reeled in two more football commitments from the Class of 2014 in Darryl Long, a three star tight end from Ohio, and Tymere Dubose, a three star defensive end also from Ohio. Let's break them down.
—Long chose Kentucky over Louisville and Pittsburgh, and at 6'4″ and 235 pounds, Long has a good frame to play in the SEC. Not only that, but he's pretty speedy for his size and will create mismatches for the opposing team. Coaches are high on his potential, especially once he translates his skills at defensive end into Kentucky's offense. Highlights can be found here.
–Dubose, meanwhile, chose Kentucky over Michigan State, West Virginia, Arkansas, and Maryland. The strong side defensive end's stock has been rising rapidly, and Dubose's commitment gives Kentucky's defensive line an extra boost that will come to its full potential in a couple of years. Highlights videos can be found here.
–The Ohio pipeline? Yeah, it's not just an urban legend anymore. With Long and Dubose, that makes five commitments for Vince Marrow from Ohio. In fact, Vince's brother, Brian, is Dubose's coach at Youngstown Christian. Marrow, as the young kids would say, is "gettin' it in."
–Also exciting about today's commitments is the fact that they give Kentucky the #20 recruiting class in the nation for 2014 (and #8 in the SEC) according to Rivals.com. Yup, I'll take that.
–More football- along with Larry Warford being drafted yesterday by the Detroit Lions in the third round, three other Cats signed free agent deals to play in the NFL. Matt Smith (center) signed with the Atlanta Falcons; Martavius Neloms (safety) signed with the Lions; and Collins Ukwu (DE) signed with Mary Jo Perino's Vikings. Congrats to all these guys for making lemonade out of a lemons type of final season.
–In case you're keeping track, Mark Stoops had a pretty decent draft weekend as well. Six defensive players from Florida State were drafted. You can bet Kentucky recruits will take notice of that.
–Basketball coaches from around the nation are gathered at the Boo Williams AAU tournament to watch top prospects from around the country compete. Two of those prospects who are on Kentucky's radar, Jahlil Okafor (5 star, 6'11" center) and Tyus Jones (top rated point guard) are "99.9%" sure they're going to be a package deal in college. Jones is considering Kentucky, Duke, Kansas, Michigan State, Baylor, Minnesota, and Ohio State, while Okafor is a little more cagey about his schools but acknowledged that Kentucky was one of them.
Remember that old country song "99.9% Sure" by Brian McComas? The lyrics don't really have anything to do with this bullet point. I just wanted to see if you remembered. Now that we've established you probably don't, we can move on.
—Calipari also watched PF Skal Labissiere (whom he has offered for 2015), SG Tyus Battle, SG Rashad Vaughn, center Cliff Alexander, SG Devin Booker, SF Stanley Johnson, PG Beetle Bolden, SG D'Angelo Russell, PG Jayson Tatum, and PG Emmanuel Mudiay. That's a lot of names to keep an eye on for the next few months. I trust you wrote them all down.
–Speaking of Calipari, he turned down an invitation for the Cats to play in the Maui Invitational in 2014. Calipari has maintained over the years that he doesn't believe Thanksgiving week tournaments have benefits for the team and that he'd rather the players and staff be able to spend the holiday with their families. Funnily enough, I'm going to Hawaii in two weeks to be with my family for my parents' 30th wedding anniversary. I'll bring each of you back a lei, promise.
—CoachCal.com had a nice piece today catching up with Joe Crawford. The former Kentucky shooting guard has traveled the world playing basketball since his graduation, which has inspired him to create the International Hoops Expo. The four day event will take place in Detroit (Crawford's hometown) and Crawford hopes it will help young basketball players that opportunities exist outside of the NBA.
–It was reported earlier this week that UK assistant Rod Strickland would be leaving us to be an assistant coach at DePaul; however, Jon Rothstein of CBS Sports tweeted today that that was no longer the case. We'll keep you posted as we hear more.
—Jarnell Stokes decided against making the stretch to the NBA by announcing today that he will return to Tennessee for his junior season. I included this bullet point just so I could make a stretching joke. You're welcome.
—In UK Alumni Games this afternoon… you know I meant the NBA playoffs, right? Nazr Mohammad had the most impressive game of the day, scoring nine points, six rebounds, and one assist in the Bulls' triple overtime win over the Nets. Mohammad out hustled all the younger players around him throughout the entire game, including a few significant putbacks in the third overtime (Marquis Teague and Keith Bogans did not play).
–Elsewhere in NBA land, Tayshaun Prince had 15 points, six rebounds, and three assists in the Grizzlies easy win over the Clippers; Eric Bledsoe scored nine points, five assists, and two rebounds. The series is tied 2-2. The Thunder (home of DeAndre Liggins) and Rockets (Terrence Jones) are playing right now in the series' third game; with halftime approaching, the Thunder have a commanding lead, and Liggins has already seen some playing time.

–One baseball tidbit before I bid you adieu. After a rough April that included  seven straight losses, the Bat Cats won the rubber match against Ole Miss today to take the series. Ole Miss is ranked #16, and to go on the road and win the series should be a huge morale boost for the team. Derek Johnson of KSRC has the recap. The Cats next host Arkansas after a well-deserved five day break.
Andrew McCarthy will be by to entertain you in the morning. You should bring him breakfast in bed. It's only polite. I hear he likes his bacon extra-crispy.
@KristenGeilKSR