Who's Next?: Wake Forest Demon Deacons
Wake Forest University
Wake Forest is a private, coeducational university in the U.S. state of North Carolina, founded in 1834.  It is most famous for the movie Hellraiser 3: Hell On Earth, which took place on the Wake Forest campus.
Location: Winston-Salem, NC
Surgeon General's Warning:  Living in Winston-Salem, North Carolina causes lung cancer, heart disease, emphysema, obesity, heart failure, clogged arteries, and may complicate pregnancy.  Winston-Salem, or "Camel City," is home to the headquarters of R.J. Reynolds Tobacco Company and Krispy Kreme Donuts.  Other than that, it's not good for much.  Unless you wear Hanes underwear.
Notable Alumni
– Muggsy Bogues – Shortest player to ever play in the NBA
– Tim Duncan – The San Antonio Spurs' "Big Fundamental"
– Chris Paul – Professional bowler
– Billy Packer – Cats fans favorite CBS announcer
– Arnold Palmer – Legendary PGA golfer and soon-to-be-named mistress in the Tiger Woods sex scandal
– Justin W. Lee – Founder of GCN, the Gay Christian Network
Mascot: Demon Deacon
In 1923, following a win over Duke, the editor of the school newspaper referred to the team as "Demon Deacons," in recognition of what he called their "devilish" play and fighting spirit.
Dino Gaudio, Head Coach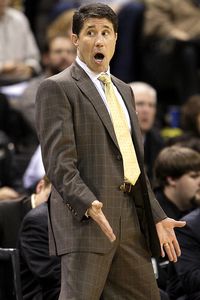 Dino Gaudio is in his third season as head coach and his tenth season overall at Wake Forest.  He had served as an assistant to his predecessor, Skip Prosser, who died suddenly in July 2007.
The Starting Five
#10 Ishmael Smith, G
6'5, 170 lbs.   Senior
13.3 ppg, 6.0 apg
Ishmael "Ish" Smith is majoring in Religion.  Tomorrow, he has a 40 minute internship under Blue Jesus.
#11 C.J. Harris, G
6'2, 175 lbs. Freshman
10.0 ppg, 1.2 apg
ESPN ranked Harris the 18th ranked point guard in the 2009 class.
#42 L.D. Williams, G
6'4, 210 lbs. Senior
8.8 ppg, 5.6 rpg
Williams has started all but one game in his career.  He is the Demon Deacons top defender and is one of the best dunkers in the nation.
#1 Al-Farouq Aminu, F
6'9, 215 lbs. Sophomore
15.7 ppg, 10.7 rpg
Aminu descends from Nigerian kings.  His first name, Al-Farouq, means "the chief as arrived".  I think Aminu means either "but got spanked by Kentucky" or "looks like a cartoon character."
#13 Chas McFarland, C
7'0, 245 lbs. Senior
7.3 ppg, 7.1 rpg
McFarland has one goal in mind – to get Boogie to punch him.  I'll settle for an 'inadvertent' nose-breaking elbow.  Check out BTI's piece on McFarland.
Vegas Line
Sportsbook.com currently has the spread at -9 and O/U at 142.5.  Remember:  KSR does not condone gambling.  If you believe that you or a loved one have a gambling addiction, please seek immediate help and avoid Matt Jones' picks of the decade at all costs.
Go. Cats.