Who Wants to be a Blogger contest: Duke hate
Mack Perkins
You know the guy that cuts you off on the road then gives you the finger? Or that lady at the
register that takes an eternity writing a check? Duke is that kind of annoying and it's clear to
all…right? Well, maybe not as apparent as we think. I think of Duke as that ugly celebrity that
gets all the hot chicks and no one points out the obvious. It's widely understood, but never
confronted that he is, in fact, ugly. Duke is annoying and has been for 20+ years, yet everyone
ignores all that is irritating about them. Well, not only am I not ignoring Duke's flaws I'm putting
them under the microscope. Duke better duck, because I'm throwing high and in.
Why do we loathe the Duke guard Wojoreddickpaulusheyer? There is something about a
white, unatheltic, crew cut guard with the word Duke across his chest that just bugs the ish
out of everyone. But that's not enough, they take it a step further by being infuriating with
their style of play. There must be some fake swagger in the water at Cameron. Paulus
walked around like he just laid 4 women(or is it lain?), all the while his box score reading 4
points, 2 rebs, 3 assist, 7 butt slaps, and 37 minutes played. The flopping, too, is unreal. I
am told that Manu Ginobli visits Duke every summer since being with the Spurs to hone his
flopping skill. The last thing that is extremely exasperating is that every other white guard is
a gifted shooter (Wojo not a good shooter, Reddick very good shooter, Paulus no, Sheyer
yes). So, when these types of players hit shots, especially in the cluch, it's almost insufferable.
White+unathletic+pompus+whiney+good shooter= Impossibly Infuriating.
Duke makes no money. Actually, they lose money. Duke was $2,031,850 in the red last year
alone, and they won the national title. Duke's athletic director stated "err edumacations costes
muhr then other skools" (he also suggested everyone eats more chicken, while oddly dressed in
a cow suit). Oh, so the reason they lose money every year is because the athletic scholarships
cost the school money? Yeah, I guess that Duke's groundskeeper needs 1 million dollars
more per year than UNC's Dean of Students. I originally thought this was Coach K-faced lie,
thinking that maybe the facilities maybe too costly for the school. Then I researched those
facilities. Cameron indoor is 70 years old and was renovated once in the 80's for 2 million floor
smackeroos. Duke's practice facility cost $15 mil in 2006 to build, compare that to UK's $30 mil
Joe Craft center a few years back. Travel couldn't be that much of an issue. Last year Duke
had 17 home games, 6 other games in the state of North Carolina including ACC tourney, and 4
regional games. So, 27 out of the 31 games they played last year were within walking distance.
Duke is the real reason America is in financial crisis, people. Write your local congressman.
Duke was given the 2010 title by the NCAA. Let me take you back to before the tourney. No
one outside Kshasheskyville thought Duke had a punchers chance to win it all. Resident D-bag
Pat Forde said this before the tournament, "Why the Blue Devils can't win it: We've seen this
movie before. Duke blazes impressively out of the gates, is confronted by its limitations (size,
depth or athleticism) in the latter third of the regular season, and then hits the wall in March."
While I wouldn't be the first to say he was dead wrong (a couple million people have beat me
to that already), I might be the first to say that at the time, I would have said the same thing. It
had been 8 years since Duke won the last title. During these 8 years Duke had 5 sweet 16's, a
1st and 2nd round exit, and one final 4. Six of those years Duke had a 2 seed or higher. So, to
assume that Duke would fall early would be legit. Then the brackets came out for 2010. Duke
received an overall 3rd #1 seed over Syracuse. Many believed that West Virginia and Ohio
State could have easily been #1 seeds over Duke also. Add to that Duke received the easiest
bracket with the other top 3 seeds in their brackets being Nova (please), Baylor (I hardly knew
her), and Purdue with a broken Hummel. So, Duke finally got an easy road to the final 4 and
played a West Virginia team that played Huggie ball. After they broke Deshaun butler's knee,
they denied the team Butler's championship plea. Let me restate that: Duke Beat Butler for
the title? Butler? A good, not great, mid major program? Come on, NCAA, make it a little less
obvious next time. Enjoy it Dukies, the road won't be that easy next time, then again, maybe it
will.
————————
Nicole Cartier
Why do I dislike Duke? It's a question that will always have a special place in my heart
for the sheer fact that it's so easy to answer. Of course there are the easy reasons to
strongly dislike a program like Duke: it's subconscious hold over us media leeches
to endorse everything an "honorable" program does (myself excluded of course), it's
ability to say it's a "tradition-rich" program when in fact their "tradition" only began in
the 90s, and of course those "fans" who have absolutely no association with Duke yet
somehow love it. I personally don't get it. Why do subject yourself to such easy scrutiny?
I only have a few words to address this strong distaste for such a program so I'm going
to try to keep it simple and short. On to some serious reasons to loathe the program.
They are pretentious posers. Any true basketball fan knows, and of course Kentucky
fans are truly knowledgeable of the sport, that Duke's "tradition" only goes back to about
25 years ago. If I'm not mistaken, Kentucky's tradition–I use without quotations b/c it's a
fact–was celebrated to be over 100 years when I was a student standing in the eRUPPtion
Zone (Shout out to my peeps). Prior to the Coach K era, Duke had only three runner-up
finishes up to 1978. As all Kentucky fans know, this year the Wildcats beat Duke for the
National Championship game–that was UK's 5th title, over 30 years later, Duke has just
claimed only their 4th. Now they have Coach I-look-like-the-devil-Krzyzewski and won
early on in the 1990s and people act as though they have some sort of winning tradition.
Prior to 1990, they had made the Sweet Sixteen exactly 10 times in school history.
Making only the Sweet 16 is a disappointment for Kentucky basketball fans. Upon
looking over Duke's media guide on its "rich tradition," all of their stats begin with "since
1986," "since 1990," "since way-after-Kentucky-Basketball-took-dominance." Ok, that
last one I made up, but it should be in there. Now, I didn't see anything of the sort in
Kentucky's guide. Why? Because we don't need to break down our tradition to only the
last 25 years, we control the entire College Basketball era.
They are no better than everyone else. How many times per year do you, a Wildcat,
hear the following phrase, "Congrats on having your next Final Fours vacated." Yeah,
I get a little sick of it myself, find something new people! Anyway, as we all know,
Coach Cal and the Memphis Tigers had their 2008 Final Four vacated due to a player's
SAT test score, or someone else's test score they took for a player. After a very long and
arduous NCAA committee trial, they finally convicted Memphis of playing an ineligible
player. (Don't even get me started on the fact that NCAA actually cleared Rose to play
beforehand only to find out that they, the NCAA, made a mistake and then later penalized
the school for playing the aforementioned player. That's not our problem, NCAA. You
cleared him!–but I digress.) So how does this relate to Duke? Easily, Corey Maggette.
The highly scouted former Duke player received benefits from his summer basketball
coach while still in school. Coach Myron Piggie paid Maggette from a collection of
donations given to him by sports agents. By using the math rule of the transitive property:
Sports agents gave $$ to Piggie, who then gave the money to Maggette = sports agents
gave $$ to Maggette. I'm pretty sure that is against NCAA rules. But, sigh, Maggette
was cleared to play by, you guessed it, the NCAA, and then he helped the Blue Devils
reach the Final Four in 1999. The Banner still stands. Take that and put it in your elitist
sweater-vest.
Christian Laettner. No Wildcat can ever have any sort of sentiment feeling for this
man. Speak those two words to a Kentucky fan and you will be struck by lighting by the
basketball Gods. I swear, I've seen it. In an interview, non-Christian Laettner even said
that he was more scared to drive through the state of Kentucky than to sit in the Dean
Dome and cheer on the Tarheels. I think that's the smartest thing he's said in his years of
existence. Why do we dislike this man? Well there's "the shot" of course that eventually
led Duke to their first National Championship– talk about pouring salt on my blue
blooded wound–but it was the series that led up to the shot. It can be summed up in this
simple video.
There, he said it. He did it on purpose and should have been kicked out of the game. If he
was eliminated for that cheap kick to Timberlake, "the shot" wouldn't exist today. Where
is the NCAA violations committee now, huh?
The "Cameron Crazies" are a pathetic excuse for a Home Court Advantage. This
pretty much hits too much towards home for me. I never missed a game in the eRUPPtion
Zone and you know if you've ever been to Rupp Arena when you can't hear yourself
think, much less yell, then you know what a crock Cameron Indoor Stadium is. Of course
it's loud, it's so small that sound has nowhere to go but in the ears of the less than 10,000
fans in attendance. We've all heard how there are no other fans out there like Duke
fans. Well, this is true to a certain extent. There aren't many fans out there who live and
breathe Duke Basketball that actually know the sport they feel so passionately about. In
the words of Ashley Judd, a Kentucky girl can cook your dinner, serve you sweet tea, and
give you the Kentucky Basketball starting line-up at the same time. She's right, I'm pretty
sure I've done this on many occasions–I make a mean sweet tea. Anyway, I'm pretty
sure it's a requirement that you mustn't know anything about basketball except that Dick
Vitale is the greatest analyst in the world.
And upon mentioning Ms. Judd, this leads me to my last argument: the four "Bs."
Kentucky has better Basketball, broads, bourbon and breeds. In that order. I've explained
the supremacy of Kentucky Basketball over Duke, but let's go on to the areas where
Duke truly lacks. Now I've always said, wearing Kentucky Blue makes us girls hotter.
It's true, really. If I see someone, male or female, wearing anything Duke, they are
automatically qualified to live under a bridge with Kyle Singler. We have Ashley Judd,
Duke has Donald Trump. I dress up like this for games
(that's my college
roommate btw. Hey Amberlee!)
Duke's cheerleaders belong with Singler under that bridge.
To put the cherry atop of my Wildcat Sundae, I'll leave you with this simple fact.
According to CNBC's Darren Rovell, 5% of those surveyed by Match.com refuse to
date someone that cheers for the Blue Devils. It may be a small percentage, but it's still a
percentage none-the-less. I know I wouldn't be able to date a man who liked Duke–one,
I couldn't carry an intelligent basketball conversation with him (major deal breaker), two,
my hand would involuntarily smack him in the face due to his poor decision making (If
he likes Duke, what other things does he like? Using poor grammar? Real Housewives
of New Jersey? Hitler?) and three, He's a Devil…. It'd never work out between us; we all
know that Wildcats are angels.
Again, enjoy this video I always watch to perk up my day. Go Cats.
———
Kyle Morrison
Duke sucks. The universe may not be large enough to contain the vast suckiness
of Duke's nature. This is why I have created the Duke Pyramid of Suckiness. The
following three characteristics are the essential elements of the suckiness that is Duke
Basketball.
The Foundation of Suckiness: Bandwagon Fans
The Duke fan base is pathetic. Every year a few thousand geeks fill an ancient
outhouse and jump around like idiots. What do these nerds know about basketball? I
guarantee none of them know who Jim Spanarkel is. Go to Rupp Arena and ask any fan
any question about Kentucky basketball. I would wager the great majority of fans have a
near encyclopedic knowledge of the program's history. The students set up tents and
then leave them unoccupied for a week just so Erin Andrews can parade around and
spew some gross hyperbole about their passion. Do you really think they stay there for a
week? When do they go to class? Daddy would come and take away that Mercedes if
he knew little Susie was skipping class. To the students of Duke the basketball program
is nothing but a fad. When they graduate they go sailing and forget they ever stepped
foot in that dump of a gym.
The Heart of Suckiness: Mike Krzyzewski
Coach K may not be human. He must be a cyborg created by Bobby Knight who
somehow gained consciousness and escaped. The man shows no emotion other than
when his players have diarrhea and have to leave the game. How can a man so lifeless
convince recruits to follow him to Durham? It's a good thing he has a stable of
overzealous assistant coaches to do his bidding. He must also be a wizard because he
has more followers than David Karesh. I'm surprised police haven't discovered a cult
worshiping a Coach K shrine at Chris Collins' house. Let's not forget what a dynamic
speaker he is. I would rather be run over by a lawn mower than hear him talk. He
sounds like Kermit the Frog after downing an entire bottle of Ambien. It is amazing how
a seemingly dead person can be so successful.
The Pinnacle of Suckiness: The Disingenuous Enthusiasm of the Players
It has already been established that Coach K is amazingly dull. It is astonishing
then, how a man so devoid of emotion continually motivates young men to act so
insufferably exuberant. When you watch Duke play the first thing you notice is how
joyous the players on the bench are. The Duke scrubs are more excited than the people
actually playing the game. They treat each foul shot as if game seven of the NBA Finals
is on the line. They stand the entire game and cheer vigorously even after something as
common as a deflection occurs. As soon as a timeout is called the entire team sprints to
midcourt and commences dry humping each starter. Even Pete Carroll gets
embarrassed watching this. When you act like a possessed maniac after every single
possession you look like an imbecile. This behavior is even more ludicrous when
perpetrated by a starter. When it comes to losing your mind on the court, Steve
Wojciechowski was public enemy number one. What is up with slapping the floor? Was
he mad at the floor? Did slapping the floor give him his Gnome power? Nothing makes
me hate Duke more than watching five milky white punks slap the floor in unison. If I go
to hell the devil will make me slap the floor for all eternity.
The Pyramid is absolute and unwavering. Duke will forever suck. Also, Coach K looks
like a rat.
————-
Andrew Board
Duke Sucks.
Wait, I have to write more? Dammit.
To be honest I don't consider Duke much of a rival. I think to be a rival you have to play
each other every once in a while. Unfortunately, Coach K is too chickensh*t hasn't seen it fit to
schedule Kentucky in the regular season. That doesn't mean I don't hate Duke. I hate Duke like
Rick Pitino hates pro-life rallies. I hate Duke like Billy Gillispie hates taxi cabs. I hate Duke like
BP hates whales. What I'm trying to say is that I hate Duke… a lot.
http://www.steamerbean.com/words/wp-content/uploads/2008/11/nuke-the-whales.jpg
BP's new advertising campaign
But the hate I have for Duke is special. There are a lot of other teams I hate like Louisville,
Florida, North Carolina, etc. But in those cases it's usually just the fans I hate. I could care less
about the players or the coach. However, with Duke my hate encompasses more. I hate the
players, the coach, and the fans. But it doesn't' stop there either. I hate their families, their dogs,
their milkman, the cute guy they saw at the mall, and the list goes on and on. I hate everything
about Duke Basketball.
The Players
Ow, I got a paper cut!
A lot of teams have one or two players that everyone hates because of their bad attitude
or their tendency to flop a lot. Duke's entire team is comprised of those players. Their players
whine so much that it makes you want to bash your head against a wall. When most players
have a call go against them they may have a quick word with a ref and get back to the game.
Duke players get a look on their face like a spoiled child about to cry because they didn't get
what they wanted. Grow up and play ball dammit! And then there is the flopping. Duke players
flop enough to make any soccer player proud. You get within 5 feet of them and they flop. You
try to shoot the ball, they flop. You try to shake their hands after the game, they flop. You wave
hi to them as they walk across campus, they flop. You get my point.
The Coach
Look, a piece of cheese!
Everyone knows Coach K. He has pretty much been one of the faces of college
basketball for the past two decades or so and when your nickname is "Ratface" you have to
assume that is one ugly sport. Coach K is portrayed as one of the "good guys" in college
basketball. When people like Pat Forde talk about supposedly what a bad coach Calipari is for
the game they like to use Coach K as an example of doing things the right way. Coach K does
things the right way? Really? The same Coach K who constantly berates referees with enough
cursing to make Christian Bale's infamous tirade look like a nursery rhyme? The same Coach K
who allegedly faked a back injury in 1995 to keep an abysmal 2-14 season in the ACC from
appearing on his record? (Link to http://www.truthaboutduke.com/encyc.php?encycid=9) The
same Coach K who benefited from a final four season using Corey Maggette, a player that has
since admitted to receiving money from an agent? That Coach K? Yeah, the guy is a real saint.
I'll admit that Coach K is a great coach, as evidenced by his team's championship this
past season. He may even be one of the greatest of all time. However, the constant praise and
worship he gets from the media for being such a great guy is nauseating. I'm not saying he
doesn't deserve some praise. He has won at one of the greatest basketball programs in the
history of the NCAA. But I don't need Dick Vitale telling me what a great coach he is during a
Kentucky game, or during a Texas Game, or during any game that Duke isn't playing in or there
isn't some connection to Coach K.
The Fans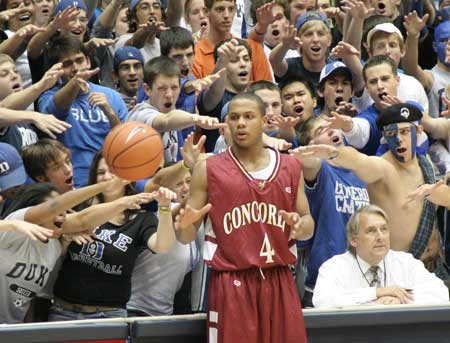 Holy Crap, it's a black guy!
The fans of Duke are known as some of the greatest fans in college basketball as
mentioned in every single Duke game on TV. The media likes to write boastful stories about the
Cameron Crazies and the tents at Krzyzewskiville and how they can affect the game, which I
think is great. However, when most of those tents are empty hours before the game (as
evidenced by Matt's road trip earlier this year) I think you start to lose some of those boasting
rights. I've sat outside Rupp Arena at 5 in the morning in below freezing weather 8 hours before
the game started all while a homeless man tried to serenade me to sleep by playing his guitar.
We had no tents and no heaters, and the best seat we could hope to get was on the end zone
next to the UK bench. Let's see a Duke fan beat that.
And the thing that really bothers me about Duke fans is where are they during the Duke
Football games? Yes Duke does have a football team believe it or not. But with the way Duke
fans completely disappear during the games you wouldn't know it. Sure Duke Football scores
about as much as Mel Gibson at a bar mitzvah but that is no excuse to completely abandon your
team. Where are the stupid chants or that silly reaching out to players to distract them thing? I
know UK football is no powerhouse but we have no problem filling a 70,000 person stadium
especially during big games but Duke has trouble filling its 34,000 person stadium for its biggest
games.
So there you have my reasons for hating Duke Basketball. Duke basketball is full of
whiny players, an asshole coach, and band wagon fans. Or to put it into two simple words which
I began this article with: Duke Sucks.
————
RESULTS: Let's just keep this simple. It hurts my heart and I don't really want to do this but, I have to. UKAndrew, you know I love you. You know I'd do anything for you. You know I stay up at night thinking about you. Unfortunately, I'm going to have to cut you. Please forgive me. I know not what I do. Please forgive me. I won't stop loving you.