Who is to Blame For The Offenses' Woes?
After 6 quarters played with out a touchdown the alarms across Big Blue Nation are blasting out. The offense, which was supposed to be the team's strength, is stuck in neutral. A very winnable game against Missouri is on the horizon. If Kentucky can find a solution to their offensive struggles before the Tigers do they could very well find themselves ending September at 3-1. But before you can find a solution you must identify the cause of the problem. For Kentucky that answer isn't so simple. Just who is to blame for the offenses' recent woes? The answer is complicated:
Patrick Towles
It's always easy to lay blame on the quarterback position when things aren't going well on the offensive side of the ball but to a certain extent Towles has earned his share of the blame. As Coach Stoops said today at his press conference, "I think the frustrating thing for him and for me is that when there layups to be had, you can't miss layups,". For Towles his issue since arriving on campus has been accuracy and he has not shown marked improvement in that aspect since last season. Just take a look at Towles' stats against quality opponents from last season until now:
Two things immediately jump out when looking at theses games. First, the negative turnover margin. That's just not going to get it done in the SEC. Second, is Towles' accuracy in losses. In Kentucky's four wins Patrick Towles has completed 65.57% of his passes which is excellent since it includes a 47% mark against the Ragin' Cajuns where they basically forced him to throw it deep every time. But in the eight losses Pat is only completing on 51% of his attempts. Part of that is on the receivers dropping the ball and part is on Towles missing his target. Both must improve going forward to get that completion percentage to a winning level.
His accuracy also drops as the team faces superior defensive lines like Florida, Missouri, and Louisville had last season. For that the linemen need to step up and cut down on costly mistakes.
The Offensive Line
In Kentucky's first two games the O-line played pretty well as they opened up lanes and gave Patrick Towles time to make plays. But against Florida they regressed and were beat play after play. To be fair, Florida's defensive line features some insane talent in Jon Bullard, Caleb Brantley, and Cece Jefferson (who will all be playing on Sundays) and that talent was on full display. But the line will need to step up as SEC play continues and at the very least cut out the costly penalties.
Of Kentucky's 5 penalties against Florida, four were committed by or related to the O-line (holding, false start, delay of game, false start). Against South Carolina, the Cats had 7 penalties with four of them coming from the line (false start, holding, holding*, holding* ). Those last two holding penalties came on first down, pinning the Cats back at 1st and 20 and killing drives before they could even begin.
The line play is clearly going to depend on the level of competition that they are facing but cutting down on penalties could provide a major boost to the offense.
Shannon Dawson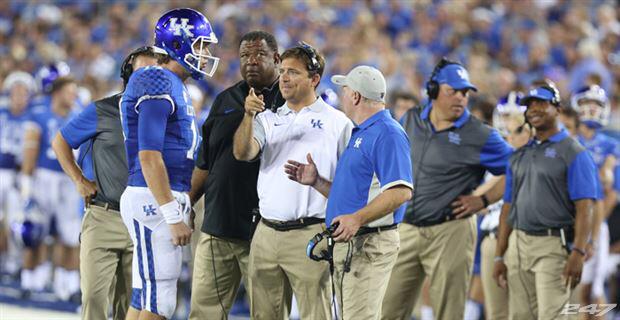 There were times last season that Kentucky looked like they could score on just about anybody, that's including the same Florida team where Towles dropped 369 yards in the swamp. However Towles' stats this year against Florida marked career lows in attempts, yards, and completion % and a big part of that is a reflection on the play-calling. For example, in the third quarter UK had only 3 pass attempts for a total of 0 yards while running the ball 14 times for a total of 78. There was no balance to the Wildcat attack and Towles never got into rhythm to connect with his open receivers.
Against Louisiana, Dawson was quoted saying he was too aggressive. Against South Carolina in the second half they went too conservative. Against Florida perhaps the line was so disrupted that Dawson felt they couldn't establish a balanced attack. The offensive engine is there ready to head to the races, it's only a matter of fine tuning to find what works for our first time play caller. All of BBN's eyes will be watching for what is drawn up for this Saturday's date with Mizzou.
While the blame is easy to spread around the silver lining is that all these issues are fixable. Our quarterback at times has played at an extremely high level. His 42 yard bomb to Jeff Badet in the South Carolina game is a showcase of what he could do on a consistent basis. Our line completely dominated our first two opponents and their mental errors are all correctable. They are mostly young guys with only room to improve. And at times our playcalling has been an lethal mix of pass and run that has kept opponents reeling. Shannon Dawson is still hammering his style out and once he does, watch out! The offense has the tools to be in the top half of the SEC, it's only a matter of time until they get there and these 6 quarters will be quickly forgotten.