Who Do We Want To Not Lose?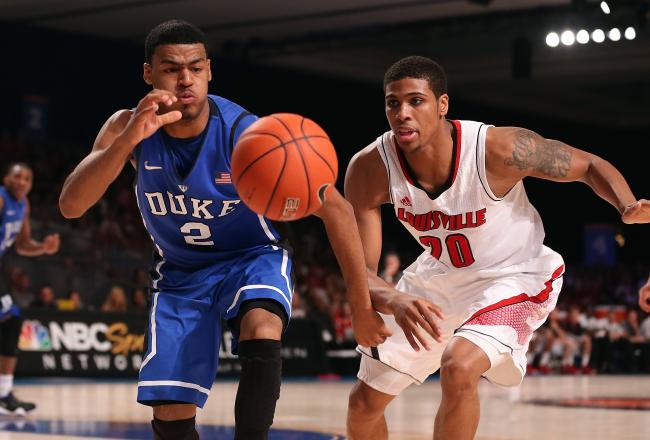 That's how we'll word this situation that we Kentucky fans find ourselves in. Louisville and Duke will play each other tomorrow with a trip to the Final Four in Atlanta on the line. I'll give you second to clean the puke out of your keyboard….
Bad news? One of these 2 teams gets to go to the Final Four. The good news? One of them doesn't. Sure, we would all love for some momentary collapse of the laws of bracketology that would allow both of these teams to go home un-victorious, but on this planet, it is rather impossible. So, the question becomes, which of these 2 teams would you prefer to not lose? Just as a refresher course, let's go over the Top 3 reasons UK fans hate each of these schools so we can make an informed decision.
LOUISVILLE:
1. Rick Pitino – We loved him in blue, but in red or his white suit that is actually more of a cream or egg color. It's not pleasant for us, almost like you had a incredibly sexy girlfriend who was fiery and fun to hang out with, until she dumped you and started dating your little brother. Only now big brother has an even hotter girlfriend, and won the national championship last season. Anything to make those "Got Pitino?" shirts more ironic is good in my book.
2. Line Beards – Sometimes referred to as the "chinstrap", the line beard in the last decade has become the official corporate face hair sponsor of Cardinal Athletics. In fact, I saw one yesterday (and yes, obviously they were also wearing a flat bill) .Who can forget this picture?
Mirror pics are also a favorite of the Cards fans, as our fearless leader Matt Jones depicts.
3. L1C4 – I have no idea how this stuck. I have no idea how someone in the marketing department at UofL thought of this and said "brilliant!". It's corny, weird to say, and really if you break it down makes no sense at all. It does however, allow for some very clever puns.
#L1C4FakeNationalTitles
DUKE: 
1. Christian Laettner – Although he has made amends to a degree with the #BBN in the past few years, Laettner is still public enemy #1 in most Kentucky fans hearts. The fact that every March, the happiest time of the year in the state, there's always a few fleeting moments of anger as CBS brutally reminds the Wildcat faithful that "The Shot" actually did happen, and isn't a horrible nightmare. You're a cool guy, but you still suck, Laettner.
2. Cameron Crazies – Never before have you seen such a group of rowdy, loud, obnoxious group of nerds in your life, unless you've taken a group survey of Duke students and asked them to yell violently if they still have their virginity (get it, they all do). I can't blame them though, I'd be excited too if I finally had a forum to unleash my study-caused hypertension and social anxiety disorder onto some poor away player merely trying to inbound a basketball. Even their basketball gym looks like a library with a dance floor in the middle.
3a. Coach K – Seriously man, we all know that's not your real hair color. You are 160 years old and you want me to believe your hair is still blacker then the blackest black any scientist could ever discover? Not to mention from afar it appears to have the texture of the plastic, shell hair you would find on an action figure. I hope you retire soon so we can see which one of your assistant coaches you send to do the press conference for you.
3b. Christian Laettner – One serving of hate would not suffice, so I had to say it twice. You suck, Laettner.
With all this being said, being from Louisville and attending the University of Louisville, not having to hear the chatter from the Cards fans for another week would be nice. Most Duke hatred stems from a time when I hadn't been born yet, so maybe the fire doesn't burn as deep inside for the Blue Devils as it does for UofL, which is why I would put my support behind Duke. It would be neat to have back-to-back champions from Kentucky, but I'm not sure I can handle that intense level of Cardinal trash talk until Kentucky reclaims the crown next April. On the bright side; we don't have to worry about Indiana any more.