Which "Package Deal" Will Have the Biggest Impact?
Last November, BBN held its collective breath throughout an ungodly long (or it seemed like that, anyway) ESPNU special, anxiously awaiting to hear if the Harrison twins would commit to Kentucky or follow their father's lead and head to Maryland. When the hats were donned and the UK logo firmly fixed on their heads, and when everyone had finished tweeting their best jokes and puns about twins ("Twins, Basil, twins!"), the realization slowly settled in that the Cats had nabbed the best package deal in college basketball history.
After all, Aaron and Andrew Harrison are the two highest rated guards in their class (Aaron at shooting, Andrew at point, and yes, we'll remind you of that multiple times before basketball season begins). The Harrisons were early commitments, with only Derek Willis beating them to the punch, and set off a domino effect of other elite recruits choosing Kentucky. Scout.com ranks them third (Andrew) and fourth (Aaron) overall in the class of 2013, and it's widely agreed upon that they'll be lottery picks in next year's draft. Plus, the mythical "twin connection" (plus years of playing together) might translate to incredible on-court chemistry- something last year's team was severely lacking. Yup, sounds like the best package deal in college basketball history to me.
Not so fast, though. Center Jahlil Okafor and point guard Tyus Jones of the class of 2014 allegedly want to team up as well. Okafor has made the bold statement that there's a "99.9% chance" that he and Jones will attend the same college. A lot could change before they officially commit, but if Okafor's assertion ends up coming true, would it be a bigger package deal than the Harrison twins?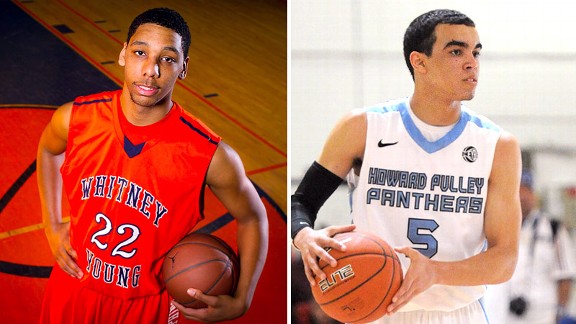 It's kind of like comparing apples and oranges. A center/point guard tandem is very different than a shooting guard/point guard pair- especially when the point guards' styles of play are somewhat contrasting. Andrew Harrison, at 6-5 and 210 pounds, is Cal's favorite type of point guard- a guy with great size who can run the show for the team and create scoring opportunities for himself as well. He's dynamic. Tyus Jones (ranked #2 by Scout), meanwhile, is a more traditional PG. He has a high basketball IQ and can manage the game while enabling his teammates to score- but he's not a flashy player who will have the ball in his hands when the clock winds down.
And how would you like your point guard combo, sir? With a side of center or shooting guard? Okafor, the top player of next year according to Scout, is 6-11 with great ball-handling skills and footwork for his size. He's a force to be reckoned with on both ends of the court. Aaron Harrison, at SG, can score from anywhere.
So how can you judge the best package deal in college basketball when the rankings are virtually the same but the positions and players involved are very different? Does the twin chemistry win out over having elite players at two different positions? Or would a traditional point guard-center duo be more useful to Kentucky (and a bigger hurt on other schools in the mix for Okafor/Jones)? I'm asking because I really don't know. But I'm sure you'll tell me in the comments section.
@KristenGeilKSR