Where the Cats will end up come Selection Sunday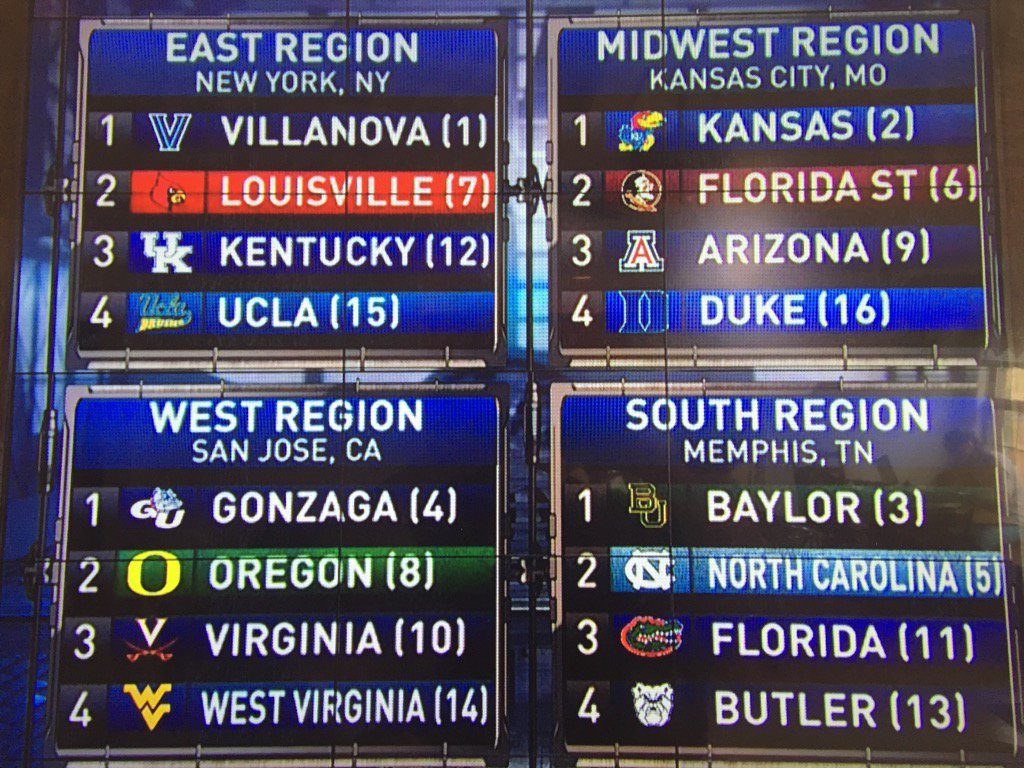 The first NCAA March Madness Bracket Preview Show aired yesterday, and Kentucky was given the gift of a three-seed in the East Regional. It's a bit surprising that they ended up claiming the last three-seed with the way they have been playing lately, but Cal backed it up by saying essentially he thought they were deserving.
Luckily, UK looks a lot better on paper than they do in person. Much like myself. Ratings wise they're currently 11th in RPI and 8th in KenPom. Computer rankings don't necessarily mean much comparitively to the eye-test of the committee, but they surely aren't hurting the chances of getting a higher seed. It also isn't a bad thing that AD Mitch Barnhart is on the selection committee for 2016-17. Shoutout.
Reasonably, UK is out of contention for a one-seed. Not impossible by any means, just improbable with such a relatively easy SEC schedule the rest of the way. So then with where do we sit going forward with some wins, or if we win out completely? Here's the remaining schedule for the Cats down the backstretch of SEC play:
February 14th – Tennessee, 7 pm
February 18th – at Georgia, 6 pm
February 21st – at Missouri, 9 pm
February 25th – Florida, 2 pm
February 28th – Vanderbilt, 9 pm
March 4th – Texas A&M, 12 pm
March 8th – 12th: SEC Tourney
Win out regular season, UK is your one-seed in the SEC Tournament. The away game at Georgia is a trap game. If they escape that and beat Florida at home, with an SEC Tournament title the Cats should have two-seed locked up.
There are four ACC teams above UK on the two and three line, most of whom have to play eachother in upcoming games. That's a great thing for Kentucky's chances of improving their seeding come Selection Sunday. A bad loss anywhere down the stretch or an early exit in Nashville should be too much to overcome for getting a two-seed. Kentucky doesn't want to have to depend on a favorable draw, and possibly dropping down to a four seed and playing a one-seed the first game of the second weekend is less than ideal that early on in the tourney.
UK needs to earn their two-seed with significantly better play. The selection committee gives some slack to teams who finish their season and conference tournament strong, sliding through a weak SEC schedule will have bad implications come Selection Sunday. It would be hard to see them slipping past a four seed with the schedule that remains, but crazier things have happened, right? It's not only about wins, but yes, you can't argue with a dubya and wins don't hurt you.
The Cats have some real work to do after having lost three of their last six games, and defensively they clearly need to figure it out. Hours worth of tape breaking down Kentucky's woes defensively will be studied by NCAA Tourney opponents, and unfortunately for us, we know that they could probably run an all-day marathon in the locker room watching our shockingly bad defense.
They played good for the first half yesterday at Alabama, but let up in the second half again. The Cats can beat anyone at their best, but we haven't seen that team in a good while, and we're looking forward to the Cats finding their footing in their last 9 games of the season.
Make it happen.