What To Expect From A Calipari Freshman
With a new season upon us in the Bluegrass, an 8th National Championship to defend, and a slew of rival fan bases less than a 3-hour drive away from Lexington all with legitimate shots to knock the 'Cats off their perch, this season will be an exciting one in Lexington once again. With this year's version of John Calipari's Wildcats though, there is an air of uncertainty surrounding the team. This year's team returns 7% of their total scoring and minutes from last year, and Kyle Wiltjer is the only player returning who averaged more than 2.8 minutes a game last season. With that amount of proven worth on the court, somehow it's still no surprise that there is talk of repeating as National Champions in Lexington, at least not with John Calipari manning the ship. Another #1 ranked recruiting class, headlined by ESPN's #1 overall recruit Nerlens Noel is stepping in to the fish bowl that is Kentucky basketball, and expected to perform immediately. With most preseason prognostications putting the 'Cats at #3 behind Indiana and Louisville, there is little time to adjust from the high school lifestyle to the world of big-time college athletics. But why is there this much pressure to perform on Freshman and transfers who haven't played a single minute of meaningful basketball on Rupp Arena's court? Calipari's history with Freshman over his time at Kentucky definitely has something to do with it. 
I dug into the stats of each of Rivals' Top 10 National Recruits from each of the past 3 full seasons (2009 recruiting class to 2011) and in those numbers you can begin to define the true meaning of the "Kentucky Effect". Now over the last 3 recruiting classes, Kentucky has landed 7 of the 30 available players, 3 more than the next highest team, North Carolina. In fact, only 6 teams have landed more than 1 Top-10 recruit in that time period (UK, UNC, Texas, Duke, Kansas, and Baylor), along with 10 different schools that have landed 1 apiece. When you look at the stat lines of those players in their first seasons in college, you'll notice that the elite players from Kentucky seem to have more success than their counterparts.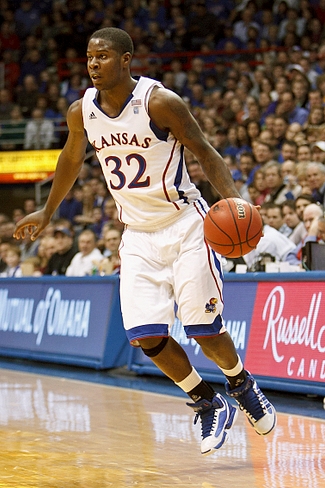 KENTUCKY AVERAGES (6 players): 31.7 Minutes, 14.3 Points, 3.3 Assists, 5.3 Rebounds, 49.4% FG, 72.1% FT
NATIONAL AVERAGES (23 players): 24.6 Minutes, 11.5 Points, 1.4 Assists, 6.0 Rebounds, 46.5% FG, 68.5% FT
Noticeably, Kentucky players performed better in all aspects minus rebounding, although rebounding and assist numbers are both slightly skewed by the percentage of low-post and perimeter players. However, in minutes, points, and shooting from the field and the free throw line, the scales are tipped in favor of the blue. These numbers mean little without any clarification on their origin though. What are the reasons for these numbers? Why have Kentucky's star freshman consistently produced earlier, and at a higher level?
1) Playing Time – The playing time factor is a big one, that much needs to be understood. At pretty much all schools, a Top 10 caliber recruit will find their way on the court quite a bit their freshmen year if based on nothing more than pure talent. However, almost exclusively at Kentucky, Freshman are expected to carry the load most bestow on upperclassmen from Day 1. At the beginning of the year, the strategy is fairly noticeable, as UK has been very turnover prone early on during the season while the new players adapt to each other's playing styles. The fact is that the responsibility of carrying a team, if managed correctly, can push a young player to maximize the potential they have inside them. As much as coach's can try to develop a talented recruit in practices, game situations and pressures can not be duplicated in an empty gym, and by the end of the season that experience does wonders. With the talent a highly-rated recruit is blessed with, game action, full of improvised chaos, gives players much more freedom to use their natural basketball ability to make plays. Yes, turnovers and poor decisions will be made in the process, but more often than not the gains will outweigh the losses by the end of the season. It's no surprise that each of Kentucky's 7 Top-10 recruits in the last 3 seasons have all spent only one season in Lexington, and left with an average draft position of 7th,  while only 10 of the 23 other Top-10 recruits were able to make the leap early. It also helps to answer the question of how NBA-ready athletes continue to flock to John Calipari, they understand that Cal will get them recognized nationally almost immediately.
2) The Dribble-Drive Offense – Calipari's Dribble Drive Offense is what ignited the resurgence Calipari brought at Memphis, and it's dividends have carried over to Kentucky as well. With it's focus less on set plays and movements, and more on the concept of continuously attacking the basket and floor spacing, it's very appealing to recruits to offer them more freedom in running the offense. It's like Calipari has said before "I'm not teaching them to run plays, I'm teaching them to play basketball." A high-octane offense, giving players freedom to create off the dribble and attack the basket, is perfect for a young basketball player fresh off the AAU circuit. Instead of dozens of set plays to memorize and regurgitate, players are taught floor spacing, movements, and are placed in an offense that is constantly changing with their own capabilities rather than adapting their own skill set to fit a set offense. This offense highlights a players versatility by not pigeon-holing them into a position on the court.
3) Us, Crazy Fans – Being an avid college basketball fan, I can say without any shadow of a doubt, Kentucky's fan base is the most passionate in college sports, only even rivaled by Alabama's football fan backing. In the grand scheme of things, all of the added attention and fan support do make a difference for players. As soon as you step on campus as a Kentucky basketball player, you become an instant rockstar in the eyes of the Big Blue Nation. The fishbowl at Kentucky puts everything these players do under a microscope, and that's something that I know John Calipari and his staff try to embed in the minds of the players. That alone, could be enough to push a player to spend a few extra hours in the gym a week. To live up to the expectations that national media and fans alike place on these Freshman from Day 1, that motivation to not dissappoint can not be undervalued.
Historically speaking, Kentucky repeating as National Champions this year would be unprecedented. Yet the Wildcats sit here at 3rd in the preseason polls, in part because of recent history. A history that has shown top recruits under Calipari at Kentucky don't disappoint, and in many cases are better than originally advertised, that is where the expectations come from. I'm sure the players wouldn't have it any other way.
–@WillTottenKSR