We Should Hate People More Often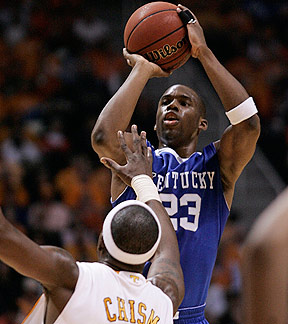 Well, maybe I'm different, but I think it's awesome to see national columnists and non-local writers spouting off about a UK player. Here are some pieces from around the country, and some from around the corner:
UT Had No Answer for Meeks, Just Trash Talk (GoVolsXtra)
Meeks' Dad Joins in UK Celebration (The Tennesseean)
Was This the Best Performance in UK History? (Gary Parrish, CBS)
Meeks Puts on Show for the Ages (Pat Forde, ESPN)
Kentucky's Meeks has Our Attention Now (Fox Sports)
UK's Meeks Scores in Spotlight (Eric Crawford)
Meeks' Shots Were Destined for Bottom of the Hoop (John Clay)
Jodie Meeks Scores 54 Points, Breaks Kentucky Scoring Record (FanHouse)
El Junior Meeks se va Hasta los 54 Puntos (elmundo.es)
——–
POST HIJACK:  This is Beisner.   I had a somewhat similar post about the first link, so I'm just going to combine it.  This is from the GoVolsXtra link:
"I knew he would knock down jumpers," Patterson said. "But I didn't know he would knock down that many."
No matter how many shots Meeks hit, he didn't shut up the UT defense, according to Patterson.
"Even in the last minute of the game, they were still talking trash," Patterson said. "When somebody scores 50 in your gym, I wouldn't have been talking.
"My mouth would have been shut."
Damn, they some dirty snitches.