Uncle Kracker's Monday News and Views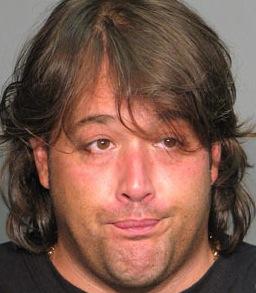 While most of you are sluggishly starting a new work week today, those of us who know good music are celebrating the birth of Matthew "Uncle Kracker" Shafer. That handsome man in the mugshot you see above turns 37 today and it just wouldn't be right if we didn't wish him a big Happy Birthday from Big Blue Nation. Just less than a month ago, a packed Rupp Arena sang "Follow Me" and other timeless Uncle Kracker classics while he was opening for that deeply closeted country music singer with the golden voice. Now, the one who tucked us in at night is the host of this Monday's News and Views and he's back in your life for the first time in at least five years. You don't know how you met Matthew Shafer, you don't know why, you can't turn around and say goodbye. Sing it with me!
To an abbreviated version of the goods…
— Just when it looked like the weekend would end without any legitimate news, Kentucky football picked up two new commitments. Daron and Zach Blaylock from Marietta, Georgia committed to Kentucky late Sunday night.  Daron is projected to play linebacker for the Cats and Zach is expected to play safety. UK football recruiting expert Aaron Cordero (who broke the news) says Daron ran a 4.4 at Kentucky's camp and Zach is even faster. That kind of defensive speed is what Kentucky needs to compete in the SEC . The twins held over ten offers (Hi, Louisville!) and a number of big time programs were showing interest. What a great pickup by Greg Nord, our somewhat unsung recruiting hero. It's promising to see the staff getting on guys like this early and reeling them in. Especially when the guys are the offspring of Mookie Blaylock. The Brothers Blaylock are the sixth and seventh members of the 2012 recruiting class. Four of those seven are from the state of Jo'Ja.
— While the distant future is looking good for Kentucky football, the immediate future is no different than the past. Kentucky is ranked fifth in the SEC East in The Birmingham News' SEC Football Preview. The preseason poll was voted on by the conference's football information directors. South Carolina was voted as the top school. Vandy bails us out again.
— Ok, enough football talk. This is a big week for Kentucky basketball as the incoming freshmen will arrive on campus this week. Like we mentioned on the site earlier, the arrival of the greatest class in history provides a summer of photo ops in Lexington. Teague, Davis, Gilchrist, and Wiltjer will be learning the land in Lexington beginning Monday and I'm sure they'll be taking their hungers to Tolly Ho right away. Someone needs to be there to capture their first cheddar tot as a Wildcat. I guess I should mention they'll be attending summer school too, but, it's really about the pictures. We love pictures.
— Hey! Have you heard the one about Coach Cal going to the Knicks??!! Well, NorthJersey.com lists Calipari as a candidate to replace Donnie Walsh in New York. Here's what the Gym, Tan, Laundry website had to say:
"John Calipari: The former Nets coach wants to return to the NBA and would leave Kentucky, especially for a coach-GM combo."
Never heard that before. Moving on…
— It seems we can give up on the John Wall/Enes Kanter NBA duo dream. Enes will not work out with Wizards because they don't expect him to be around for the sixth pick. That's good news for his draft status, but it's crushing to all of us (including Enes) who wanted to see two UK favorites together in red, white, and blue. Damn.
— Our good buddy Gregg Doyel made an appearance on my television during the NBA Finals press conference Sunday night. Doyel asked Lebron about his lack of production in the fourth quarter "when superstars become superstars." Lebron put Doyel in his place by telling him there are two sides of the floor and "to watch the tape and ask that question again tomorrow." Then Doyel dropped the mic and forced Lebron into submission with a textbook rear naked choke. Don't mess with Gregg Doyel.
— A couple of former Kentucky baseballers need the help of Big Blue Nation. Collin Cowgill and Ryan Strieby are on the Triple-A All-Star Ballot and it sure would be nice if we could help them out by dominating the polls. It's what we do. Cowgill is an outfielder on the PCL ballot and Strieby is a first basemen on the IL ballot. Vote here.
— It hurts me to say this but Beisner has been suspended for a week after a violation of team rules. (It's actually a vacation but that sounds better.) I hope we don't crash and burn while he's gone. Also, I'm really not looking forward to waking up before noon.
Speaking of before noon, Matt Jones will be on the radio box at 10:00 AM tomorrow morning with Perrin Johnson. You should listen. Everybody's doin' it.
Go Cats.