UK's Backfield Is Built For Success
With Mikel Horton's announcement yesterday that he intends to come play his football at Kentucky you can't help but get excited about the future of our offense. The running back position was one of the strong points coming into this season but next year it's going to be just ridiculously stacked. Here's the kind of depth we're looking at.
The Here and Now:
Josh Clemons: Junior
After redshirting last year to rehab his knee injury it appears that Clemons is back and ready to run. Who can forget all the big runs Clemons had as a freshman before he got hurt and not be excited about this guy's future. Clemons looked pretty good in the Spring Game where he rushed for 56 yards on 10 carries. After a year of sharing runs with Johnathan George this coming year I'd expect Clemons to be the main man next year, if not already.
Dyshawn Mobley: Junior
Dyshawn had a pretty solid freshman year last season as he was called to step up in his first year on campus. He played in all 12 games and will be a solid option going forward. In the Spring Game he totaled 80 yards to lead all rushers and averaged 5.3 per carry. Factor in the SEC experience he is going to gain during this year and you have an excellent duo of running backs coming into next year. Those two guys would be good on their own but we're just getting started.
The Future:
Braylon Heard: Junior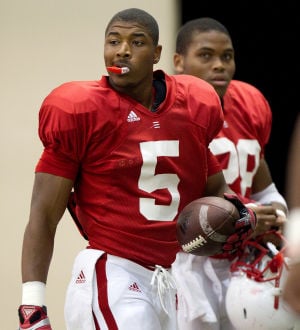 Two weeks ago Heard made the announcement that he would be leaving Nebraska to play for Coach Stoops. The native of Youngstown, OH is expected to make an immediate impact next season and could possibly earn that top spot on the depth chart. Heard will be the highest rated running back coming out of high school to ever play at Kentucky and while he didn't set the world on fire at Nebraska he still had good numbers. The transfer is another major reason to see the backfield being built for long-term success.
The Other Guys:
So not only will we have those three guys going forward but we're also have redshirt freshman Justin Taylor. Taylor if you recall was once committed to this little school called Alabama and I hear they know a thing or two about this football game. Taylor gained 11 yards on 4 carries in the spring game and should pick up some runs this season to gain a little experience. All that to go with four-star Mikel Horton who was told he was the "perfect fit" for Neal Brown's new offense. It's hard to not be excited about the future of the Kentucky football program.
Look I know it's ridiculous to be looking at the depth of the 2014 running back position. We still have a year of football to play right now. But I think looking at that position you can see what Mark Stoops is trying to pull off here at Kentucky. In past years maybe we were good enough at the top of the depth chart to be competitive with the big boys of the SEC but beyond that top guy we quickly fell off and had no real option. Stoops is starting to change that and its exciting. The backfield is slowly being built for success and the future is bright at Kentucky. Like Horton said to rivals.com ""I believe that UK is going to be like the U of Miami, where they weren't that good and then you gather everybody around the district and they all made it to the national championship and performed well. That's what we're trying to do at UK." One can always dream.