UK vs. South Carolina Fan of the Night Wants Pre-Signing Day Notes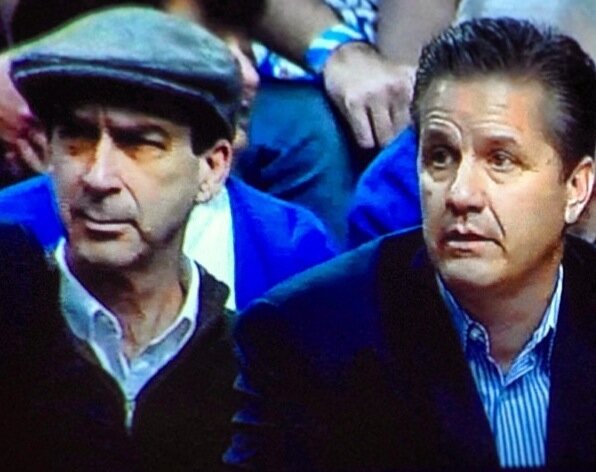 Let's run through a few pre-Signing Day notes before Tyler publishes her recap from Kentucky's win in Rupp Arena.  The guy behind Calipari in the hat really wants some football talk before bedtime.
—  With Ryan Timmons announcing his commitment to Kentucky on Tuesday, Jason Hatcher is the focal point of the remaining targets on Kentucky's big board.  Reports have been coming from all different directions claiming Hatcher has decommitted from USC and given his verbal to Kentucky, but with the way his recruitment has gone, it ain't over until his signature meets the dotted line.  We'll know for sure on Wednesday and all signs are pointing to great news for Kentucky.  It's like a 98.85% chance he's a Cat.
—  ESPN is reporting that it's already a done deal and has been running the news on the BottomLine ticker.  ESPN Recruiting Nation spoke to Donna Hatcher, Jason's mother, who said her son really likes the UK coaching staff and Stoops' enthusiasm towards turning the program around.  Remember, it was Donna Hatcher who confirmed to Rivals.com last week that her son would be attending USC.
—  Hatcher is set to announce at 3:00 p.m., the same time Mark Stoops is scheduled to meet with the media in Lexington.  Both press conferences will be streaming online.
—  Could there be a Signing Day surprise on Wednesday?  If we knew now, it wouldn't be a surprise.  But I can assure you Stoops and his staff are still working hard around the clock until everyone is off the board.  They aren't giving up on anyone.  Nothing will shock me.
—  We'll be up early Wednesday morning to cover National Signing Day from start to finish.  Nick Roush and I will have a running diary beginning at 7:30 a.m. and lasting until things start slowing down around the fax machine.  Join us early for a fun morning of building the 2013 recruiting class.  It should be a great, and historic, day for Kentucky football.
I better get off here and get some shut-eye.
See you on here bright and early!