UK is the 26th most valuable football program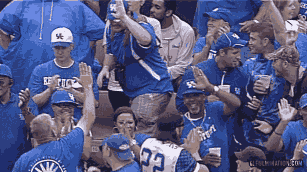 High-five!
The Texas Longhorns football program is the most valuable in the country, worth $761.7 million, according to a new study from The Wall-Street Journal.  The study that came up with each school's figures evaluated revenues and expenses and made cash-flow adjustments, risk assessments and growth projections.  (Where my finance majors at?!)  Coming in at No. 26 is the University of Kentucky, worth a cool $202.7 million.
And wayyyyy down there at the bottom, just ahead of Washington State at No. 60, you'll find the University of Louisville with an estimated value of $75.4 million — or 37.7 million Mad Dog 20/20s, to them.
WSJ.com | How much is your college football team worth?