UK Hoops Blowout Win Leads to Post-Game Drama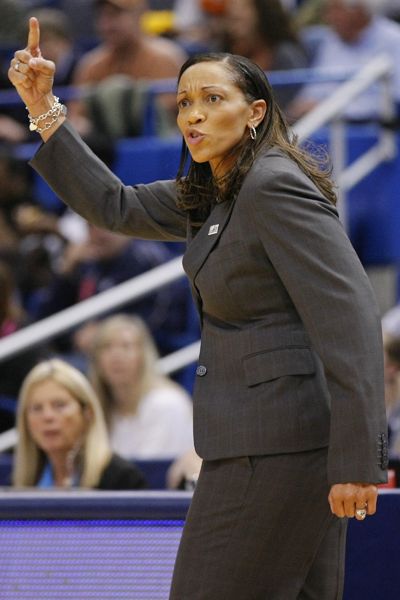 After the 5th ranked Kentucky Wildcats defeated Auburn today in Memorial Coliseum 97-53, you would expect a happy Matthew Mitchell and a disappointed but congratulatory Auburn coach. That was not the case. Throughout the game Auburn's first year head coach Terri Williams-Flournoy looked visibly upset, as her team looked completely flustered on offense and committed 30 turnovers. This translated to a very salty post-game handshake during which Coach Williams-Flournoy let her feelings known to Coach Mitchell and the two exchanged some words before assistant Coach Pillow could steer Mitchell away.
Coach Williams-Flournoy then stormed into the media room for her press conference during which she said a two sentence opening statement and when no one seemed to ask her a question she stood up and said "Are y'all serious? Are you done? You want Matthew to come in here?". Jen Smith from the Herald Leader then tentatively asked her what she thought of Kentucky's defense and Williams-Flournoy went on to say "I thought it was pretty un-classy to continue to press when you're up by 46 points." She then said it was "not respectful" of Kentucky to play the way they did with such a large lead. When asked if she was expecting UK to take the press off her team she answered "we're a pressing team (too) and when we're beating someone like that, we pull the press off". In response, Coach Mitchell didn't want to make the drama into a big deal, simply saying "if anybody is unfamiliar with how we play and what our goals are, then that is their problem….maybe we could have played less hard today and won, but that's not the goal for us."
Kentucky's motto this entire season is #40MINS. You see it on the big screen in Memoral Coliseum, you see it printed on all of the media guides and gameday programs. Mitchell constantly preaches to his team the need to play a complete 40 minute game of Kentucky basketball, and that involves pressing defense. Seems to me that Coach Williams-Flournoy was a little upset about how well UK played and wanted Mitchell to "take it easy" on her team. That isn't the way UK coaches, and it definitely isn't the way they play.
Nevertheless, the 18-1 Wildcats continue their quest toward a SEC title on Thursday night on the road against a ranked South Carolina team at 7. Their next home game is next Sunday at 3 against LSU.
What do you think? 40 minute press too much? Or is Auburn's coach just salty her team couldn't handle it?
Follow me on Twitter @WilderTreadKSR