UK Downs Ole Miss, Continues Dominance of Ranked Teams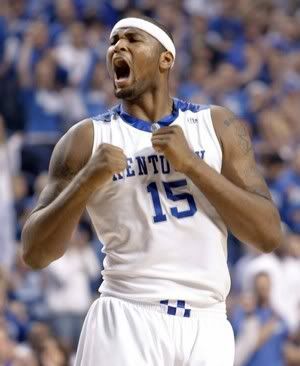 I was all set to just sit back, relax and watch the beauty that is Terrence Jones on the basketball court when who else calls but Matt Jones. Apparently Pat Forde scored exclusive preview tickets to a screening of Valentines Day and decided to share his tickets and his tub of popcorn with Seth Davis and our boy Matt. That leaves me, you and the story of UK's win tonight over #25 Ole Miss:
– The story of the game, other than Prurry Dog Stevenson's always ackward putback dunk, was DeMarcus Cousin's (yawn) 13th double-double on the season. Cousins also took a couple charges on a night where the team logged 6 charges taken total. John Wall, who told reporters after the game that "It felt great to have the fun back," scored 17 points and dished out 7 assists in 36 minutes of play. Bledsoe, logging 37 minutes himself, had 8 points and 8 assists and also added to his highlight reel with an up and under catch of a deflected alley oop from Wall.
– With Cousin's near-constant double-double this year, you have to wonder how many UK records would be absolutely shattered if a kid like him would stay four years and continue to progress. Scary to think about really. Calipari has apparently noticed this himself, saying after the game that Cousins was the best big man he has ever coached including his tenure in the NBA. Pretty high praise for Big Cuz, especially since this is the same guy that also got schooled by goldilocks.
– Calipari also spoke a little bit about his teams early inability to rebound and defend well, saying that Ole Miss not running many set plays and guys getting beat off the dribble led to them not being able to block out well for the rebounds. Cal also wasn't pleased with his team's turnovers in the first half but felt like that improved as they moved into the second part of the game.
– After a weekend full of John Wall quotes taken out of context, the team was able to speak freely about how they felt when the situation was occurring. Cousins said that he was with Wall the moment they first heard about the story and neither could help but laugh at how out of context the quotes were taken. Calipari also took the opportunity to address the aftermath and called it a good learning experience for his team on how to deal with frustrations off the court.
– This week's edition of "Things only John Wall Can Get Away With": Matt had the opportunity to sit down with Cousins for some post game quotes and while they had their little chat, Wall snuck up from behind, removed Cousin's Peter Parker ski-cap and started massaging his head during the interview. You or I would (a) have our sexuality immediately questioned and/or (b) catch a Cuz-Bo to the noggin.
– On the Patrick Patterson front, Cal said he was happy to see Pat being more aggressive but would like to see him be even more aggressive on the glass in the future. During each play of tonight's contest, Cal told Pat to attack the glass, even if it meant him not being able to get back on the opposite end of the floor. Tonight Pat finished with 6 total rebounds, 4 offensive, and 12 points.
– Darnell Dodson continued his semi-hot streak from behind the line, knocking down four in tonight's contest on his way to 14 total points. Good to see him starting to find his groove a little bit and his rightful place on this team.
– Now the story you've all been waiting for: Matt Jones did run into Seth Davis at halftime, no there were no blows thrown and the two actually had a nice little 10 minute conversation. Ain't it great when two former Dukies can finally put there differences aside and reconcile? Don't answer.
Now onto the educated basketball minds and what they had to say about the game:
More Cal on Pat: "I want him to go after balls. I want him to rebound with two hands. I want him to dive for loose balls and don't shy away. I want him to get into the post and attack the basket. I want him to get fouled and make free throws. I want him to shoot threes when he is wide open. I want him to run the floor and block shots. I want him to be the athlete that he is. I want him to demand the ball, even from the huddle. Part of the reason I am working with him is because I want him to know how much confidence I have in him. Joe Dumars said "of all the players that returned to college he has helped himself the most." I am proud of that. I am telling him to take that to another level. There is nothing here holding him back."
More Cal on Cuz: "I have never had a big man like him. I hate to put that pressure on him. He is a skilled 6′ 11" player that can make free throws, pass, has a great mind for the game and is emotionally growing every day. I have never had a player come this far this fast. There are still things he has to improve. He is still maturing. All their mistakes are great lessons for them. I explain that these are good life lessons to learn from for the future. I keep telling him he is a special player and he is a special man."
Full quote of Cuz on John Wall's recent quotes and their context: "When I heard it me and John were in the room and started laughing because he didn't mean it like that at all. Yes the words came out but that's not what he meant. I know John."
Wall on getting back to being Wall again: "It feels good and hopefully all the other stuff will go away but I am back to having fun and winning games."
Great quote from Pat on pressure to put up big number every game: "I am not concerned about that. Coach always says that I am an All-American and that he wants me to score 18 points a game and average a double-double. He wants me to do all these things, but I am more concerned about winning, not about being the high scorer or try to impress other people. I am more concerned that my teammates are playing well and us getting a win then I am bout scoring points."
Make sure to come back tomorrow morning as The Rob Gidel and Drew Franklin have all the coverage of football signing day, Matt will surely have some stories from his meeting with Seth Davis and, if time allows, a review of Valentine's Day and who provides the better movie makeout session, Davis or Forde. Should be fun…