U of L Issues Statement on Hurtt and Miami Scandal Story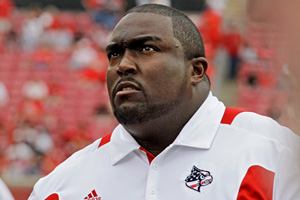 In case you were consumed with the exhibition in Louisville this evening, you might have missed a pipsqueak named Nevin Shapiro dropping the college football equivalent of Little Boy on the University of Miami Tuesday night. Shapiro, who is currently sitting in jail after getting nailed as the orchestrator of a Ponzi scheme, provided Yahoo! Sports with a detailed account of providing players with anything from jewelry and cash to prostitutes and abortions and even working with a sports management company. Essentially anything that could be a violation or a crime against common decency, Shapiro had a hand in it. You can read the entire account here. In fact, make sure you do. It's an incredible story.
It also included a little blurb dedicated to Shapiro's relationship with Clint Hurtt, who was serving as Miami's recruiting coordinator at the time. Hurtt, as you're probably aware, serves in the same capacity for Charlie Strong at Louisville. Here is what the story said about Shapiro and Hurtt's relationship.
Shapiro said he violated NCAA rules with the knowledge or direct participation of at least six coaches — Clint Hurtt, Jeff Stoutland and Aubrey Hill on the football staff, and Frank Haith, Jake Morton and Jorge Fernandez on the basketball staff. Multiple sources told Yahoo! Sports Shapiro also violated NCAA rules with football assistant Joe Pannunzio, although the booster refused to answer any questions about that relationship. Shapiro also named assistant football equipment manager Sean Allen as someone who engaged in rulebreaking, and equipment managers Ralph Nogueras and Joey Corey as witnesses to some of his impropriety.

Among the specific incidents, Shapiro or other sources say Hurtt, Hill, Stoutland, Pannunzio and Allen all delivered top-tier recruits to Shapiro's home or luxury suite so the booster could make recruiting pitches to them. Among the players who were ushered to Shapiro while they were still in high school: Eventual Miami commitments Ray-Ray Armstrong, Dyron Dye and Olivier Vernon (prompted by Hurtt); eventual Florida commitments Andre Debose (Hurtt) and Matt Patchan (prompted by Stoutland and Pannunzio); eventual Georgia commitment Orson Charles (Pannunzio); and eventual Central Florida commitment Jeffrey Godfrey (Allen).

The University of Alabama (Pannunzio and Soutland), University of Florida (Hill) and University of Louisville (Hurtt) all declined to make the coaches available for interviews. Allen declined comment, calling all of Shapiro's claims "egregious and false."

But Shapiro insists he came in contact with multiple recruits improperly during their official or unofficial visits going all the way back to 2002.

"Hell yeah, I recruited a lot of kids for Miami," Shapiro said. "With access to the clubs, access to the strip joints. My house. My boat. We're talking about high school football players. Not anybody can just get into the clubs or strip joints. Who is going to pay for it and make it happen? That was me."
Like the other schools with former Miami coaches named in the story currently on the staff, Louisville issued a simple statement Tuesday, saying "We are not going to respond to any alleged accusations." That might change as this story continues to develop in the coming days, but for now they are apparently going all Tammy Wynette and choosing to stand by their man.
Ladies and gentlemen, the world of college football appears on the cusp of getting a major shakedown. And it's all another painful reminder that you should never trust a grown man in an Abercrombie shirt.