Two Down…Now What? Resetting the Recruiting Scene
After Kyrie Irving committed to Duke, I had a few messages from people wondering if UK was going to be able to land a decent point guard (for the record, the answer is yes they will). Now that Adreian Payne has decided to allow Tom Izzo to mold his game, those same questions are popping up again, only this time with a slight amount of depression or fear behind them. Maybe Adreian picking Michigan State was just what the doctor ordered to make UK fans realize that there will still be situations where, although the staff does a bang up job recruiting and the kid loves the idea of going to UK, there is just something about another school that seems like it would suit the prospect better. It happens to the best of 'em and Calipari and his staff are not somehow immune.
After taking a deep breath and realizing everything's going to be fine, the next question is inevitably going to be: "Who do we go after now?" Well that is what this post is all about. Updating where each of UK's top targets stand at this point.
CJ Leslie
CJ is probably the best prospect to start out with because he is the most comparable to Adreian Payne's skill set. While CJ may lack the height of Payne, they are both known for their athleticism and length. UK has always been thought of as one of the favorites and the recent visit by CJ cements their status in that area.
Tobias Harris
My fiancee has actually become quite the Tobias Harris fan and she asked me last night where I really felt like he was going to go and whether UK stood a chance. Obviously I have nothing to hide from her but my answer still remained that I really just didn't know. What I do know is that Tobias and his father both love UK and Coach Calipari. I wouldn't be surprised to see UK get him. The problem is that I don't even think that they truly know right now where they want to go. They have Syracuse, Tennessee, Louisville, Maryland, Georgia Tech and West Virginia all knocking on their door and they plan on taking a clear-headed look at each one. I think Tobias himself won't know where he wants to go until after all his visits are completed.
Terrence Jones
Terrence is a lot like Tobias as well. While he seems to like Kentucky and Calipari's offensive scheme, he has a lot of other top options and plans on taking a look at them all. His current list includes Washington, Oklahoma, UCLA, Kentucky, Oregon and possibly Arizona and Kansas.
Doron Lamb
At this point, all three of the schools that were thought to be leaders for Doron (UK, Oklahoma and Kansas) have been visited. All of those visits seemed to go equally well. Lamb continues to say that Arizona and Connecticut will also get visits although the dates haven't been set. The one that has to have the top three scared is probably Arizona where former Gaucho (Lamb's AAU team) and New York guy Book Richardson is an assistant.
Jelan Kendrick
I get questions about Jelan a lot and they are truly hard to answer. He's not really one to give out a lot of information, even though he is quite talkative. He has a lot of schools on his list and I think he wants to wait a while before cutting it down. Memphis, Indiana, Georgia Tech and Kentucky are just some of the schools involved with Kendrick. I'd expect him to visit Kentucky in the future but I'm really not sure who might be considered favorites this race.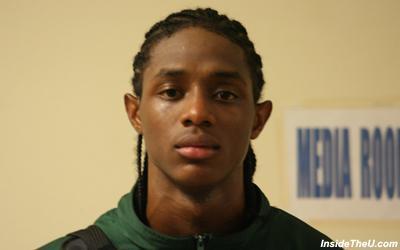 Brandon Knight
Knight will be making an official visit to Kansas this weekend and has previously made official visits to Kentucky and Connecticut. Miami and Florida are also on his list but they will probably receive unofficial trips. Syracuse is another possibility for an official visit in the future. Anyone that you talk to about Knight will tell you one thing: "He plays it close to the vest." Kentucky is extremely involved with Knight and even considered themselves to be in a good position with Knight earlier in the year. However, Knight's probable destination is a big mystery at this point.
Josh Selby
Selby's list right now stands at Kansas, Miami, Kentucky, Syracuse and Indiana. All of those schools should receive visits, although none will be official at this point because Selby hasn't taken his placement test yet. Kentucky's staff is working very hard on getting Selby on campus and I'd expect him to be in Lexington sometime in the near future. However, I don't think his list is going to get much shorter or that a winner will be picked before sometime in the Spring. So it's best to just relax on this one for now.