Today on KSR: Black Friday 2018
I hope you all had the happiest Thanksgiving! Did you stay up late for the best Black Friday deals? Did you get up early and are about to hit the shops? Hopefully you don't have to work, but it will be a full day for the KSR crew so you're not alone if you're heading into the office.
If you're off and not shopping it's going to be a pretty spectacular sports day and we'll have you covered.
Speaking of Black Friday:
Did you see what the KSR staff wants for Christmas? The gang picked out some of their favorite items and put it in one nice post, and maybe you'll want those gifts, too. There are links for some of the nice items so all you have to do is click and purchase.
As for me, I'm moving to a new house today. I'd love some new furniture. We need new couches, a bar and I need to learn how to properly mount a TV and hide the wires. Any advice?
If you're interested in buying some sweet UK or KSR gear, we've got you covered and you don't even have to stand out in the cold. Click here for DEALS. DEAL.S. DEALS.
Cats play:
Two games in three days? Let's do it. Kentucky will look to put together a full 40-minute performance tonight against Tennessee State. Tennessee State isn't very good, so UK isn't on upset alert, but goodness gracious we need to see another blowout win. The Cats have won four straight against mediocre opponents. In three of those games UK had huge leads and against VMI and Winthrop the Cats took their foot off the gas and allowed the opposition to creep back into the game. The contest was never truly in doubt, but sloppy finishes soured the performance. The Southern Illinois game was closer than anyone anticipated but Kentucky did cruise with ease against North Dakota. More of that, please.
Reid Travis' eye is fine. Tyler Herro's knee is good. The Cats are at 100 percent and I'm expecting a 40-point win.
But even in a blowout win I hope to see UK defend the perimeter better than the previous five games. Kentucky has allowed 56 (!!!) threes this season. That's comically bad, but the good news is it probably can't get worse.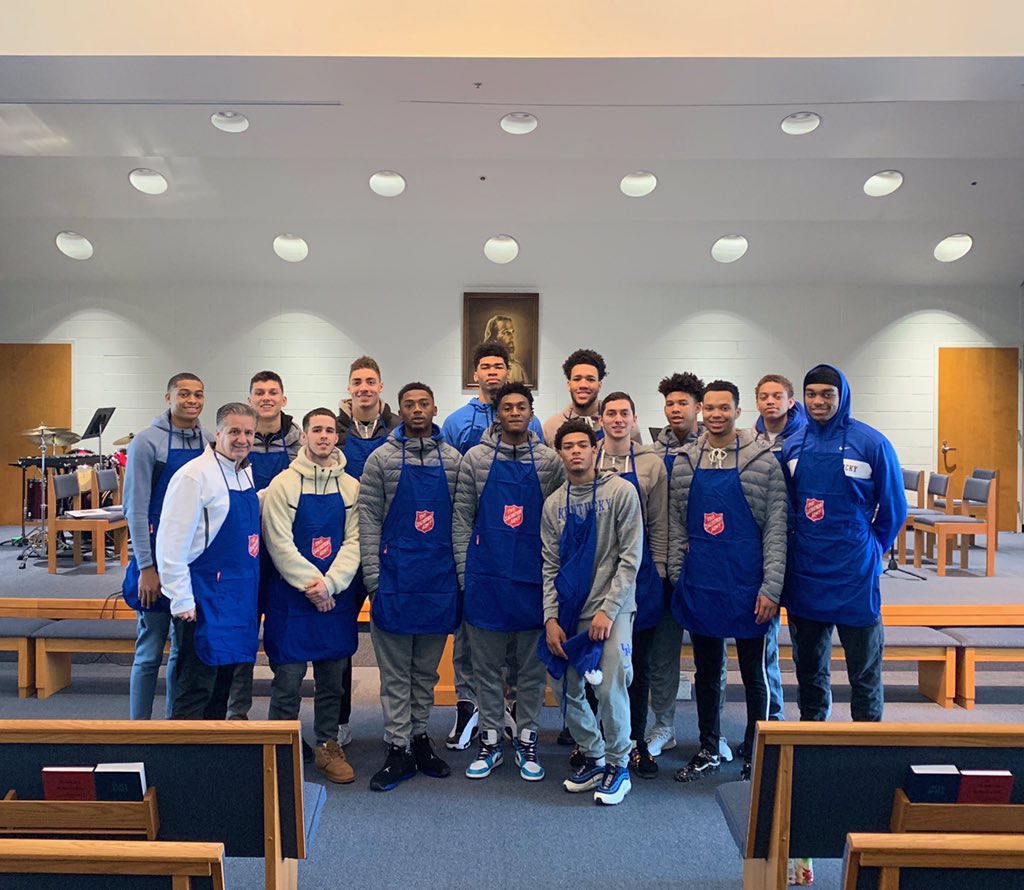 Kentucky gives back:
A group that makes you proud on and off the court. Kentucky spent its Thanksgiving by giving back to the community before scarfing down on dinner at Cal's place. The players and coaches went to the Salvation Army to serve dinner.
We've got pictures, video and nice recap of the Cats giving back. It's great that Calipari has his team help serve the community when they can.
Kentucky Basketball serves Thanksgiving dinner at the Salvation Army
College basketball on Turkey Day:
No major upsets on Thursday besides No. 7 North Carolina falling to unranked Texas 92-89 in Las Vegas. It was the Tar Heels' first loss of the season. The Cats play UNC in nearly one month.
Virginia struggled with Dayton, but won by seven. No. 11 Michigan State trounced No. 17 (and undefeated) UCLA. No. 6 Nevada held off Tulsa by 10 and Wisconsin dominated Oklahoma.
Oh, and Memphis was smacked by Oklahoma State. Have fun, James.
In the SEC No. 19 LSU moved to 5-0 after beating Charleston and Florida bounced back after its embarrassing loss to Oklahoma to defeat Stanford. The Gators are 3-2 on the year.
Along with UK several SEC teams play today but all eyes will be on Tennessee when the Vols take on Kansas at 9 p.m. in Brooklyn. It would be a great win for the SEC, but I'm not sure I can bring myself to root for UT. Although I certainly don't want Kansas to win. Hmmm.
Josh Allen is a finalist for another award:
Rinse, repeat. This time Allen was mentioned for the Lott Trophy along with seven other players. Allen has had a spectacular year and I hope you folks are traveling to Louisville on Saturday to pack Cardinal Stadium blue and root on Allen for one final time in the Bluegrass.
If you were wondering, here's the awards that are considering Allen:
Nagurski Finalist
Bednarik Finalist
Butkus Finalist
Walter Camp Semifinalist
Lott Semifinalist
I say give him all of them. ALL. OF. THEM.
Speaking of football:
Did I mention packing Cardinal Stadium blue on Saturday? You should do it. Tickets aren't too expensive and it's going to be quite the sight seeing UK fans outnumber Louisville fans in their own building. Grab a few friends, maybe your favorite family member and make the trip to Cardinal Stadium. They serve beer.
If you need a little more convincing say no more:
Should we worry:
There are rumors that if Jeff Brohm leaves for Purdue then Kentucky commit Wandale Robinson will follow him to Louisville. Robinson was asked about the rumors and while he said he's currently 100 percent committed to Kentucky he did say if Brohm goes to UofL he'd be a "little open to consideration."
Vince should camp out in Frankfort until Robinson signs.
No days off:
KSR isn't taking the day off, so make sure you listen to Matt Jones and the boyz at 10 a.m. We'll have a show thread soon.
After you listen to KSR head on over to KSbaR to watch the golf match of the week. Tiger vs. Phil. KSbaR will have some unreal deals during the match and quite frankly I think they're going to lose a lot of money on Friday, so head on over and take advantage. Here are the rules: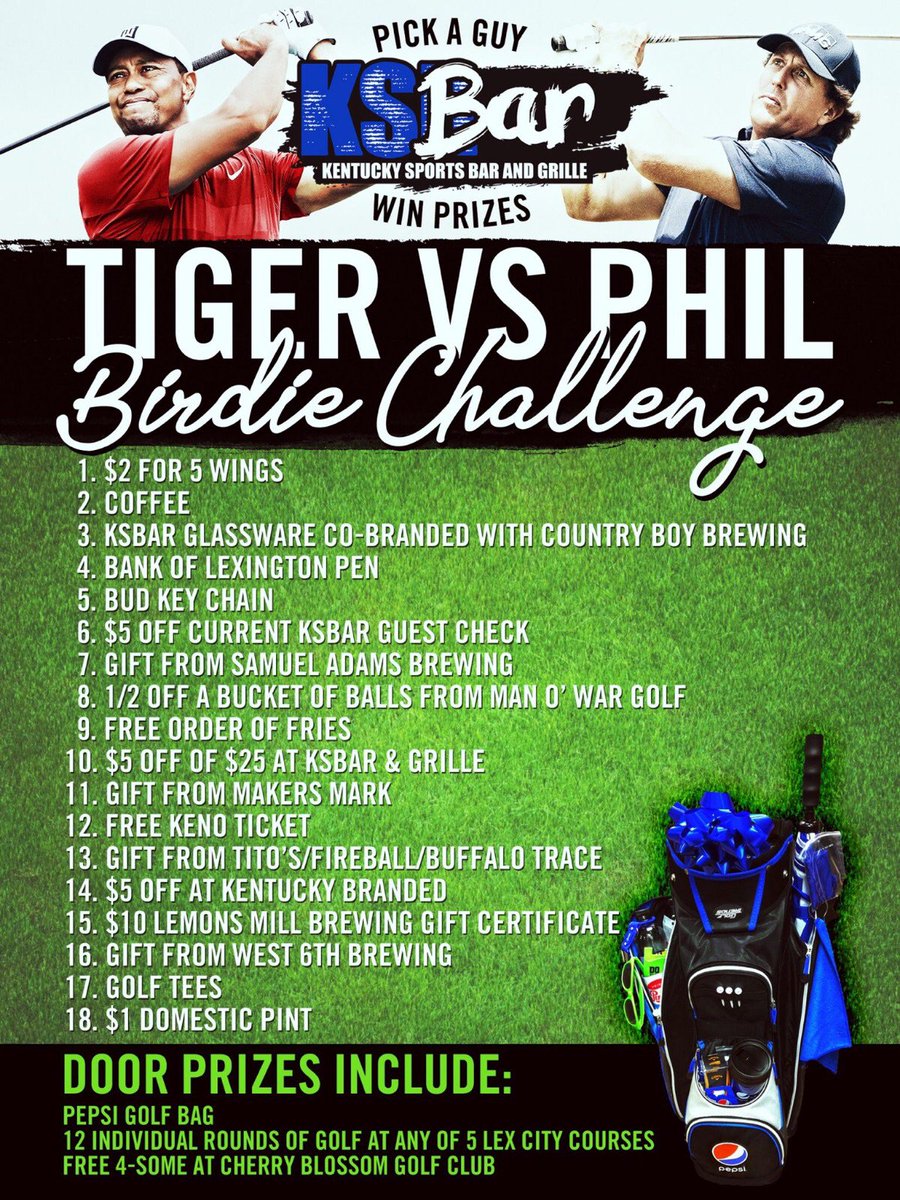 These dudes are going to go WAY LOW. What was Ryan Lemond thinking?!
[mobile_ad]