Tobias Harris Kicks Off In Home Visits Tonight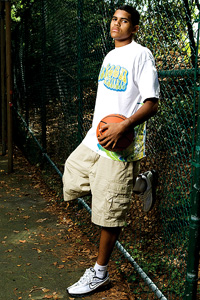 Tobias Harris has made a lot of noise around UK websites and message boards since becoming a serious target of the Cats during summer. Prime evidence of UK's serious effort to land the star forward is the fact that they will be making Harris their first of many in-home visits, which are allowed by the NCAA starting today. When I asked Tobias' father, Torrel Harris, how the UK staff had come to lock down the first visit, he replied, "During the visit to UK's campus, they just asked."
Although Kentucky seems to have made some major leaps up the Harris' ladder, they're still going to have their work cut out for them tonight. The Harris' still have a lot that they would like to learn about the program, the coaches and especially how those coaches will utilize their son's skills in their offense. Torrel described a few of the things that he would like to learn from the staff by explaining, "Basically, learning about how Tobias fits in the plans with the coaches and how he is going to be utilized in the UK basketball program and how they'll work with him to get better and prepare for the next level."
During a college recruitment, Torrel knows that many coaches are going to tell you what you want to hear because their main objective is to get your son on campus. That's another objective that he has planned to utilize the in-home visit for, describing what he will use to make his ultimate decision as follows, "Its going to come down to who we feel is being sincere about working on Tobias' basketball game and you know, Tobias is a point forward, he's not a power forward." He continued, "So basically we want to know how he is going to be utilized."
Many of the coaches on Tobias' list include coaches famous for utilizing taller players in a position similar to a "point forward" where they are able to handle the ball. Torrel listed Rick Pitino's use of some of his past players, Earl Clark and Francisco Garcia for example, and also Syracuse's use of Carmelo Anthony. When discussing Louisville, the rumor of their status as leaders came up and Torrel explained that he doesn't know where exactly that rumor came from but all the schools are still equal. Without the aid of the in-home visits and new coaches to the scene being able to explain their methods of utilizing Tobias, how could he even begin to know which school was the leader, he added.
UK coach John Calipari is definitely amongst those new faces and he will surely go over the dribble drive motion offense with the Harris', explaining how a forward such as Tobias would be set free and creation, something that the Harris' covet, would be a necessity in UK's offense. For instance, Calipari would be almost as likely to say the following quote from Torrel, when describing how he will utilize Tobias: "We just want Tobias to be able to rebound and go, create and not be locked into being a four man."
Lastly, Mrs. Harris will be a selling point during the in-home visits. "Another thing will be getting to know my wife because she has questions. She's never met any of the coaches before, so she has some questions and concerns," Mr. Harris explained.
While Torrel feels that a decision is not totally out of the question during the in-home visits, they aren't going into the situation planning to make a decision. In other words, that idea seems to have been taken more as a plan, rather than something that the Harris' don't feel is totally out of the question, which is how Torrel would describe it. That idea stems from the fact that the Harris' have already viewed most of the campuses on their list and a knock out in-home visit might be all they need to seal the deal. Tonight, UK's coaches will have the opportunity to deliver that blow by selling themselves, their offense and the ways they can prepare Tobias for the next level. We'll keep you updated how it goes.
Other recruiting notes:
– Doron Lamb is up next for the coaching staff. They will be visiting Lamb and his family on Thursday. Zag's blog reports that Arizona has also been added to his in-home visit list recently. They will be coming in on September 12th. Kansas and their staff are also going to be making a visit, although they plan on seeing Lamb at his campus at Oak Hill Academy, located in Mouth of Wilson, VA.
– In the Indy Star, Marquis Teague describes the schools that are recruiting him and how he feels about each.