Time To Get Your Vote ON!!!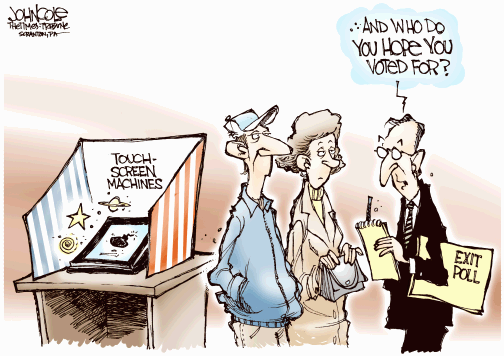 After seeing lots of videos (and there are more to come), it is now time to VOTE in the KSTV Casting Call. Your votes will produce the majority of 15 Semi-finalists (the judges have a few wildcards) to move to the next round. And thus it is up to you to pick who should be the people to become the future co-hosts/reporters for KSTV. This voting round sees the candidates divided into groups based on their type of audition. Our Lexington, Louisville and on-line finalists are all competing separately and thus you can vote for one Lexington, Louisville and on-line finalist if you have a Facebook account. We will highlight each group over the next three days and begin today with the Lexington finalists.
Those that came to Lexington were entering a brave new frontier. They had no idea how the competition would be conducted and what questions would be answered, but many still performed admirably. You can see all 22 Lexington FINALISTS AND VOTE HERE. However if you arent able to watch all 22 videos (and we encourage you to do so), some on the KSR staff not involved with the show were polled to determine who they thought were the top 10. I agree with some of the selections and dispute others, but here is the KSR Top 10 poll after the first round, with links to their tryouts:
1. Avery Browder: From Bowling Green, Avery has a smooth style and may be the best overall candidate early on in my personal view.
2. Caroline Hall: As a Kentucky native and former Ole Miss student, Caroline has a lot of potential to do very well in this industry. She is feisty, and in my view her best days are still to come.
3. Casey Hincheliffe: While we gave him a hard time for his "Furman" look, Casey nailed the audition and knows his UK stuff backwards and forwards.
4. Hays Cannon: The most polished of all the Lexington entries, he has the ultimate "frat boy ready to be on tv" look in the contest.
5. William Washington: The former UK football player (for 2 weeks) had a good knowledge level and seemed ready to be on the KSTV set. He will need votes however to move on.
6. Chase Lilly: While Will ragged on his shirt, Chase was very likable and has a strong online following already in the contest.
7. Jenna King: She didnt know her Kentucky stuff as well as she needs to, but the current Miss Teen Mississippi has a television look and a likable personality.
8. Jimmy Drake: I will be honest, I really liked Jimmy. Maybe it was his laid back style or the fact that he seems like a guy we all know, I cant help but pull for him in this thing.
9. Josh Corman: The teacher with the poor wardrobe has a good knowledge level, but will have to step up the energy if he actually arrives on KSTV for the next round.
10. Sam Moore: You have to love Sam's story. Blind and listening through the voice of Tom Leach, he is a huge UK fan and loves KSR/the Cats.
So those are the KSR top 10 from Lexington. You can pick any of them or one of the other contenders from the Voting page below. You get to cast one ballot per Facebook account, so make it stick. And if you dont have Facebook, below are the videos of the top 2 contenders in the KSR poll. I encourage you to watch all of the contenders to see what the contest is about and how great everyone involved did in their tryouts. Good luck to all:
VOTE FOR THE LEXINGTON WINNERS HERE