Time to Get to Know the 2014 Prospects Vol. 4: Leron Black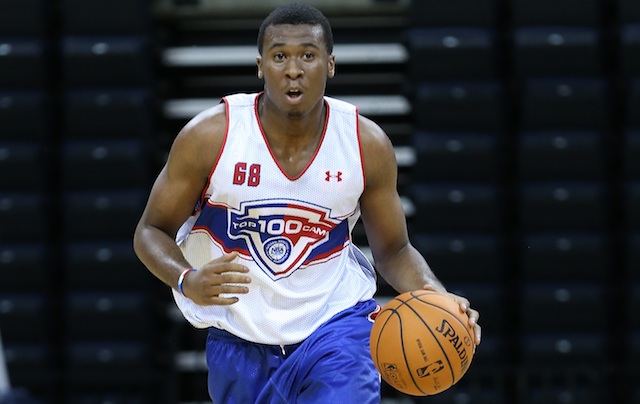 It's almost that time of year when the next batch of high profile John Calipari recruits become household names. As the AAU summer circuit heats up, a few new names will start to pop on the radar for Kentucky other than the 5-6 we've been hearing about for months now. One of those new names on the radar is Leron Black.  Let's take a moment to get to know Leron Black a little bit better, shall we?
LERON BLACK
Vital Signs:
Power Forward
Memphis, Tennessee
6'7″, 215 lbs.
Rivals:  22
ESPN:  36
Scout:  26
247:  35
(Chart via 247 Sports)
"THE LIST": Baylor, Connecticut, Florida, Illinois, N.C. State, Ohio State, Tennessee, UCLA, Kentucky, Indiana, Louisville, Memphis, Kansas, Missouri, Vanderbilt
"Buzz": Leron Black originally gave a verbal commitment to Baylor, but has since backed off an re-opened his recruitment. Since re-opening his recruitment, some of the bigger names have started to come knocking, including Louisville, Kentucky and Indiana. Black told the Courier-Journal recently that he likes Indiana a lot, "I like them a lot, and I like the way they play. I watched them a lot this year. I loved watching them play this year. I had them winning it all, but you know how that goes. I love the coaching staff over there."
Strengths:
– Versatile combo forward
– Rebounding
– Works baseline to baseline and grabs everything
– Good finisher in transition
Weaknesses:
– Shot is improving, but mechanics aren't great
– Inconsistent
– Ball handling
What They're Saying About Leron:
Eric Bossi: "Known as one of the toughest players in the class of 2014."
"He's a jack of many trades. When he first came onto the scene it was his rebounding that stood out. He gets any rebound in or outside of his area. He's improved his ball handling. He started off the spring a little less than full strength, but he's started to come on of late and is playing like a 5-star prospect."
InsideTheHall.com: "He's been a high energy guy that can score the ball in multiple ways. His mid-range game is becoming a strength at 6-7 he can still step out to the 3-point line and knock down shots. He still seems to be at his best when he's operating in the paint and using his upper body strength and athleticism to finish through contact at the rim."
What Leron is saying:
Black on his recruitment with Indiana: "We've been talking every day. I like the coaching staff, I like the program they've got. He's a nice guy (Crean). I'm big on my faith. I can talk to him about my faith all the time, and I love that. He's a nice person."
"I love all the schools that are talking to me. I'm big on my faith, so they're talking to me about my faith and trying to get me to have a good feeling with the coaches."
Black will not take his visits until the fall, and he hasn't decided which schools he wants to take a closer look at just yet. "I'm still taking my time, letting the recruiting process take place."
Black to the Memphis Commercial Appeal: "What I'm really gonna look at is, I'm gonna compare campuses and I'm just gonna see how the coaches are. I wanna be at a school where the coaches are Christians like myself. It's been a good learning experience. I've just been thinking about it for a while. I just need to compare.
Former Calipari Player Comparison: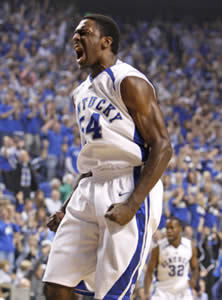 Think of the Patrick Patterson toward the end of his time at Kentucky. Patterson was always comfortable with his back to the basket, using the strength in his frame to finish– but ended up developing a mid-range game and becoming more of a combo forward.
Reasons to think Kentucky has a good chance:
– Kentucky came on to the scene a little bit late with Black, but Black seems to be intrigued at the new level of interest.
– Calipari can point to other big men in a similar position ranking wise (Willie Cauley-Stein, Marcus Lee) who he will potentially develop into first round draft picks.
– Black talks a lot about wanting to have a good solid relationship and level of comfort with his college coach. We've heard Cal recruits lately talking about how Calipari talks to them about more than just basketball, including discussions about self-improvement and being the type of person who "gives back." This type of recruiting strategy seems right up Leron Black's alley.
– If he's looking for a coach in good moral standing, he's probably NOT going to pick Louisville. So that surely has to help us jump at least one team on his list…
Reasons to worry if you're a Kentucky fan:
–  Tom Crean seems to have the early in with Leron Black. If you've ever followed Tom Crean on Twitter, besides just sending creepy tweets to "recruits," he also makes no secret about displaying his faith on a daily basis. Crean probably fits that mold the best with Black.
– A lot of home-state Tennessee schools are on Leron Black's list. Those schools could have an advantage geographically.
– Black likely won't be Kentucky's TOP priority at his position with other guys like Stanley Johnson, Cliff Alexander, etc. on Calipari's wish list. Black could be the Willie Cauley-Stein to Nerlens Noel though if he is interested in joining another big man in Kentucky's class.
Reading the Tweet Leaves/Tweet Beat Potential:
It appears as if Leron Black does not have a real Twitter account. But it looks like he might have a fake one. Why do we think it's fake? Because it's the last twitter account on earth to still think that Ryan Harrow has an official Twitter:
Video Evidence:
Final Judgment/How bad do we want him?:
Leron Black wasn't an initial prime target for John Calipari and his coaching staff. In the last week or so, we've seen Cal extend the net a bit to include some more top 20-40 guys who may not be THE top players in the class of 2014 (though still very good). This broadening in the recruiting strategy might have something to do with the fact that Cal doesn't feel AS confident with the 2014 class' top prospects as he has in year's past. That's not necessarily a reason to panic by any means, but it's a reason to start paying attention to guys like Leron Black who might end up being bigger targets as the next few weeks go on. Black is a strong and talented player, who could very much end up being a Willie Cauley-Stein type of 2-3 year guy for Calipari. He might not be an immediate star at Kentucky, but he would be a solid contributor right away and potentially stick around for a few years.