Tianlang Guan's Saturday News and Views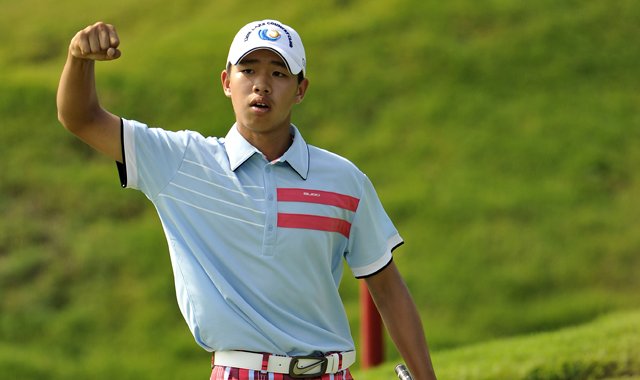 While most 14 year old boys spend their Fridays deciding which emojie is the most appropriate to send, Tainlang Guan spent his Friday competing in the Masters. Guan is 14-years old and has become the next young sensation to take the golf world by storm. If you're like me, you never watch golf. If you're not like me, you've watched golf in the last 3 years. I'm less fascinated with anything golf-related that guys like Tainlang Guan do, and more amused when I think about comparing his accomplishments at that age to mine.
This afternoon though, Guan became a large part of the Masters and social media conversation when the PGA penalized him for slow play. He was issued a 1-stroke penalty for exceeding the 40 second time limit on the 17th hole. Apparently the officials began timing Guan after the 12th hole, and warned him by the 13th that a penalty would be enforced if it continued to happen. A slow play penalty hasn't been assessed on the PGA Tour since 1995. Tianlang Guan was not even alive yet. Guan still made the cut after shooting a 75 today (with the penalty) and a 73 yesterday. To Guan's credit, even though many were infuriated that the PGA decided to make an example of the young rising star, he took the penalty in stride and handled it with class when talking about it:
"I respect that decision. Still a wonderful experience for me. I enjoyed this week so far. I did a pretty good job."
I think he should be given a 1-stroke bonus for being 14-years old and not responding with "SMH."
And now let's take a look at the news and views from the day…
– I was planning on starting  the news and views with the Spring Game business, but then Andrew Wiggins happened. Or didn't happen. To sum things up: ESPN's Keith Jenkins sent out a tweet that he had a confident "source" telling him that Andrew Wiggins, the #1 prospect in the 2013 class, was going to commit to Florida State.
To which Andrew Wiggins promptly responded:
Most believe that Wiggins has not yet made a final decision, and if he has– very few people (essentially just his family) are "in the know." Wiggins has been a closed book throughout his entire recruitment and there's no reason to believe that would change this late in the game.
Moving on.

– FINALLY! The 2013 Blue vs. White Kentucky football spring game is almost here. It's the moment we've all been clamoring for since Mark Stoops' arrival as the new head coach in Lexington. Although it's only a scrimmage and the pieces are not all in place just yet, this will be the first real chance for the fans to celebrate the new era in Kentucky football. With 60,000 tickets distributed (and somewhere between 30-40,000 fans expected), the attendance looks to be in as great of shape for the scrimmage as it has been in a long time.
5 important things to know about the logistics of the Blue/White Game:
1. The game kicks off at 7 p.m., but the gates open at 6 p.m.
2. The 1st Cat Walk of the Mark Stoops era will begin at 5:15 p.m. I think that's worth congregating around gate 1 a little in advance…
3. Tickets ARE STILL AVAILABLE beginning tomorrow at 4 p.m. at the Will Call booth outside of Gate 4 and at a ticketing tent between Gates 10 and 11.
4. All parking is free and will be on a first come, first serve basis. Lots will open at 8 a.m. tomorrow.
5. You can do the Keeneland/Spring Game double-header if you so choose. There will be a shuttle traveling from Keeneland to Commonwealth and back tomorrow. Click here for more details and the official shuttle schedule. 
5 things to look for in the Blue/White game:
1. The buzz in the stadium and on the field
Not only does it look promising for Commonwealth Stadium to be much cozier than usual for a spring game tomorrow, but the fan base has been anxiously awaiting its first glimpse at the new coaching staff in action. Apathy and lethargy should not be a part of tomorrow's festivities. And if you haven't already caught a whiff of the excitement and buzz among the players from the videos the UK football program has released from practices, you should see it showcased on the field during tomorrow's scrimmage. Times have changed folks, and I think you will really see that tomorrow.
2. The quarterback situation
Even though Neal Brown anticipates a fall camp decision on the starting quarterback for next season, everyone is ready to formulate an early opinion on which of of the trio (Maxwell Smith, Patrick Towles or Jalen Whitlow) will stand out the most following spring ball. My early upset alert pick: Don't sleep on Jalen Whitlow.
3. Improved defensive scheme/new offensive scheme
The players Mark Stoops and the new staff need to perfect the system they plan to install may not all be in place just yet (and it might even take a few years), but early signs of the changes to the offense and defense should be noticeable in tomorrow's scrimmage. If Kentucky football doesn't break out an air raid siren tomorrow, I'll be disappointed.
4. The MARK STOOPS recruits
Za'Darius Smith, Steven Borden, etc. are already on campus and will participate in tomorrow's spring game. These are recruits that Stoops has brought on since his arrival. Both of these guys should give us a glimpse into what the future of UK recruiting might look like up close and personal…
5.  Josh Clemons
I'm betting that Josh Clemons will make at least one play tomorrow that will have people salivating for his healthy return next season.
– On the eve of a big day for the new coaching staff, the Kentucky football program received some other positive news this morning. Thaddeus Snodgrass, the #24 ranked wide receiver in the 2014 class, committed to the Cats today on the KSR radio show. Snodgrass picked the Cats over offers from Notre Dame, Michigan State, Wisconsin, Penn State and Ohio State. That's a hell of a coup for Mark Stoops and the Kentucky coaching staff. Snodgrass, a 4-star receiver, is the highest rated wide receiver to commit to Kentucky since the Rivals.com site began doing a ranking system many years ago. Snodgrass is also the best last name to be given to a human being since the man and the woman began doing sex many years ago.
Snodgrass on his commitment: "The academic were great, the coaches were great, it's a new up and coming program. I'm fired up and committed to win."
– ESPN's basketball recruiting analyst Paul Biancardi had some great things to say about Aaron Harrison, one of Kentucky's 2013 recruiting class members. Biancardi described Aaron Harrison, the shooting guard, as "the best three point shooter that Calipari has recruited since Lamb and maybe the best of all time." Those are some strong words. Even if he's not the best Calipari has ever recruited, if he can be a deep threat at all next year for Kentucky, that makes an already stacked team that much more dangerous.
– Daniel Marks was a student manager for Vanderbilt's men's basketball program for 4 years. He has started a new blog chronicling some of his unique experiences both on and off the court. Yesterday, he wrote about his experiences with the Kentucky basketball program while being a manager for Vandy. 
"Working for Vanderbilt, I'm supposed to hate Kentucky. I do hate Kentucky. But I also love Kentucky and am in awe of Kentucky."
– Andy Kennedy received a 4-year extension with Ole Miss after the Rebels made a late season run by winning the SEC tournament championship. Marshall Henderson will drink to that. Or anything, really.
– While we've heard the rumblings from Kentucky Wesleyan that Saul Smith has been inquiring about the job, Tubby Smith's other son was given a big promotion. G.G. Smith, Tubby's son who played at Georgia, has been promoted to the new head basketball coach at Loyola University. Smith has been a 6-year assistant at the school in Maryland. Smith is 36-years old and inherits a program that won 62 games over the past 3 seasons and made the NCAA tournament in 2012. Congratulations to G.G. Smith.
– KSR reader Kyle Caudill may have stumbled across a relative of the UK foot stabber... People are weird. Really, really weird.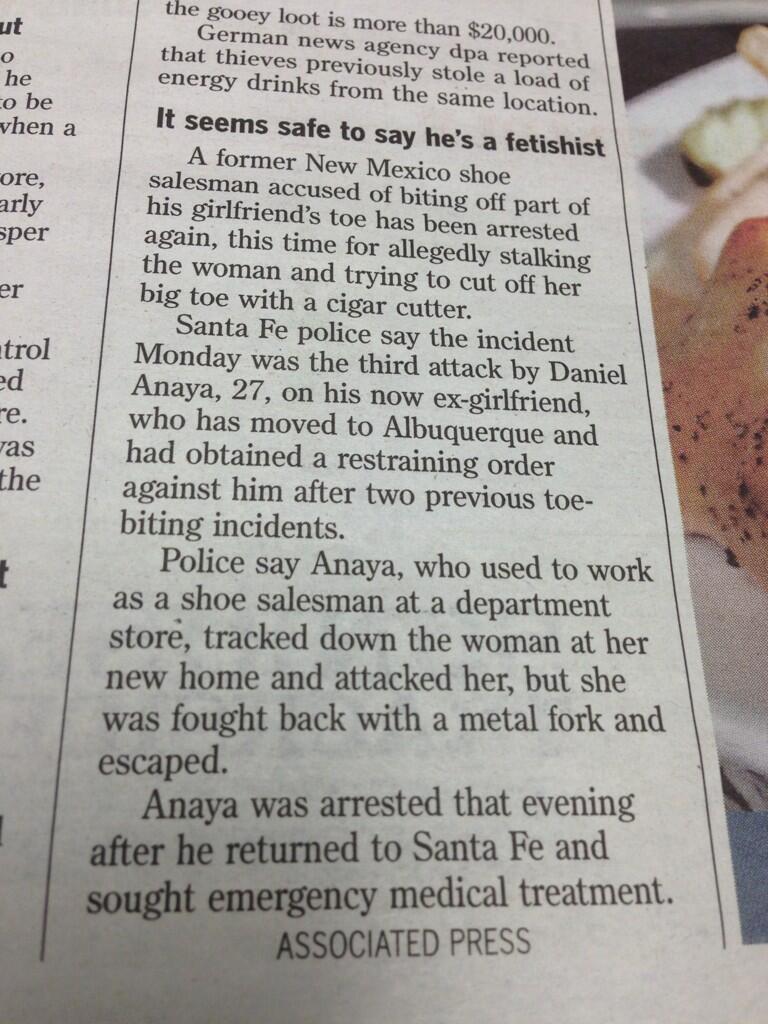 – The absurd foot story would have won the internet for the day if not for K-Mart's new ad. K-Mart hasn't done much right in this life, but I will now try to find one of the few K-Mart's still standing because of this commercial. I promise this is worth 30 seconds of your day…