They Are Who We Thought They Were: Georgia Bulldogs
Here's a brief, man-friendly version of TAWWTTW (with pictures).  The Bulldogs of Georgia, they are who yada yada yada…
The University of Georgia
All you need to know…
Notable Alumni
All you need to know…
(and Bill Goldberg, Ryan Seacrest, Kim Basinger, Hines Ward, and all four members of R.E.M.)
Cheerleader Scouting Report
Yes please. 
Uga VII (8/30/2008 – 11/19/2009)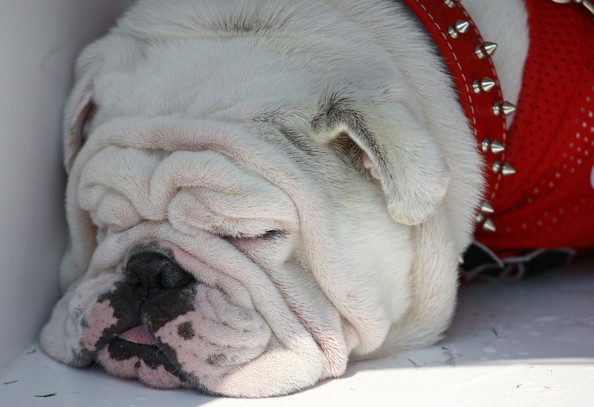 Yesterday, I was writing about Uga VII when I got word of his death.  (If my writing can kill, maybe I should start writing about Lane Kiffin.)  Out of respect for the university and the 24 hour "too soon" period, I will play nice on this one.  R.I.P. Uga.
Head Coach, Mark Richt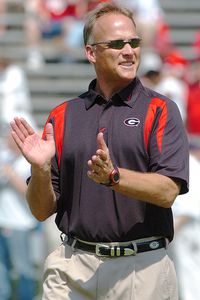 I love Mark Richt.  He is probably my favorite, non-tomato growing, head coach in college football.  How can you not like a guy that told his entire team to rush the field and get a celebration penalty on their first score against Florida in 2007?  Richt is in his ninth season at Georgia and is the fourth winningest active coach in D-1 football.
Key Players To Watch

#14 Joe Cox, QB
(150-259, 2,059 yds, 18 TDs, 12 INTs)
Cox will go right at Kentucky's secondary, even without his go-to-guy, A.J. Green, the SEC's leading receiver.  Let's hope the Cats make a stand against the Georgia passing game and shut 'em down.  But more importantly, let's hope Joe is properly dressed.  Sometimes, he doesn't leave much to the imagination.

#2 Brandon Boykin, CB
(3 INTs, 2 KR TDs)
Boykin has two 100+ yard kickoff returns for touchdowns this season.  But, they weren't against the National Kickoff Specialist of the Week.  Brandon Boykin, be ready to get Craig McIntosh'd.

#35 Rennie Curran, LB
(94 tackles)
Rennie Curran is second in the SEC with 9.4 tackles per game.  He has been the Bulldogs leading tackler in all but one game.  Curran is one of those guys that's in on every play, every tackle.  He'll be all over the field tomorrow and hopefully we can keep him busy.
 
Last Year: Georgia 42, Kentucky 38
First down for UK on the 12 yard line with 50 seconds on the clock.  Kentucky needed a touchdown to win it.  Instead, Randall Cobb's screen pass was intercepted by Georgia's defensive end to seal the game for the Bulldogs.  The Cats unexpectedly put up 38 points on the preseason favorite to win it all, but it just wasn't enough.  Randall Cobb had his "star is born" game with three rushing touchdowns and the debut of "the birdwalk."
Final Word / Prediction
I want to pick Kentucky here, but with Cobb's status still up in the air, I'm taking the Dawgs.  Georgia is looking to clinch second place in the SEC East, they have a dead dog on their hearts, and it's senior day. 
Georgia 27, Kentucky 17
As always,
Go Cats.