The Starting Five: Bobby Morris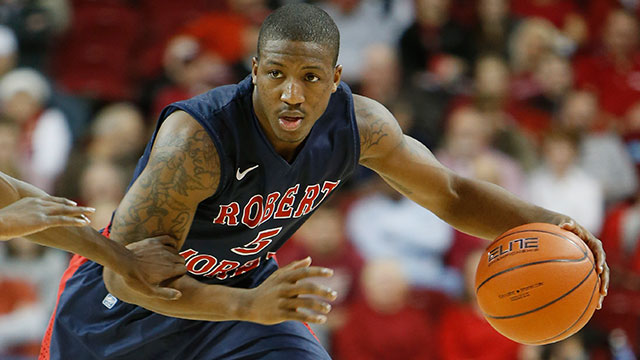 Unless you're from Moon Township, Pennsylvania or have a son on the team, I'm assuming you don't know a whole lot about 2012-13 Robert Morris basketball. I'm sure many of you, like me, couldn't name a player on the team prior to the NIT Selection Show on ESPN Sunday night. That's okay, though. Kentucky basketball made its own bed, and we're going to sleep in it with them throughout the NIT tournament, which includes a Tuesday night with the Colonials of Robert Morris. Here they are, and all their Northeastern Conference regular season champion glory…
G – VELTON JONES, #2
6-1 | 170 lb. | RS Senior
(10.9 ppg, 1.7 rpg, 5.2 apg)
John Calipari spoke highly of Velton Jones during his pre-Robert Morris press conference before #wheelsup Monday afternoon. Cal called him a great leader and a physical player at point guard.
"He'll grab guys," Calipari said of the fifth-year senior guard. "I've seen him on tape just go grab a guy. But it's because he has the ability to physically dominate a game that he can do that and no one messes with him."
That dominant physicality is part of the reason Jones is just the ninth player in the 32-year history of the Northeastern Conference to eclipse totals of 1,500 points and 500 assists over a career.
Have fun with that, Harrow.
G – CORON WILLIAMS, #3
6-2 | 170 lb. | RS Junior
(9.2 ppg, 2.2 rpg, 1.2 apg)
Coron Williams is the only Colonial who started all 37 games last season and, until Feb. 23, he had started 70 consecutive games in the Robert Morris backcourt. Williams is a great shooter from outside; he's connected on 69 three-point attempts this season, second to teammate Karvel Anderson's 78 on the year. Together, Williams and Anderson have helped Robert Morris set a new school record for three-point field goals made in a single season.
To put that in perspective, Julius Mays and Kyle Wiltjer have hit 64 and 55 three-pointers this season, respectively. Robert Morris as a team has hit 102 more three-pointers than Kentucky this year.
G/F – LUCKY JONES, #22
6-6 | 205 lb. | Sophomore
(11.8 ppg, 6.1 rpg, 1.5 apg)
Lucky Jones has reached double-figure scoring in 15 of 17 games since serving a one-game suspension back in January. Over that span, Jones is shooting 50.4 percent (69-for-137) from the field, including 53.6 percent (30-for-56) from beyond the arc, and 82.4 percent (70-for-85) at the free-throw line.
Here's a stat that'll make you cringe… Jones and Karvel Anderson have combined to shoot 55.9% from beyond the three-point line at home in 2012-13.
Ugh.
F – RUSSELL JOHNSON, #34
6-6 | 18o lb. | RS Senior
(11.7 ppg, 6.0 rpg, 2.0 apg)
Russell Johnson is a versatile forward who can play multiple positions, is active on the boards, and can knock down jump shots from all over. He's currently third on Robert Morris' all-time rebounding list and playing the best basketball of his career down the final stretch.
Since being inserted into the starting lineup in mid-January, Johnson has averaged 12.5 points, 6.3 rebounds, 2.2 assists and 2.2 steals while shooting 46.3 percent from the field, including 42.5 percent from deep, and 72.6 percent at the free-throw line. Included in that stretch are 12 double-figure scoring games, two double-doubles and four 20+ point games.
F – MIKE MCFADDEN, #1
6-8 | 220 lb. | Junior
(8.4 ppg, 3.6 rpg)
McFadden, who transferred to Robert Morris from Iona after the 2010 fall semester, will be undersized in the matchup with Willie Cauley-Stein down low tonight, but he'll look to make up for that size differential with his toughness and a very physical presence in the paint.
Though I'm not convinced Kentucky will win this game the way we'd all like, I'm almost certain McFadden will be on the wrong end of a few lobs as Kentucky will look to use its height and length advantage down low.
Robert Morris' three-point shooting terrifies me.