The Kentucky-Tennessee football game today is an intriguing one, but for all the wrong reasons. One team will leave with their first SEC win of the season, while the other will hold on to a 0 in the conference wins column. Neither team knows who their coach is going to be next season, and while both teams have been competitive at times throughout the season, they have ultimately fallen short of any meaningful victory. In short? We aren't expecting a pretty game this afternoon, but BBN is hoping that Joker Phillips' last game will be a beating of Tennessee and leaving a legacy of having a winning record against the dreaded orange team from Knoxville. Let's preview, shall we?
Kentucky Offense
Tennesse's defense sucks. It is abysmal. Holier than Swiss cheese. They basically "volunteer" to let the other team do whatever they want with the ball. Orange has given up 51, 41, 44, 38, 48, 51, and 41 in their last seven games, and they rank 114th out of 120 teams in scoring defense.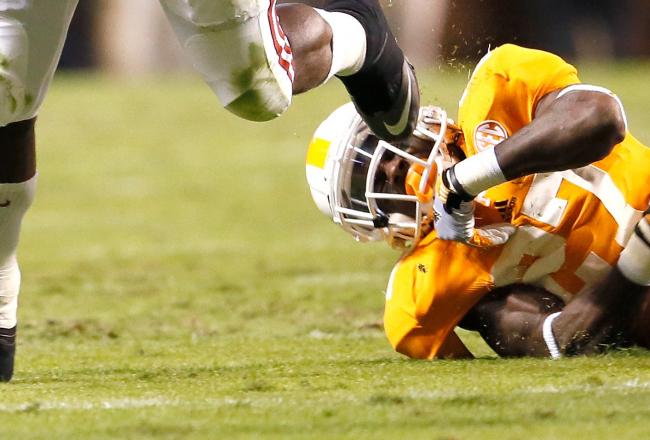 The only problem? Kentucky's offense hasn't exactly been encouraging this season either, ranking 119th nationally in scoring offense. The Cats have had the most success on offense when they've run the ball, so look for that to be the strategy of choice today. QB Jalen Whitlow has shown his has the ability to run, and the Cats will likely look to RBs Raymond Sanders and Jonathan George as well. The Wildcats will need to avoid Tennessee's star linebacker AJ Johnson, who leads the team with 124 tackles (second in the SEC). If the Cats choose to play a pass-heavy game, they will also want to watch out for safety Byron Moore, who has four interceptions this season and is the second-leading tackler on the team.
Kentucky Defense
Unfortunately for the Wildcats, Tennessee QB Tyler Bray throws the football as well as he throws beer bottles off balconies. The Volunteers rank 13th nationally and first in the SEC in passing offense (317.64 passing yards per game), and aside from his poor performance at Vanderbilt last week, Bray has been impressive on the season, with 30 touchdowns to 12 interceptions and a 59.5% completion rate for 3, 319 yards. UK's Donte Rumph, the SEC Defensive Lineman of the week, will play a huge role in shutting Bray down and continuing his success from the Samford game, in which he had five tackles (including a quarterback sack). Avery Williamson is also coming off an impressive week, with 13 tackles and two sacks against Samford.
Bray's best target, aside from parked cars, is WR Justin Hunter, who has 70 catches for over a thousand yards and eight touchdowns this season. Option B is Zach Rogers, with six touchdowns on 30 catches. If the Vols choose to run, they'll likely go to Rajion Neal, who leads the team in rushing with 147 carries for 655 yards and five touchdowns. Cordarrelle Patterson leads Tennessee in all-purpose yards, with 270 yards rushing, 690 yards receiving, 101 punt return yards, and 639 kickoff return yards for a grand total of 1,700 yards. He ranks 12th nationally in kickoff return yards with a 29.05 average, and as much as I hate to say it, the kid is fun to watch. If the Cats aren't careful, Tennessee will absolutely shred their defense, and this could end up being a very high-scoring game.
With all that said? I think the Cats have the intangible edge when it comes to motivation and will to win for Joker's last game. Cats by 7.
@KristenGeilKSR