The Rumble In The Jungle's Tuesday News and Views
Tuesday marks the 38th anniversary of The Rumble In The Jungle, the historic title fight between undefeated world Heavyweight champion George Foreman and former world Heavyweight champion Muhammad Ali in what was then known as Zaire. The event, which was Don King's first championship promotion, featured a three-night music festival with performances by James Brown, Celia Cruz and the Fania All-Stars, B.B. King, Miriam Makeba, The Spinners, Bill Withers, The Crusaders, and Manu Dibango. Since it was held halfway across the world, the fight began at 4:00 a.m. local time so that it could be seen on closed-circuit television live in the Eastern United States at 10:00 p.m.
Ranked as boxing's third most historic bout by ESPN, The Rumble In The Jungle shook up the world and the way its two participants were perceived. At the time, Foreman was a younger, vicious, Mike Tyson-like fighter with a 40-record, not the grill salesman we all know today.  The fight's challenger and heavy underdog, a 32-year-old Muhammad Ali, was putting together a comeback after he had been suspended from boxing for three and a half years for dodging the Army. His stamina was a major concern entering the bout, but it was a new technique that would get him the win in the end.
Ali stood on the ropes for most of the fight, taking punch after punch from Foreman to the gloves and arms. It wasn't the butterfly style the world had seen from Ali throughout his entire career.  He constantly taunted Foreman, telling him to throw more punches, and an enraged Foreman responded by doing just that. Eventually, Foreman began to tire as Ali landed fast jabs and kept working what would later be called the "rope-a-dope" style. The fight looked to be in Ali's control after the fifth round when he was overheard saying, "Is that all you got, George?"  Finally, in the eighth round, Ali took an opportunity to pounce and landed a five-punch combo on the winded Foreman, sending him to the ground for the count. Foreman would get up, but not before the 10-count.
His tactical style, ability to take a punch, and new "rope-a-dope" technique (not his famous shuffle) in the victory showed Ali's true greatness.  The fight, his last great showdown, is where the Oscar-nominated movie Ali concludes.
Watch the full fight on YouTube: Part 1, Part 2, Part 3, Part 4
   Since everyone seems to enjoy reading about football, let's lead off with Joker's opening statement in his weekly Monday press conference. Here is what UK's head ball coach sees in Vanderbilt, Kentucky's next opponent:
"Vanderbilt is on a two‑game win streak, has a lot of momentum, a really physical offense.  Doing a really good job in the run game.  Led by Stacy, who's the all‑time leading rusher there at Vanderbilt.  Got an accurate passer in Rodgers.  Matthews is a really good receiver, second in our league in receiving yardage.
"Defensively, solid defense.  A really fast defense that blitzes from all over the place.  They bring pressures with the linebackers.  Their secondary does a good job of playing on defense, only giving up 19 points, which is sixth in our league.  Pass defense, they're third in the conference with 150 yards per game."
"Haven't created as many turnovers ‑‑ as many interceptions, I guess.  They only have four this year.  They haven't created as many as they had last year, but they have returned two of them for touchdowns.  So they do a good job of transitioning from defense to offense by scoring touchdowns on defense."
"Special forces, they have really good returners.  I have watched their punt returns and already see three guys (on video), I think, I'm close to being on the last game. If you watched the special forces in sequence and then their punt return, just getting to that.  They already used three different returners, and I'm not even at the UMass game.  So they have a lot of good returners also.  Solid in the punt and kicking departments.  I think their punter is fourth in our league in punting."
  When Kentucky's offense takes the field against Vandy, it'll be Jalen Whitlow running the offense for the first two possessions, then Patrick Towles will get his opportunity behind center.  Of his two-quarterback system, Joker told reporters, "We'll start off the same way, give Jalen the first two series.  Again, only way you can make sure you get the other kid in is to have a plan before the game.  We had a plan.  We put him in on the third series.  It would be crazy for us not to play him. You can get into a game where, if you don't have a plan to play him, you can get into a game where it just doesn't come up.  I've seen it happen.  I've seen it happen with Mobley.  We're now starting to have a plan with Mobley also."
I understand the importance of having a plan to work Towles into the game, but what I don't understand is why it has to be set in stone for the third series. Let's say Whitlow takes Kentucky 75 yards for a touchdown on the first series and puts together another touchdown drive on the second: Will Joker still sub Towles in?  He's making it sound like he will.  Why not make the substitution based on the flow of the game? It's called in-game coaching. And didn't Randy Sanders say after the Missouri loss that he wishes he had kept Whitlow in?
  The Missouri loss was embarrassing, but what's more embarrassing: Kentucky losing the game or Missouri selling a t-shirt commemorating the win?
UK has won one football game all season and two of its losses resulted in celebratory t-shirts.
  Through games of October 27, Kentucky has played the toughest schedule in the nation, according to the Anderson and Hester ratings, a component of the BCS rankings:
– UK's nine opponents have a combined record of 56-17 (.767).
– Subtracting games played against each other, UK opponents are 51-12 (.810)
– This marks only the second time in school history that UK has played five ranked opponents in the first eight games of the season.
And Kent State just upset No. 18 Rutgers on the road.
  Down in South Carolina, the university held a get-well rally for Marcus Lattimore on his 21st birthday. Here is a shot of the crowd before the event: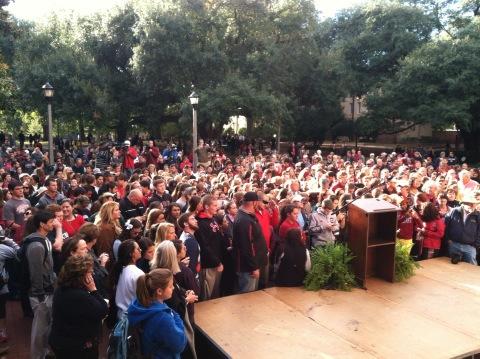 Steve Spurrier read a proclamation from Gov. Nikki Haley declaring Monday "Marcus Lattimore Day" in the state of South Carolina. It was a great gesture for the young man who has a long road ahead of him to get back to the football field.
  Switching over to basketball, UK target Tyler Roberson cut the Cats from consideration when he trimmed his list down to Kansas, Syracuse and Villanova. Roberson was scheduled to take an official visit to Kentucky this weekend. It wasn't even two weeks ago when he said he will "absolutely" visit UK.  Maybe Cal is confident in Julius Randle or Aaron Gordon so he pulled back on Roberson.  You'd think the kid would want to take his free trip to see the greatest basketball program in all of America.  Guess not.
  We're just a few days away from Kentucky's first exhibition game of the season when the Cats host Longwood (Fl.), the No. 1 ranked Division 2 NAIA school coached by Rollie Massimino. It'll be Rollie's first trip back to Rupp Arena since his Villanova team won the 1985 NCAA Championship. It feels so good to have basketball season back.
  New York City is underwater. Hopefully everything will be back to normal — and everyone safe, of course — when Big Blue Nation travels to Brooklyn for the Maryland game next week.
  In NBA news, Jodie Meeks could start for the Lakers in the season opener on Tuesday.  Kobe Bryant sat out of practice on Monday with a sore foot. He has been limited since October 21.
  That'll do it for now. I'll leave you with a video of Coach Cal and Andy Katz, the man who never met an old school KSR podcast he couldn't skip.